It's 9am on a Monday and you're sat in a meeting room with several colleagues waiting for several more to join Zoom on the big screen. When they do, the meeting proceeds with a dodgy Wi-Fi connection, broken audio, and most comments coming from your in-person employees. Welcome to the hybrid workplace.

How to manage hybrid teams is a burning question for leaders as the post-pandemic workplace is set in motion. A McKinsey survey of 100 executives across different industries and geographies revealed 9 in 10 organizations plan to combine remote and on-site work going forward.

A lack of preparation and concerns over managing hybrid teams is prominent among industry leaders. 68% of the same executives surveyed by McKinsey said they have no detailed plan for hybrid work, or no plan communicated within their organization, while 47% said a lack of a clear vision about post-pandemic work is a cause for concern.

As leaders grapple with the challenges of managing hybrid teams, here's what the experts say they need to do to make it work.
---
1. Managing hybrid teams requires clear structure
When are you going to work remotely and when are you going to bring your team together in the office?
That's a question Frans Bevort, associate professor at Copenhagen Business School and expert on organizations and work, thinks is key for leaders to answer. They need to clearly identify when to bring teams together in person to build cross-organizational relationships that keep the business moving when work is remote.
"I think the social fabric is extremely important to build and maintain," he says. "You need to be extremely aware of how to build out these interactions and relations [between employees], as these are the structures you're going to build on when you work in a variety of ways."
If you're in the early stages of a project and you need to discuss creatives or jointly work on strategy, for example, Lioba Gierke, psychologist and PhD candidate at the Chair of Leadership at WHU - Otto Beisheim School of Management, says that an in-person meeting could be beneficial.
Whereas if you have work tasks that need more focus or silent time, an at-home work arrangement might be a better fit.
"I think we can see the development of a remote stream of work and an in-person stream of work, where you differentiate between the tasks that need to be done," she says.
---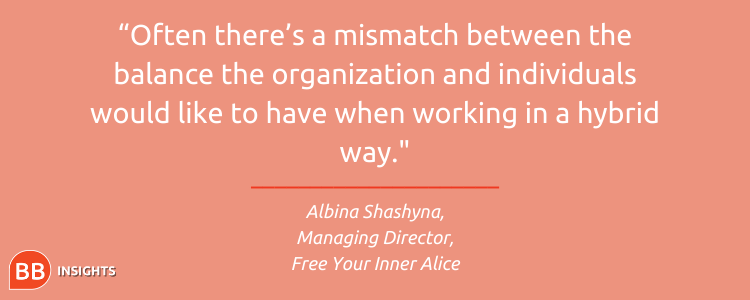 ---
2. A hybrid work model requires communication
US tech industry leaders are most concerned about the impact changing work models will have on integrating new hires into their organization, according to a recent Deloitte survey. Their second biggest concern is the overall deterioration in personal relationships or a reduction in trust within their organizations.
Communication is key to overcoming both those concerns, and for preventing teams working from home feeling disconnected, fatigued, and left out if they aren't managed properly.
Lioba from WHU explains that communication cuts across everything in the workplace—from the way a leader manages a team, to how a team works together and the technology they're using to do so.
To lead effectively, leaders need to also trust that their employees will work efficiently when they're remote. "An important quality in leaders is that they can […] build a trusting relationship [with their employees] that works well despite the distance," Lioba says. "I think that's a key characteristic of leaders that can be built through communication."
Albina Shashyna, managing director at boutique consultancy, Free Your Inner Alice, and business change manager for hybrid working at the London School of Economics (LSE), adds that when hiring for a hybrid environment, incoming employees must have full clarity on the firm's hybrid working expectations and agree to them prior to starting.
"Mismatch between expectations and reality can cause major issues for both sides," she says.
---
3. Managing hybrid teams requires an openness to flexibility
Employees who are part of a hybrid workplace intend to keep it that way, and the positive attitude towards remote work is a global trend. According to Statista data, 82% of employees currently working remotely or who have the option to work remotely, believe remote work is the future of work.
Leaders need to be open to the flexibility of allowing their employees to work from home, at least part of the time. It's one of the ways CEOs can overcome the challenges posed by the Great Resignation.
But striking that balance between the needs of the business and those of its employees is one of the biggest challenges facing leaders trying to successfully adopt a hybrid work model, according to Albina.
"Often there's a mismatch between the balance the organization and individuals would like to have when working in a hybrid way. Organizations would prefer staff to be in the office more to foster collaboration and creativity, while individuals prefer the convenience—flexibility, no commute—of working from home."
---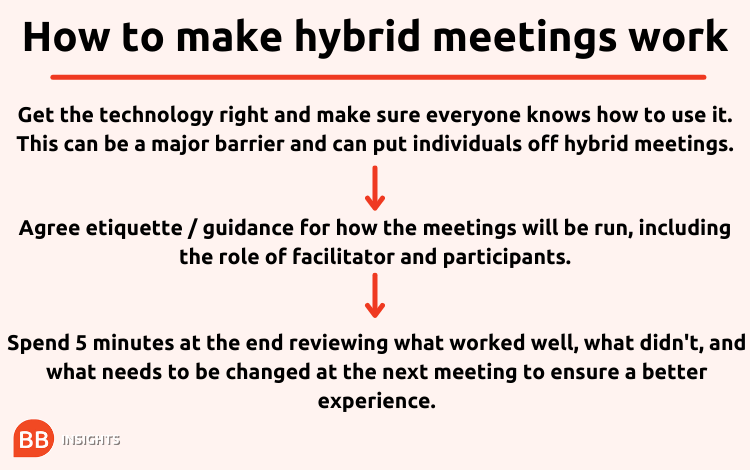 Source: Albina Shashyna, via LinkedIn
---
4. Getting the hybrid workplace right requires experimentation
Hybrid work has by and large been a success, which is why a workplace system that includes employees working from home is the blueprint for the future of work.
But for leaders who feel productivity has dipped, employees are dissatisfied, or innovation has been damaged, Albina has some advice: "Hybrid working goes wrong when individuals are not willing to change their old, no longer suitable working habits, when they are not willing to experiment to find what works for them in a hybrid environment."
Another way managing hybrid teams goes wrong is when companies haven't invested in or aren't willing to use the technology available to support hybrid working. It's about iterative change, says Albina, and "getting the technology right is crucial."
---
5. Managing hybrid teams requires leaders to step back
When the shift to remote work happened at the outset of the Covid pandemic, employees looked to leaders to showcase crisis leadership. But now employees have returned to the office and a hybrid work model has become the norm, it's about delegating and spreading the leadership responsibilities across an organization.
That's according to Sebastian Reiche, professor of Managing People in Organizations at IESE Business School.
"It's not advisable for a leader to be constantly sitting in the hot chair," he asserts. "As a leader you actually have to be comfortable empowering team members to decentralize decision making.
"The more complex your work structures, and the more complex your team structures, the more leaders you need. From the perspective of executives, you need to be comfortable with letting go."
---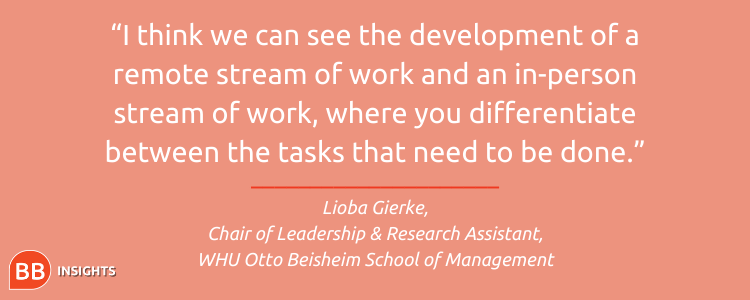 ---
6. Managing hybrid teams requires leaders with a broad perspective
Hybrid work affects everything about the way we manage people, and Sebastian thinks the new way of working requires leaders to approach management with an even broader perspective than before.
Leaders need to be able to see solutions for all the hybrid work questions that fall at their feet. They need to decide things like who works remotely and who works in the office; who they need to hire and who they can move into new roles to optimize performance; what type of skills the organization needs; and how to approach promotions when some people are remote, and others are in the office.
"I think to do this effectively you need to wear that broader lens, a broader set of glasses," he says. "That's more challenging, but with a potentially much, much more effective outcome.
"I'm hoping for organizations to spend and invest in this so they can create more effective, more meaningful hybrid work solutions."
Hybrid work is here to stay, that's common knowledge among industry leaders who've been grappling with the challenges since workers started returning to the office in dribs and drabs.
But there remain huge challenges, and to get hybrid right, leaders need to double down on strong communication, patience, and openness.
---
Next Read:
Three Levels Of Strategy: Key Differences Explained
---
BB Insights draws on the expertise of world leading business school professors to cover the most important business topics of today.
---
Main image in this article used via the Unsplash license.
Student Reviews
Copenhagen Business School (CBS)