Located on the Oise River, just a quick metro away from the center of Paris, ESSEC Business School is a leading educational institution.

With campuses in Singapore and Morocco, ESSEC is consistently ranked in the top 10 European Business Schools by the Financial Times.

The school offers an eclectic mix of specialized degrees, including a well-renowned Master of Finance (MiF).

The ESSEC MiF is a one or two-year program designed for students looking for jobs in sectors ranging from corporate finance to fintech. The program regularly sees graduates land roles with top companies such as Barclays, J.P. Morgan, HSBC, and Goldman Sachs.

BusinessBecause spoke with Alexandra Hepner and Julian Weidemann Reig, two students currently enrolled in the ESSEC MiF, to find out about their journey onto the program, and how it has boosted their career prospects.
---
Why the ESSEC Master in Finance?
Alexandra was born and raised in France but has lived across the world, including in Montreal, Canada, for her undergraduate degree.
Her year interning in the private equity team of Edmond de Rothschild in Geneva drew her to a career in finance.
"This experience was pivotal in my career choice. It helped me realize that to become a proficient analyst, I had to hone my technical skills and gain insights into the industry," she explains.
Alexandra chose the ESSEC MiF because of its reputation, international focus, and extensive alumni network—ESSEC has a 62,000-person alumni network, working in five continents and 71 countries.
The ESSEC MiF is one of the few specialized curriculums in finance authorized by the French Ministry of Higher Education, Research and Innovation as a Master's degree. This is a guarantee of the quality of teaching delivered and the value of their degree. This accreditation was a crucial part of Alexandra's decision as it constitutes an advantage when applying to jobs in France as well as internationally.
Julian discovered his interest in finance after moving from his hometown of Hamburg, Germany, to Valencia, Spain. There he pursued a Bachelor of Business Administration and discovered an interest in investment banking.
He did internships at EY, PwC, and UniCredit's CIB division, after which he received offers from several programs but chose ESSEC to tap into the French business network.
"I wanted to learn French and open myself to the French-speaking job market. I knew that ESSEC has a superb placement in France as well as outside of it," he explains.
---
READ: 20 Best Masters In Finance Programs | Financial Times Ranking
---
ESSEC MiF | What to expect
Whether you study in Singapore or Paris, ESSEC has the option of a one or two-year program, depending on your background and latest degree — one-year if you completed a four year bachelors and two-years for a three year bachelors.
Both programs are rigorous and Alexandra, who enrolled in the two-year program, found balancing the coursework, applications, interviews, and social activities an adjustment at first. She found her rhythm through the varying teaching formats, such as case studies and pitches, and a supportive social environment.
"The people I met here have been a huge source of support and inspiration. While the application and interview processes are stressful, everyone has been so helpful and selfless in helping run mock interviews, sharing feedback or sometimes, providing comforting words."
ESSEC MiF offers core and elective courses in the second year. Core courses include Mergers and Acquisitions and Big Data Analytics. For elective courses, students can choose between modules including Portfolio Theory & Investment Analysis and Financial Risk Management.
The one-year option and alumni network attracted Julian to ESSEC. His social circle was a highlight. They spent months together preparing for exams and applications through mock interviews and CV reviews. While work was intense, they were also able to enjoy some time off.
"I went on trips with my classmates to the South of France and Spain, went to great parties organized by ESSEC, and enjoyed Paris as much as we could," Julian explains.
---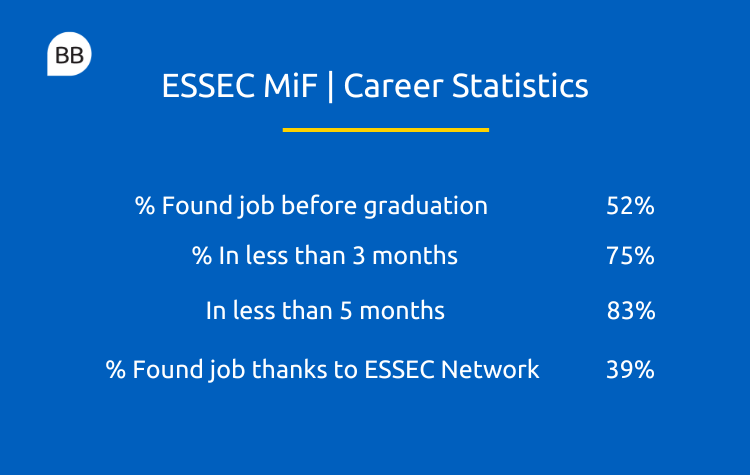 ---
ESSEC Master in Finance | Careers after graduation
Alexandra and Julian have both found success in their careers after graduation. Alexandra has landed a full-time job in Investment Banking in Paris, and Julian is interning at Goldman Sachs.
Alexandra says her career development began as soon as she started the ESSEC MiF.
"We hit the ground running by attending seminars on how to network, succeed in online tests, and prepare applications," she adds.
ESSEC's Career Center has consultants available for one-on-one appointments where Alexandra received valuable help on her applications.
"The ESSEC MiF has allowed me to jumpstart my career by opening doors and creating exciting opportunities," she says.
The ESSEC MiF starts at the beginning of August, and Julian found this extra month, the career services, and the alumni network invaluable when preparing applications. Julian notes the heightened attention he received from companies after starting the ESSEC MiF.
"I had applied two years before for the same positions at the same banks but never managed to get an interview. Then, one month into ESSEC, I started to receive interview invitations.
Both Julian and Alexandra feel the ESSEC MiF was instrumental in helping them launch their careers.
"ESSEC boosts your career progression immensely and puts you in a position in terms of knowledge, network, and opportunities you would never achieve on your own or at least not in such a short amount of time," he says.
---
Next Read:
What Can You Do With A Master In Finance?