Wei Gu worked for some of the biggest technology companies in the world—including Huawei and IBM—before starting his own tech business.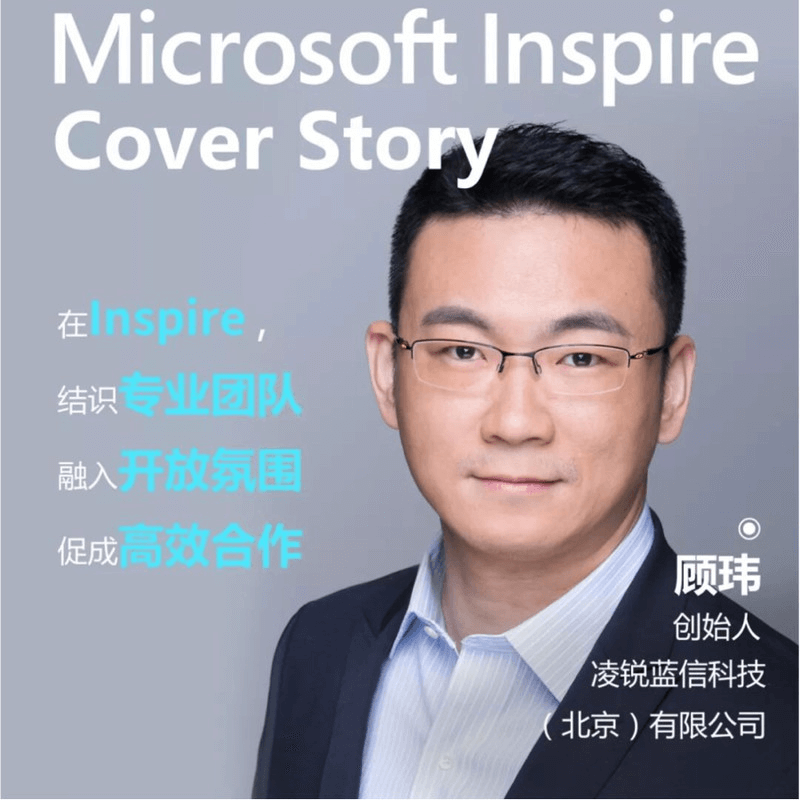 He says that his business master's degree at Aston Business School gave him the confidence and experience required to put together his business plan.
Today, he is the founder and CEO of Chinese software solutions company InfoQuick Tech. He has an international team that spans the UK, India, China, and the US, and works with top tech firms like Microsoft China (featured in a Microsoft Inspire Cover Story issue, right).
Here's how his master's degree at Aston set him on the right path.
---
Why Aston?
As a sales account manager for China Netcom Corporation, Wei Gu was working in the industry of his choice, but he wanted to propel his career in technology further. In 2003, he left China and started his master's at Aston in the UK.
Wei recognized the importance of experiencing different cultures and gaining a more international perspective early on in his career. He chose the UK for business school because he liked the sound of Aston's master's programs, and also wanted to work on his English.
"The language was a big part of the appeal when applying to a business school in the UK," he says. "I wanted that international experience––you can't always stay home!"
He adds that he enjoyed having the opportunity to see how western businesses operate compared with Chinese companies he worked for in the past. Western businesses, he says, are less self-contained––as the Chinese business world is very insular––and he was interested in the international aspect of successful companies.
"I learned how to adapt to this perspective on business," Wei continues. "I began to understand their different opinions towards business scenarios. This helps me even today."
Wei recalls an opportunity he signed up for with UK Special Forces, the SAS. The week-long course was physically grueling and nothing to do with business specifically––but Wei says it was a different way of working on his own personal development. "I learned the importance of determination––and that applies to the business world, too," he says.
---

©Aston Law School
---
IBM, Huawei & An Exciting Career

in

Tech
Wei didn't have the backing of a practical business education before he enrolled at Aston. "I needed to learn about starting a tech business––for that, I needed the backing of essential business theory," he explains.
"We learned about what makes a business successful, how an e-business is different, and how to lead a workforce."
On one student project, Wei remembers how he helped a real company establish their business through a functional website. That included the development of their physical server, the programming, and the marketing message.
When he graduated, Wei says he immediately reaped the benefits of his master's qualification. Moving back to China, he joined tech giant IBM within their information management department, where he provided business intelligence solutions.
Wei then transitioned into a more senior role, as a senior strategic alliance manager for Huawei. "I focused on its international business interests in North America and South Africa," he says.
"Having my qualification from Aston helped me in the process of getting noticed by huge companies like IBM and Huawei," he emphasizes.
By 2014, Wei felt he had the necessary experience to combine with his master's degree to go it alone.
---
Starting

a

tech

nology

business
Six years after the launch of his business, Wei is currently focused on supporting his international workforce during the coronavirus pandemic.
"One of the biggest responsibilities I have is towards my own employees," he says. "When at Aston, I learned that successful business leaders need to be able to think of the company as a whole––performance, growth, and profit."
Wei works hard to stay on top of emerging technology trends and how these might impact his own business.
He encourages his employees to be active learners in the industry, too, providing small libraries in the offices and hosting quarterly meetings where the team can come together and talk about the new trends they've learned about.
"I want to continue building an interactive and international workforce," Wei concludes. "Too often, people have dreams, but don't take action. If you want to start your own business, work towards making that dream a reality."
Related Content: