Master in Management (MiM) programs are aimed at recent bachelor's graduates with a maximum of two years of work experience, who wish to hone their leadership skills and kickstart their career in business.

MiM degrees are clearly a great opportunity for recent grads, but does it matter where you choose to study your program?

Here's everything you need to know about what to expect in terms of program quality, cost, and career prospects for MiM programs across the US, Europe, and Asia.
---
Download our BusinessBecause Master in Management Guide 2023
---
Master in Management: program quality
You can find high-quality MiM programs around the world, although the majority are in Europe, according to global Master in Management rankings.
Rankings are based on a variety of criteria including salary expectations, career progress, diversity, and value for money.
17 of the top 20 programs in the Economist's 2021 Master in Management ranking have a campus in Europe. That figure climbs to 18 for the QS ranking, and 19 for the Financial Times (FT) ranking.
When broken down by country, France dominates the rankings. Nine schools in the Economist's top 20 are French, as are six in the QS ranking, and four in the FT's.
HEC Paris offers the world's best Master in Management according to both the Economist and QS, while the FT ranks Switzerland's University of St Gallen in top spot.
Europe's dominance over Master in Management rankings can be explained by the fact that the US has more long-established MBA programs, while Europe has more long-established MiMs.
That said, MiM degrees are beginning to emerge in the US. In 2021, there were three US schools in the Economist's top 20 MiM ranking, and two among the QS top 20.
Several Asian schools also offer high-quality Master in Management degrees. China's Tsinghua University offers the 20th best MiM in the world according to the FT, while the Indian Institute of Management Ahmedabad is within the top 30.
---
Master in Management: cost
In Europe, studying a MiM program at high-profile schools like the UK's London School of Economics, Spain's ESADE, or Germany's ESMT Berlin will cost you between $30,000 and $50,000. HEC Paris offers one of the most expensive programs, at $51,000.
But you can also find much cheaper courses. The top-ranked University of St Gallen MiM only costs $10,800. At the Prague University of Economics and Business, ranked 14th in the world by the FT, you can complete a Master in Management for the small price of $8,900.
Asian schools are similarly affordable. A MiM program will cost you $25,000 at IIM Ahmedabad and $14,000 at Tsinghua, which is ranked highest for value for money among the FT's top 25 programs.
Top-ranked schools in the US tend to be more expensive. Duke University's Fuqua School of Business offers a MiM program for $57,500, and the MiM course at the University of Michigan's Ross School of Business costs $55,000.
---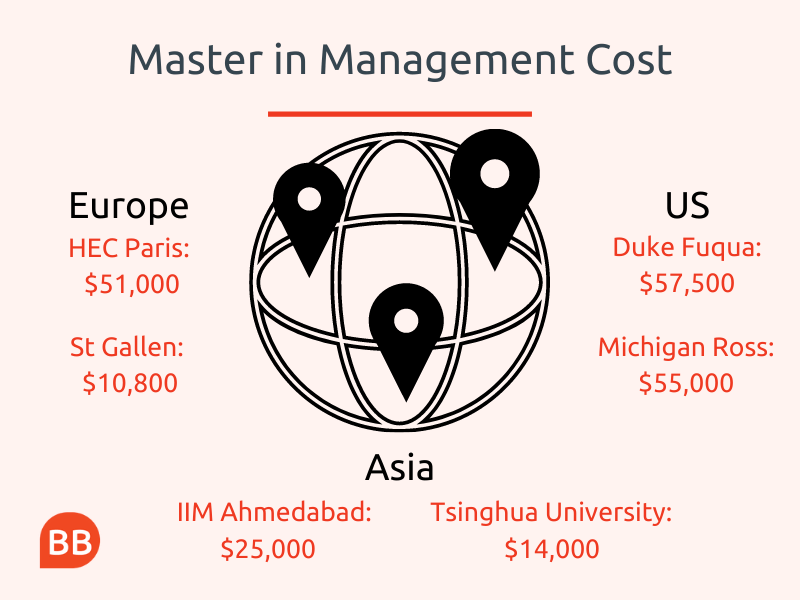 ---
Master in Management: career and salary impact
MiM programs are a significant investment, but you can expect a strong return on your investment as Master in Management graduates go on to earn high salaries after graduation.
The average 'weighted salary'* provided by the Financial Times for graduates from the top 20 MiM programs is $93,529. This ranges from $92,190 to $139,978.
The school with the highest graduate salary is the Indian Institute of Management Ahmedabad. Grads from the school see an average salary increase of 42%.
In Europe, the University of St Gallen's MiM alumni are the highest-earning, with an average weighted salary of $123,999. Graduates of the only US school included in the FT's ranking, Hult International Business School, earned an average of $69,181 three years after graduation.
Overall, MiM graduates see a salary increase of between 21% and an impressive 109% within three years of leaving the program.
Demand for MiM grads is at its highest in Europe, where 83% of employers plan to hire from MiM cohorts in 2021 compared to 59% of companies in Asia and 46% of companies in the US.
It's common for grads to enter the consulting sector, with 44% of London Business School MiM grads and 35% of HEC Paris grads landing a job as consultants in high-profile companies like Bain, McKinsey, and BCG.
But that's not the only career path available. MiM grads also explore diverse industries like finance, healthcare, luxury goods, and the technology industry.
MiM grads can get started in venture capital or private equity at companies like Goldman Sachs, or explore booming sectors like e-commerce and FinTech at tech giants like Amazon.
---

There are high quality MiM degrees in Europe, the US, and Asia, and programs from each region offer grads competitive salaries and a variety of career paths.
Programs in Asia tend to be cheaper, and will help you tap into a dynamic and growing market. MiM programs in the US are more expensive but are a great entry to the American business landscape. MiM programs in Europe are the most well-established, and demand for grads is at the highest level in the world.
There's no right or wrong choice. Where you decide to study your Master in Management ultimately depends on how much you're willing to spend on the course, how far you're prepared to move, and your post-graduation ambitions.
Whichever program you end up going for, you'll gain a wide set of leadership skills, a far-reaching network, and a good return on your investment.
---
Download our Master in Management Guide 2023
---
*average salary three years after graduation, adjusted for salary variations between sectors.