Columbia Business School sits on the bank of the Hudson River, down the road from Wall Street and New York City's financial district. For MBA graduates, that means career opportunities aplenty. In the city that never sleeps, candidates come to the Columbia MBA from all over the world, intent on furthering their careers and learning new skills.

In 2020, 90% of Columbia MBA graduates received a job offer within three months of graduation.

Over a third (33.2%) of MBA grads entered financial services—just behind consulting as the most popular post-MBA industry. The Big Three consulting firms—McKinsey, Boston Consulting Group (BCG), and Bain & Company—employed 99 Columbia MBA graduates between them. 

Columbia's notable alumni include billionaire venture capitalist, Robert F. Smith, and Sallie Krawcheck, founder of female investment platform Ellevest.

Alongside the traditional core MBA education, popular elective courses at Columbia cover the future of financial services, healthcare in the 21st century, impact investing, managing brands, identity, and experiences, and how to launch a scalable company.

The Columbia MBA class of 2022 has all of that to look forward to. But who are they? Here's our Columbia MBA class profile breakdown:
---
Columbia MBA Class of 2022 | Overview
---
The Columbia MBA class of 2022 attracted 6,971 applications, from which 1,130 were admitted. The final class had a total of 782 enrolled students, who were divided into 11 clusters.
The average age of MBA candidates at Columbia is 28, and students are aged between 23 and 41.
The entering class come from a variety of undergraduate majors, with 29% having already studied business at an undergraduate level. 20% of students majored in economics and 17% studied engineering. 14% of the class have a grounding in social sciences.
---
Diversity
---
Columbia's MBA class of 2022 boasts a strong international contingent—44% of the class are from outside the US. At Columbia, nearly three quarters (73%) of the class are white and only 6% of the class are black and only 9% are Hispanic/Latino.
In comparison, Harvard Business School's MBA class is 66% white and Stanford's MBA class is 62% white. At Harvard Business School, 13% of the class are black/African American and 9% are Hispanic/Latino. Similarly at Stanford, 9% of the class are black/African American and 11% are Hispanic/Latino.
Columbia is host to a number of student groups that encourage diversity and inclusion at a time when businesses are under pressure to build workforces more representative of society as a whole. 
Cluster Q is Columbia's LGBTQ business association, that welcomes students, staff, and administrators from the LGBTQ community. They have strong connections to potential employers and alumni and host events for prospective LGBTQ MBAs. There is also the Black Business Students Association and the Hispanic Business Association, which are vital for networking and provide opportunities for students to meet and learn from those who come from a similar background.
Women make up 40% of the students on the Columbia MBA. For comparison women make up 44% of the MBA class at Harvard Business School and 47% at Stanford.
---
---
GMAT Scores
---
The Columbia MBA class of 2022 has an average GMAT score of 726. The GMAT score range is 580-780. The middle 80% of scores were between 690 and 760.
That's compared to Stanford's average GMAT score of 733, and a 730 median GMAT for Harvard. Stanford's MBA class of 2022 has a range of 600-790, while Harvard's MBA class has a GMAT score range between 620-and-790.
Compare Average GMAT Scores For The World's Top MBA Programs
---
Undergraduate Majors and GPA
---
29% of the Columbia MBA class majored in business at an undergraduate level and 20% have a grounding in economics. 27% of the class studied sciences (7%), technology (3%), or engineering (17%), and bring STEM experience into the MBA classroom.
Only 8% of students majored in humanities and 14% in social sciences.
The average GPA at undergraduate level for this class was 3.6 and the middle 80% of GPAs was between 3.2 and 3.9.
---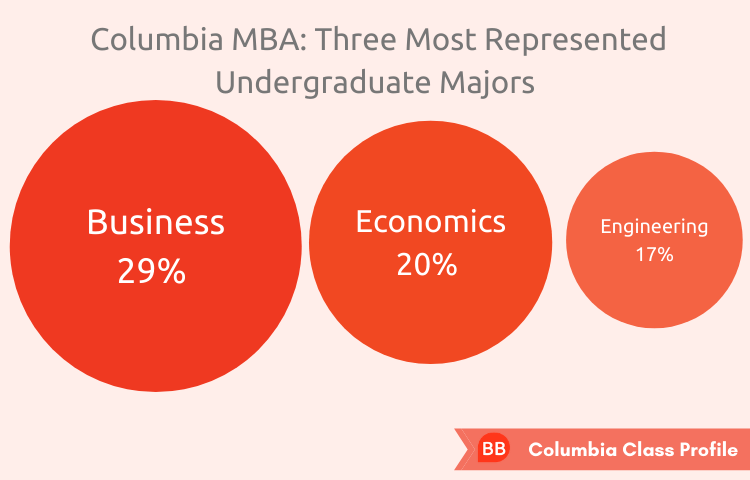 ---
Work Experience
---
Prior to their MBA, on average, the Columbia MBA class has five years of work experience. The middle 80% is between three and eight years, and 99% of students have at least one year of work experience.
30% of students worked in financial services before their MBA and 23% came from consulting. Over 60% of the intake come from the three industries most MBA graduates enter after business school: technology, financial services, and consulting.
Marketing and media businesspeople also made up 14% of the class; 5% of the class come from a non-profit background; 4% have worked in real estate prior to their MBA; 2% have worked within the military or government; 4% have worked in healthcare; 2% have come from an energy career; and only 1% have come back to studying from manufacturing.
---
---

The Columbia MBA class of 2022 is academically strong, with the middle 80% of GMAT-taking students recording scores between 690 and 760.
Judging by the industry background of the MBAs in the Columbia classroom, this is the degree for you if you come from a more traditional business background.
The fact that the majority of the class come from financial services, consulting, or technology—the three most traditional career destinations for MBA grads—shows how professionals from key industries like consulting and financial services are heading to Columbia to upskill and grow.
Located in New York City, the school is also popular with media and marketing professionals, and many are using their experience in the creative world and combining it with an MBA to further their career.
How much do Columbia MBAs earn after graduation? Find out in our Columbia MBA Jobs & Salary Review.