Based in New York City, Columbia Business School is a world renowned provider of graduate management education.

Specializing in leadership and entrepreneurship, Columbia's full-time MBA program is a top 10 course, producing students capable of entering any industry after graduation.

In 2020, 90% of Columbia graduates received job offers within three months of finishing the course. Average MBA salary was $150,000, while many students also received signing bonuses, the highest of which was $100,000.

The most popular industries for Columbia MBAs are typically consulting or financial services, with two thirds of students taking roles within those industries. The Big Three consulting firms, McKinsey, Boston Consulting Group, and Bain were the biggest recruiters of Columbia students, taking on 99 graduates between them.

Columbia MBAs also found work at some of the world's largest companies, with Amazon, Google and Apple among the employers.

With the school's entrepreneurial pedigree, some students also choose to start their own businesses , launching startups in fintech, aerospace, gaming, retail and more after graduating.

Columbia received STEM designation for its MBA program in 2020 after adding more technology and data science to its curriculum. As a result, international Columbia MBA students will now be allowed to stay and work in the US for up to three years without an H-1B work visa, increasing the desirability of the course for International students.

So what return can you expect from the Columbia MBA?*
---
Columbia MBA class profile
---
Companies hiring Columbia MBA grads
---
Columbia grads find roles all over the world and in a wide variety of sectors.
With access to a network of more than 48,000 alumni working in over 100 countries, students can receive support from people working within almost any industry. The reputation of Columbia's MBA as one of the best in the world also means graduates have a good chance of success wherever they apply, which is why 2020 graduates earned places at some of the world's largest companies.
---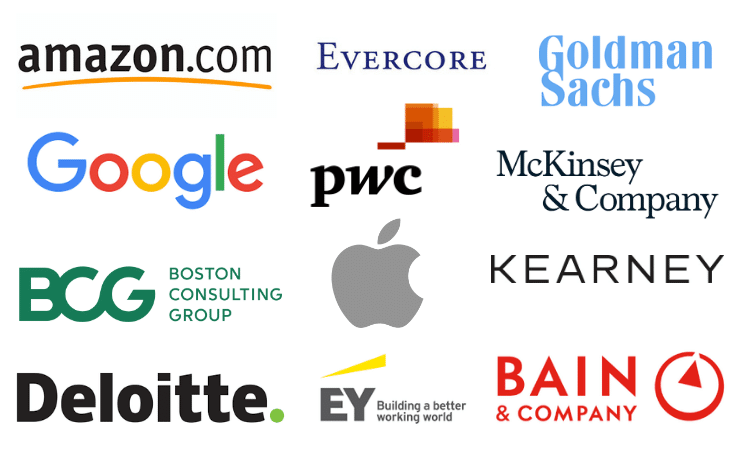 In keeping with Columbia tradition, the most popular industries for grads to go into were consulting and finance in 2020. Media and technology made up around 20% of graduates, while a smaller number chose other industries such as education, non-profit work or healthcare. 19 students chose to forge their own paths by launching their own startups.
---
Most popular industries for Columbia MBAs
---
Average Columbia MBA salary
---
Post-MBA salaries are one of the most important factors candidates consider when applying for MBAs. Columbia's MBA costs $77,000 for tuition, and the school estimates total costs can rise to around $117,000 with living expenses and accommodation factored in. Salaries are therefore an important measure of return on students' investment.
With the majority of graduates taking up roles in consulting and financial services, traditionally lucrative industries, the average salary for Columbia MBA grads is above average. Students earned $150,000 on average in 2020, the same figure as in 2019, though up from $130,000 in 2018. This is considerably higher than the average starting salaries of MBA grads across the US, which was $115,000 in 2019, so candidates can expect a good return on their investment after graduating from the Columbia MBA.
Below is a breakdown of average salaries for each industry Columbia students entered after graduating.
---
Columbia MBA's average salary by industry
---
With most industries paying graduates more than the average MBA starting salary, Columbia students can expect to be well rewarded for completing their course. Bonuses can also be lucrative for graduates, 67% of students received a signing bonus averaging around $30,000 in 2020. A further 15% of graduates received other bonuses, ranging from $3,000 to $250,000, with an average of $25,000.
The most lucrative industry in 2020 was private equity, which saw one MBA earning $375,000 in their first year after leaving the course.
---
Columbia MBA graduate job destinations
---
Most Columbia MBA students are domestic, however 44% of students in 2020 entered the course from outside the US. Columbia is proud of its international approach, which features 85 alumni clubs around the world. While most domestic students go on to work in US companies, Columbia grads took on roles across the world, with large numbers relocating to Asia and Europe in 2020.
Non-US grad destinations
---
Who is the Columbia MBA for?
---

For those looking to work in finance or consulting, Columbia Business School's track record in placing graduates into big-name firms is clear, and the network of alumni working within those industries will be a great asset to students when looking for a job.
At the same time, the focus on entrepreneurship within the MBA program means students who dream of launching startups will find the support and advice they need.
The school helps MBAs find work all over the world, whether students want to work internationally or within the US.
Financially, the cost of Columbia's MBA is more than most programs globally, but it is similar to other top 10 US schools like Stanford, Harvard, and Wharton. The average salary is also similar to those schools, so for candidates looking to study at a top 10 US business school Columbia is a good option.
If you're looking to study your MBA in a major city, Columbia's location in the heart of New York City makes it the course for you.

*The data sourced in this article is based on the Columbia 2020 Employment Report