MIT Sloan School of Management is the business school of the trailblazing Massachusetts Institute of Technology (MIT)—and the MIT MBA class profile of 2022 lives up to the school's reputation.

Studying an MBA at MIT Sloan is a clear route to career success—96% of the class of 2020 received full-time offers within three months of graduation with a median base salary of $140k.

During the MIT MBA, students can choose from 215 electives and follow one of three tracks: finance, enterprise management, or entrepreneurship and innovation.

Six Nobel laureates in economics have taught at MIT Sloan as well as former business tycoon and General Electric CEO Jack Welch. Brian Halligan, CEO of HubSpot, and John Reed, former CEO of Citigroup, are just two famous MIT alums.

So, who are the students pursuing their MBA at MIT Sloan today? Where are they from and how do you compare?
---
Overview
The MIT Sloan class profile for 2022 is made up of 484 students. 5,277 candidates applied for the MBA, making this course highly competitive and sought after, with under 10% of these applicants being admitted.
Students join the cohort from a variety of industries. 22% come from a consulting background and 17% were working in financial services—traditional paths to an MBA.
---
Diversity
The Sloan MBA class profile is made up of students from 51 different countries, with 33% international students. 19% of the class are Asian American, 9% are African American, 11% are Latinx, and 70% are white. Just under 1% of students are of a native or pacific islander background.
38% of students are women and the school has a prominent MIT Sloan Women in Management club, which aims to encourage women to pursue leadership roles while creating a network of women who can thrive professionally. Sloan is also a Forté partner school, so female students can be supported by Forté scholarships.
There is also a Sloan Pride Club, which endeavours to celebrate and strengthen the LGBTQ+ community at the school. Alongside this, MIT are participants in the Reaching Out LGBTQ MBA Fellowships program.
---
---
GMAT Scores
Unsurprisingly, due to the competitive nature of the admissions process, median GMAT and GRE scores among the MIT MBA class profile are high.
The median GMAT score for the class of 2022 was 720 and the range was 680-760. The GRE quant range was 156-168 and the GRE verbal range was 155-167.
---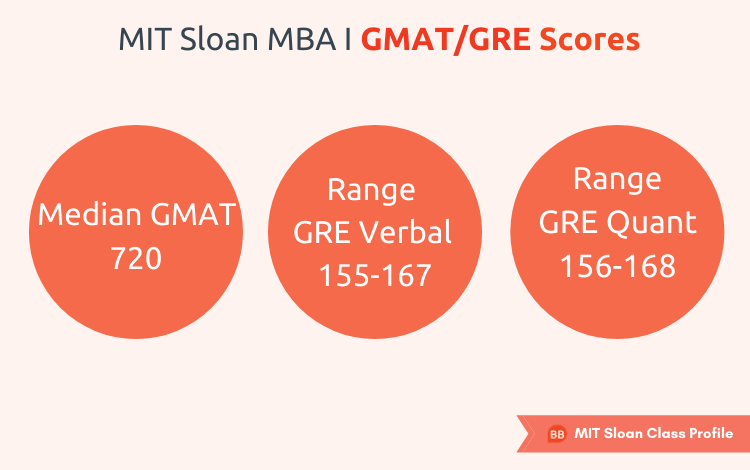 ---
Undergraduate Major and GPA
The incoming class came from a broad range of undergraduate majors, with a third (33%) coming from a major in engineering, 19% coming from a major in economics, and 16% from a major in business. It is no surprise that so many people go from engineering to an MBA at Sloan, as MIT is known as a hub of engineering innovation.
Other undergraduate majors this class completed include math and science (10%), social science (8%), and humanities (4%).
The average undergraduate GPA for the class was 3.54.
---
Read: MIT Notable Alumni | 10 Famous MBAs From Sloan School of Management
(c) MIT Facebook
---
Work Experience
As a prominent institution in the tech and science world, it is unsurprising to see that 15% of the class of 2022 at Sloan worked in technology before joining the program. Similarly, 9% come from the pharmaceutical, healthcare and biotechnology industry.
However, consulting and finance make up a significant portion of the class—39% in total— proving that these two industries continue to be a breeding ground for top-level MBA students and graduates.
Other industries represented in this year's Sloan MBA class include government and non-profit (13%), energy (5%), manufacturing (4%), and retail (4%).
On average, students have five years' work experience prior to joining this 24-month program.
---
Pre-MBA Industry
---

Earning a spot in the MIT Sloan MBA takes a lot of hard work. You'll need a good GMAT score and leadership experience to be admitted.
But if you're committed to joining a well-rounded cohort and experiencing a diverse and exciting learning environment, the hard work is worth it.
Although students with a background in finance and consulting make up the bulk of the MIT MBA class, applicants are welcome from all industries—a non-traditional background may even help you stand out.
Sloan an especially good choice if you want to join the Massachusetts tech ecosystem, which is populated by rapidly growing startups.
At the same time, MIT MBA grads achieve success in multiple industries with MIT's notable alumni making waves in technology, sport, finance, and more!