The number of full-time MBA programs in the US has dropped by 9% over the past five years, according to new research from test prep organization Kaplan.
The number of full-time MBAs in the US has fallen to 1189, says Kaplan, a number that many admissions experts expect to continue to fall.
This follows recent statistics that international applications to US schools are down 13.7% over the past year, with even top MBA programs like Harvard and Wharton reporting a decline in applications.
---
Reasons for declining numbers
Business schools are well aware of the on-going changes and shifts that are making it more of a challenge to study an MBA in the US.
The Kaplan survey asked business schools for the top reasons why they felt applications were down. 42% believed this to be a negative outcome of a positive change—that the current strength of the economy is keeping prospective students in the workforce.
Other outlooks aren't so positive. 22% believed it was due to a perceived diminishing value of an MBA; 13% believed that the cost is still too high; 18% believed that international students were being put off by the political climate.
The latter is fed largely by uncertainty around whether there will be a job, or a visa, for international students at the end of their studies. Half of all international candidates who didn't end up applying have admitted this was a major consideration when applying to the US, while applications to schools in Canada, Asia, and Europe are on the rise.
---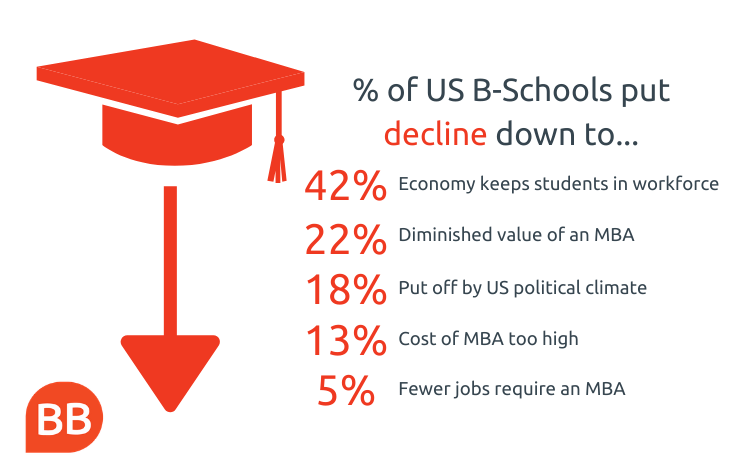 ---
It's not all bad news
For those still considering their MBA application, however, there is good news.
Lower application volumes means there is less competition for programs, even at top schools. The outlook is equally bright after graduation, where graduate salaries continue to rise and recompense MBA students for their investment in the program.
Wharton recently announced that their average graduate salary has risen to a record high of $150,000-a-year. This is true even for those finding jobs outside of the US.
"Starting salaries and bonuses for graduates from some business schools have hit record levels, which shows us that the return on investment for an MBA is still strong," said Jeff Thomas, Kaplan's executive director of graduate programs.
---
The changing needs of business school students
Continued complaints about the cost of MBAs, and the need to take up to two years out of work to study, is one of the main reasons why schools are shutting full-time MBAs.
Declining numbers is far smaller for one-year programs in the US, while half of online MBAs reported growth in 2019. STEM-certified MBA programs are also less likely to report decline than non-STEM programs. Graduates from these programs are able to stay and work in the US for three years on a student visa.
Arizona State University's Thunderbird School of Global Management and the Wake Forest University School of Business have all stepped back from the full-time MBA in recent years, as a way of increasing their focus on other programs, like specialist masters. Wake Forest continues to promote its STEM-designated programs.
In the face of catastrophe, business schools are being forced to diversify their offerings, ensuring that their programs not only survive, but also remain relevant to the modern business school applicant.