John Nelson (MBA '20) always knew that his career would revolve around community building, but for a long time he wasn't sure what exactly that would look like.

After studying public policy in college, he pursued roles in higher education and consulting before deciding to return to his interest in urban development.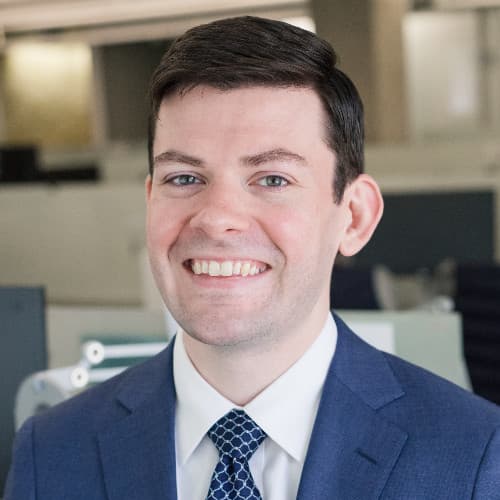 He just needed to find a way to make it his permanent career – and after talking to friends and colleagues about the dilemma, he hit upon the answer: real estate development.
"It's a career you can create for yourself, making spaces where people live their lives," Nelson says. "It's entrepreneurial, creative, impactful and continually changing work."
It sounded ideal, but he needed help managing the jump into a new career. He chose the full-time MBA program at UNC Kenan-Flagler to do the job.
---
Gaining hard skills through "trial by fire"
The first reason John selected UNC Kenan-Flagler was the hard skills he knew he would acquire there.
The School offers a large real estate program with numerous electives, plus a real estate-specific capstone – difficult to find at other MBA programs.
What's more, because the larger ecosystem around UNC Kenan-Flagler is growing so rapidly, students can directly apply their learnings to what they see around them – both through School-run initiatives like case competitions and clinics, and extended internships with local developers.
"We get to speak to real practitioners, pursue our own real estate projects and get expert feedback on them – it's a real trial by fire," says Nelson.
It is this close proximity to the local business community that really kick-started his community building with his MBA.
---
A good real estate developer will listen to the community
One of the most formative opportunities that Nelson had as an MBA student was his chance to work with the Development Finance Initiative (DFI), an organization that sits within the UNC School of Government and partners with local governments across North Carolina.
DFI helps cities and towns attract private investment for their development projects, many of which work to transform abandoned or neglected spaces into rallying points for underserved communities.
As a development associate, Nelson saw seen first-hand what it takes to make these projects work, and it sounds, at first, disarmingly simple.
Primarily, he says, making smart real estate development decisions involves being a good listener and developing a keen sense for what changes would be of most benefit for the communities you're trying to serve.
Honing this sense takes practice – and it's not just in the classroom and the DFI that John has got it.
---
Applying business skills for a social good
As well as being an industrious real estate development student, Nelson was an active student leader, and is particularly prominent in UNC's LGBTQ community.
As president of the Business School's Pride Club, he engaged both members of the immediate community and allies in building a more inclusive community – and it involved a lot of the same skills as his real estate development training.
"When the Pride Club first formed, it was a collection of LGBTQ students who used it to support themselves – it wasn't really integrated with the larger UNC Kenan-Flagler community," Nelson says. "Back then, the club wasn't very visible on campus, and it was at a time when North Carolina was passing laws that created headwind for folks feeling safe and included."
To put it in real estate terms, Nelson had a space that he knew was vital for marginalized communities. What he needed to do was open it up in such a way that the wider community could engage with and support it.
To cut a long story short, John succeeded in this goal.
---
The ability to manifest change
Through initiatives such as partnerships with UNC's undergraduate programs, volunteering with setup and cleanup at the Durham Pride parade, and the annual UNC Kenan-Flagler Drag Ball, the Pride Club increased the visibility of LGBTQ students and bring about real change in their community.
In fact, Nelson reports that LGBTQ representation in the UNC Kenan-Flagler MBA has grown to over 5%: twice the average for full-time MBA programs as a whole.
As he looks toward his future and a real estate development role at JBG SMITH in Washington D.C., he is in little doubt that the community building skills he learned at UNC Kenan-Flagler will come in handy.
"I'll continue to build on this idea of listening to folks, hearing what they need, and delivering those kinds of products in the form of physical spaces," Nelson says.
Underpinning his success in this will be both the hard and soft skills in community building that he's learned at UNC Kenan-Flagler, and the understanding of how to put authentic change into action.
"It's not just about the intention of driving positive change," he emphasizes, "but the ability to manifest that change."
Related Content: