President Trump and Vice-Premier Liu He signed the first phase of a new trade deal in January 2020, in a tentative but significant step toward deescalating the US-China trade war.
Over the past few months, however, tensions have risen once again. The US has blocked China Mobile Ltd. from operating in the country, and prevented US chip manufacturers from selling their goods to Chinese telecom giant, Huawei.
China, meanwhile, has retaliated by severely restricting the entrance of US telecom companies to China, and imposing fines on Ford Motor Co.'s largest Chinese joint venture.
For MBA students hoping to work in China, understanding the impact of the ongoing trade war is important.
---
Long-term tensions
These skirmishes are the latest in a series of trade-war policies, which saw the US placing tariffs on $500 billion worth of Chinese goods between 2017 and 2019. In the same timeframe, China responded with tariffs on $185 billion worth of US imports.
Despite these tensions, many experts maintain an optimistic outlook on the trade war, which presents a far less significant economic threat than the ongoing coronavirus pandemic.
"The US-China trade war may not deserve as much attention as it is getting," reflects Dr Li Wei, professor of economics at the Cheung Kong Graduate School of Business (CKGSB) in China.
Despite this positivity, the trade war has had some effect on the Chinese economy.
---
Measuring the trade war's impact
At CKGSB, Li Wei compiles the monthly Business Conditions Index (BCI). The index gauges how much confidence 300 stakeholders at major companies have in China's economy at large.
Before Li Wei compiled the first BCI in 2011, it was difficult to gauge China's economic performance, due to scant independent data sources.
In response, he worked alongside CKGSB's Case Center and Center for Economic Research to source this information from business leaders in the country.
Each month, influential CKGSB graduates complete Li Wei's survey, and the results are compiled into an index. A score of 50 or higher signals confidence, while a lower score suggests that economic growth will slow.
At the end of 2019, the BCI registered at 49.8—down from November's 51.5. Li Wei believes that the US-China trade war was partly to blame for this drop in confidence.
"For all of 2019, the economic situation has been made complicated by the US-China trade conflict," he explains in his commentary.
According to research by information services expert, IHS Markit, the trade war resulted in a noticeable 0.8% drop in global GDP for 2019.
Coronavirus has had a far greater impact however. The virus shrunk China's economy by 6.8%—the first drop in decades.
In February 2020, the outbreak caused the BCI to register an all time low of 37.3. By March, confidence had begun to rebound, and the index edged back up to 41.3.
---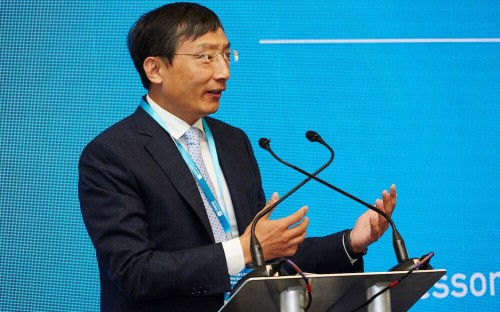 ---
Small businesses affected
A few specific groups have felt the effects of the trade war more than others, Li Wei notes. Smaller businesses, in particular, are more likely to have suffered profit losses.
"Many small Chinese traders succumbed to the pressures [exerted by US tariffs], especially in the first half of 2019," he says.
This, combined with the disproportionate impact of COVID-19 on SMEs, could pose challenges for graduating MBAs in China.
Around 38% of graduates from CKGSB's MBA program are self-employed, or plan to start their own business, for instance.
To minimize any repercussions from US-China tensions, or on-going supply chain difficulties caused by coronavirus, it's important that these businesses do not depend too much on US exports for revenue. This is especially pertinent given how hard the US has been hit by coronavirus.
---
Problems for processing firms
Processing companies have also struggled with US tariffs more than other kinds of business, Li Wei explains.
"While China has high-tech companies like Huawei that have mastered certain core technologies, most companies operate on a processing level," he says, explaining that businesses like these rely most on foreign trade.
"Moving forward, China can't simply grow through imitation. Instead, independent research, investment in development, and exploration must play a bigger role," says Li Wei.
MBA students at China's top schools will likely have a role to play propelling this development. At CKGSB, elective courses like Entrepreneurship help students identify new business opportunities.
---
Future prospects
Despite the impact of the trade war, Li Wei emphasises that domestic factors in China tend to have the greatest effect on how the BCI performs
Currently, coronavirus remains the largest threat. As of April 2020, the BCI stood at 41.3, however—a notable rebound from March.
If this recovery is to continue, Li Wei recommends that the government support SMEs especially.
"This will protect the most vibrant part of the Chinese economy, which is the closest to consumers and offers the most job opportunities," he comments.
With this support, opportunities are likely to emerge for qualified, innovative professionals.
This is good news for ambitious business school students and graduates in the country, who can lend their leadership skills to China's recovering economy.
Related Content: