The Black Lives Matter movement is forcing everyone to face the uncomfortable reality that it's not enough to not be racist. Anti-racism demands wholesale change and more active participation in the fight to end racism.
Education is key to enforcing long-term change. Business schools have a responsibility to existing and future black students to support, encourage, and protect their right to a higher education.
To have a more diverse business ecosystem, we need to see more diversity within classrooms across the United States.
So what measures are schools taking to be more actively anti-racist? And can they do more?
---
3 Challenges | Black representation at business school
---
In May 2020, the death of African American George Floyd in police custody sparked global outrage and pushed the debate around racism in society to the fore. This tragic event was an extreme example of the kind of systemic racism deeply ingrained in American society.
Protests to address racial inequality leave no stone unturned, and business schools must respond to the evidence showing black students are underrepresented at business school. There are barriers in place preventing equal representation on campus.
Black business school candidates face three key challenges:
---
1. Cost
With the total cost of an MBA at the top US business schools exceeding $200,000, money is a major consideration for any business school candidate. For black candidates, it's a significant barrier.
According to the Graduate Management Admission Council (GMAC), black candidates are the largest underrepresented population (URP) group in the business school pipeline.
Over two-thirds of what GMAC calls URPs plan on taking out student loans to fund their studies. Just 14% can rely on financial support from their parents, compared to 30% of non-URPs according to GMAC.
African American candidates are less likely than non-URP US candidates to plan to use personal savings (25% vs 41%), personal earnings (38% vs 46%), and employer sponsorship (25% vs 31%) to finance their degree.
---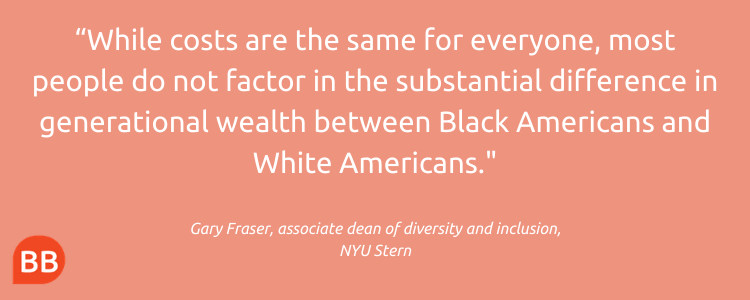 ---
Bruce Thompson, the interim CEO of the National Black MBA Association (NBMBAA), a non-profit dedicated to the educational and economic empowerment for African Americans, explains crushing undergraduate debt, potential lost income while studying a full-time MBA, and less access to resources make the financial challenges daunting—if not disqualifying—for black candidates.
Gary Fraser, associate dean of diversity and inclusion at NYU Stern, adds: "While these costs are the same for everyone, most people do not factor in the substantial difference in generational wealth between Black Americans and White Americans.
"This is compounded by the fact that many African Americans may be first or second-generation college graduates versus White applicants who may be third, fourth, or even fifth generation college graduates."
---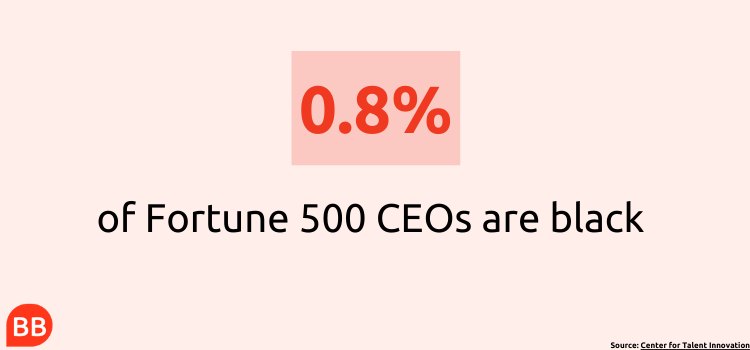 ---
2. Networks
"Since networks tend to be homogenous, and this implicit knowledge often passes through networks, African American applicants can be disadvantaged because the current number of Black MBA students is low," explains Sarah Soule, the senior associate dean at Stanford Graduate School of Business (GSB).
This issue of underrepresentation at business school trickles down from the top. As recently as 2005, the Journal of Blacks in Higher Education reported severe underrepresentation among the faculty of the top business schools in the US. There were zero black faculty members at Berkeley, two at NYU (1% of the total), and only five at Wharton (2.3% of the total).
Although Wharton has recently named Erika James as dean—the first African-American and first woman to lead the business school—there is still a long way to go.
This is important for black candidates because drawing on a strong MBA network is a lifelong endeavor and catalyst for career progression. Without that, career progression can be stifled, evidence of which can be found in the data.
---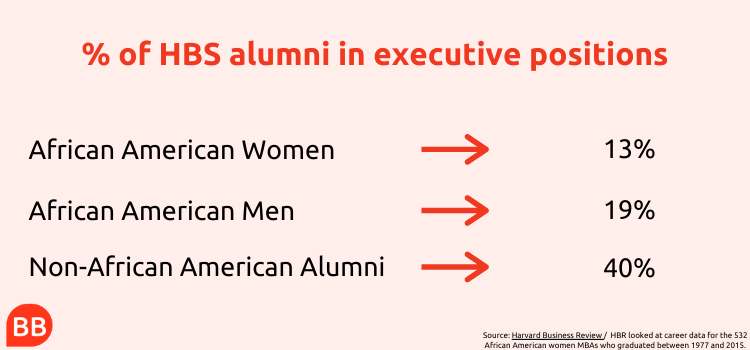 ---
3. Careers
Black professionals account for just 4.1% of chief executives in the United States, and 0.8% of Fortune 500 CEOs. Black women represent 18% of the US population, but only 4% of c-suite positions (68% are occupied by white men and 19% by white women).
Of the 532 African American women who earned their MBAs at Harvard Business School (HBS) between 1977 and 2015, just 67 (13%) have achieved the highest-ranking executive positions, compared to 161 (19%) African American men and 40% of an equal sample of 150 non-African American HBS alumni.
This represents a challenge for black MBA candidates because it exposes cracks in the idea of an MBA as a tool for career progression. A big part of the return on investment of an MBA is the knock on effect the degree has on your career, with a more senior role and increased salary the target of many candidates.
Based on the unequal career outcomes between black graduates and their peers, this may throw doubt into the minds of black candidates about the long-term value of the degree.
---
What are business schools doing to support black candidates?
---
US business schools have taken steps toward creating a more diverse and equitable classroom.
Scholarships for black candidates are one important element. Funds like UVA Darden's Marietta and Sherwood Frey Scholarship, and Wharton's Howard E. Mitchell Fellowship, improve access for future black leaders through financial support.
Yale, too, offers multiple awards for promising candidates from minority backgrounds—including JP Morgan's Launching Leaders MBA Scholarship for Black, Hispanic and Native American candidates, and a scholarship offered in partnership with the NBMBAA.
Change is also happening in the classroom. Professor Steven Rogers, a senior lecturer at Harvard was struck by a startling piece of evidence from the business school curriculum—less than 1% of the case studies published by HBS feature black business leaders.
He went on to create Harvard's Black Business Leaders and Entrepreneurship course, which features business cases with black protagonists.
---
Read: Dr Sean Ferguson: 'Racism Is Not Just A Black Problem—It's Everyone's Problem'
---
At NYU Stern, anti-bias training is being implemented in the MBA curriculum, while school leadership works with the Student Government's Diversity Committee to diversify the business cases used in class.
MBA students at Georgetown University's McDonough School of Business take a course which pushes them to test out their implicit biases, and work to overcome them.
Stanford, too, is making strides in this area, helping students to create more inclusive workplaces when they graduate through courses like Equity by Design.
"[This will] equip students with the tools they need to create and build equitable and inclusive organizations," explains Sarah Soule, senior associate dean at Stanford.
"As future leaders, it will be our students' responsibility to eliminate systemic bias when they see it. As a business school, it's our responsibility to educate students about this," adds Gary from Stern.
---
Business schools CAN do more
---
Dr Sean Ferguson, a higher education executive now associate dean of Asia School of Business in Malaysia, says there are key steps US business schools must take to lead the fight against racism.
---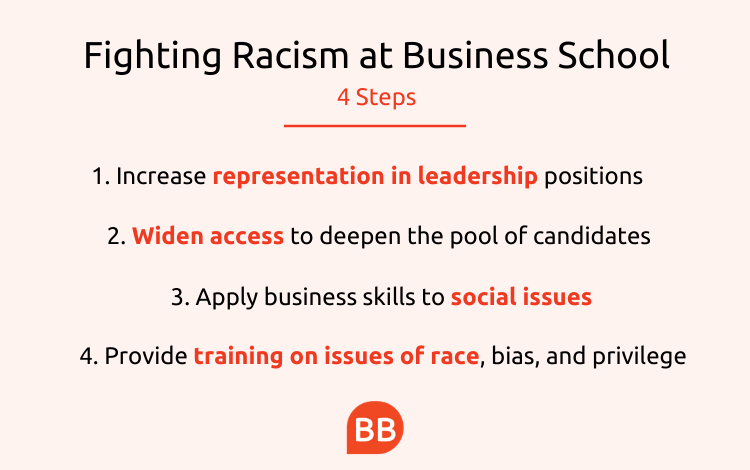 ---
While schools are making progress in these areas, there is more to be done to help drive change in society. Sean believes US business schools can't just pick from the existing candidate pool; they need to work to deepen the pool of black candidates.
"Schools could go a long way to creating the action-oriented leaders needed to address injustice while creating a more inclusive society," he says.
"And more commitment to growing the pool will help create a more representative workforce to facilitate broader conversations on the issues related to race, bias, equity, diversity, inclusion, and privilege."
US schools, Sean explains, are well-positioned to be leading debates about how to address many of the obstacles that black people face in society and in business. This starts with discussions about privilege and racism, and applying this to the transformational impact of business.
Putting more black leaders in senior leadership positions at business school is important. Leaders in these positions not only enhance representation, they show black candidates that business school is an open environment for them to apply to.
---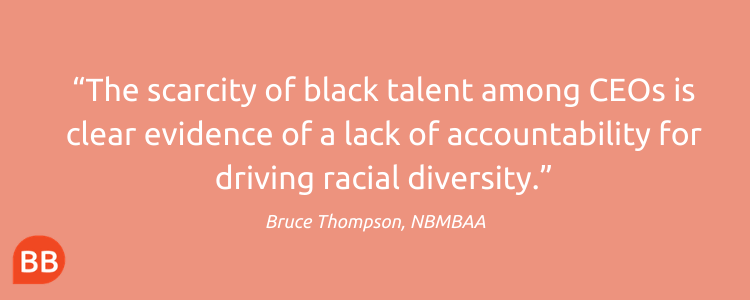 ---
Bruce, from the NBMBAA, emphasizes that supporting the black business school community shouldn't stop at graduation.
"The scarcity of Black talent among CEOs and c-suite executives in predominantly white organizations is clear evidence of unequal performance standards, similarity bias, and lack of accountability for driving racial diversity," he says.
He stresses that schools should use organizations like the NBMBAA to engage with educational resources and provide the right kind of post-graduation mentoring to support black graduates in their career endeavors.
When it comes to supporting the black community, business schools are well-positioned to drive societal change. Representation is a first step: but obstacles like finances, networks, and unequal career opportunities are deeply ingrained, and so change has to go deeper than establishing diversity in the classroom.
If business schools claim to be platforms for career change and acceleration, they need to take strides to ensure this promise extends to candidates from all backgrounds.
---
BusinessBecause, as part of the Graduate Management Admission Council, is committed to widening access to graduate management education.
We've published a list of resources for black business school candidates including information on scholarships and support organizations.
For any other inquiries, please reach out to us on info@businessbecause.com or post a comment in the box below.
This article was written by BusinessBecause writers Bethany Garner, Emmy Hawker, Simon Lovick, and Thomas Nugent.
Please Enter the Code Below