As Facebook, Instagram, and Twitter battle over social media world domination, there's a new kid on the block—Clubhouse.

Clubhouse is an interesting and dynamic way of meeting like-minded communities and networking around shared interests. Could the Clubhouse app become an important part of the business school application journey?
---
What is Clubhouse?
Clubhouse is an audio-only social media platform, allowing users to listen in on and participate in conversations with people from around the world, on anything from the next startup unicorn to the result of a sports match.
Launched in March 2020, the platform successfully tapped into the trend of connecting people virtually through the COVID-19 pandemic.
Its success has ballooned in 2021. In the first two weeks of February, user numbers grew from 3.5 million to 8.1 million. After a recent funding round, it's been valued at around $4 billion.
---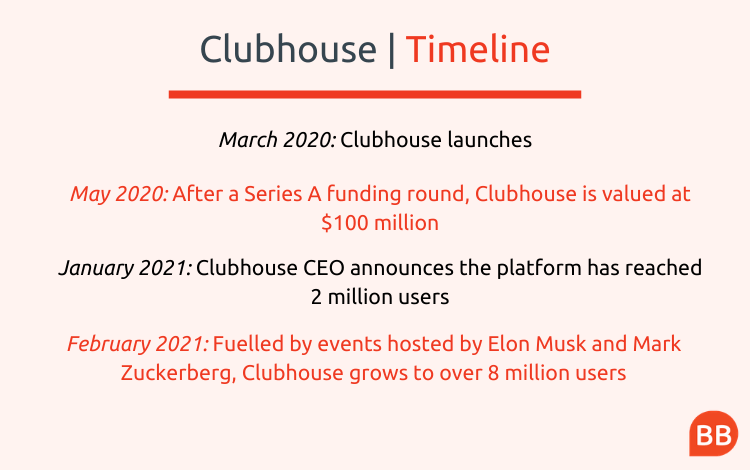 ---
Clubhouse could be described as something like live podcasting. You can select particular interests when you first sign up, which will then help direct you towards different 'clubs' (groups based around certain topics or industries) and 'rooms' (live conversations happening on certain topics). You're free to enter and leave any room as you choose.
While many users will use the Clubhouse app primarily to listen in to conversations, there is also the function to participate in discussions. You can raise your hand in a conversation, to be 'called on stage' to respond to a point or ask a question.
Rooms often feature high profile guests, which have so far included Elon Musk, Mark Zuckerberg, and UK chancellor and Stanford MBA Rishi Sunak.
As the name suggests, Clubhouse creates a certain feeling of exclusivity. As it stands, you can access the platform by invitation only (each user gets a limited number of invites). Rooms are limited to 5000 listeners, and you must be invited to be a member of a club. Conversations aren't recorded or stored, either: after the event, the discussion disappears.
---
What opportunities are there for business school candidates?
Clubhouse already offers a number of benefits for business school applicants.
Networking appears to be a clear advantage of the platform. While finding other users (who aren't already your contacts) on Clubhouse is not as intuitive as it is on other platforms like Facebook and LinkedIn, clubs offer a space to connect with people who share similar interests to you.
There are already a wide range of networking clubs connected to MBA programs and business schools.
- The Black MBA club, with over 600 followers at time of writing, promises to 'create an ecosystem of like minded professionals that want to thrive in corporate settings and economic endeavors'.
- Other clubs, such as African MBAs in the US and MBA Thailand offer similar opportunities.
Access to information and advice appears to be the other clear benefit of Clubhouse. Many clubs and rooms seem to offer sessions around specific areas of the application journey.
- The MBA Admissions club, hosted by Alex Brown and Graham Richmond from Clear Admit, holds sessions on applying for business school, responding to specific issues and questions candidates might have at different stages of their application.
- MBA Coffee Chats hosts discussions on topics inspired by MBA courses, on everything from innovation to leadership to entrepreneurship. It's hosted by Jeff Eyet, a lecturer at UC Berkeley's Haas School of Business, and promises to bring insights from industry experts and faculty from different universities.
There are also opportunities to connect directly with schools. Some top business schools already have clubs, including Harvard Business School, London Business School, and IESE Business School. These offer a space for alumni to connect or provide insights from faculty.
---

---
How can you best use Clubhouse?
The business school and MBA space on Clubhouse is relatively untapped, creating both a huge gap in the market, and a huge opportunity for schools and advisors to bring information to applicants.
Petia Whitmore, former dean of MBA admissions at Babson College and founder of admissions consultancy My MBA Path, believes that prospective applicants could start to flock to Clubhouse rooms in the same way that they come to tour events or open days.
"Most MBA admissions rooms I have participated in have not been overly crowded, leaving ample opportunity for candidates to start building rapport with key constituents that can influence their MBA journey," Petia says.
The fact that Clubhouse is audio only adds an informality to events. That said, there's still a Clubhouse etiquette that is important to observe. Petia advises that, as with any social media platform, candidates pay attention to their profiles, and make sure they're giving the right impression. The same goes for participating in discussions, especially with schools present.
"Just like at any other MBA event, chances are you will be evaluated. The way you interact and the questions you ask leave an impression," she says.
---

After a lively early February 2021, the number of active Clubhouse users fell by just over 20% in late February/early March. The Clubhouse app is also still available on iPhone only, which creates an instant barrier to its global success, although there are plans to launch on Android.
The fact that Facebook, Twitter, and Spotify have all announced plans for similar platforms shows that the format works and has huge potential.
Clubhouse offers a great opportunity for those hosting events to be creative, and for users to engage in different ways with the platform.
As Clubhouse looks to expand, it seems likely that players in the business school realm will continue to invest time and energy in the app.
For candidates, Clubhouse lends itself well to offering the advice, information, and networking opportunities that can be helpful on the road to business school.

Next Read:
LinkedIn Career Advice From Business School Experts
---
The main image was sourced from this site under this license.