Researching business schools online? Instagram is now the most widely used social media platform among business school applicants, according to a new report by business school market research group Carrington Crisp and the European Foundation for Management Development (EFMD).
The Generation Web (GenWeb) 2019 report showed that 87% of business school applicants use Instagram, ahead of Facebook (80%), Snapchat (75%), and Whatsapp (74%). Other sites didn't fare as well, with 52% using Twitter and 42% using LinkedIn.
Facebook usage decline was the most significant, falling 15% from 95% in the previous GenWeb report.
It's worth noting the respondent group of the survey is mostly pre-experience—66% are undergraduates and 27% are still at high school. LinkedIn still remains popular for graduates and professionals navigating the world of work and looking into MBA programs.
There's certainly no substitute for visiting a campus on an open day, but social media and websites are increasingly useful to get a flavor of a school and narrow down your choices. 51% of applicants said they would use social media to search for information about business schools, remaining the most popular way for business schools to reach their potential applicants. The report surveyed 604 students from 49 nationalities, around 66% of whom were doing undergraduate degrees and a quarter who were still at high school before doing a degree.
---
Most popular social media platforms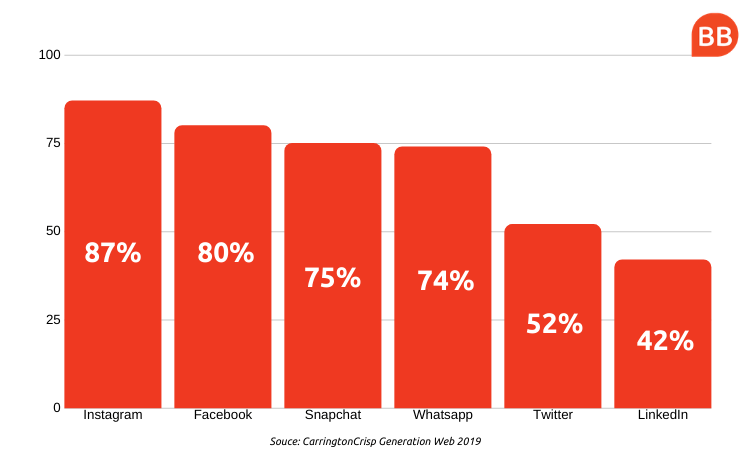 ---
Increasing distrust of social media
Insta-savvy business school students are clearly in tune with the steady rise of Instagram usage at the expense of parent company Facebook, who bought the photo app in 2012 for $1 billion. Instagram's user base hit one billion in May 2019, with around 500 million daily users on its Stories feature, while Facebook has reported a 15 million user decline.
Declining Facebook usage has been greatest for people between and 12-to-34 age bracket, falling from 79% to 62% in that age group between 2017 and 2019—significant, given the average of MBA students and applicants is roughly 28.
Business school applicants echo doubts about social media, with 34% of applicants saying they are uncertain about information on social media in the wake of Facebook data breaches and political use of disinformation and fake news.
Facebook does remain the most likely social media tool to make an impact on where an MBA applicant decides to study. Around 30% of students used Facebook to make a decision on their study destination, according to CarringtonCrisp's 2019 Tomorrow's MBA study.
YouTube has also increased in popularity. Half of all applicants said they'd searched for business school video content on YouTube, up from 39% in the previous study.
---
Key findings from the report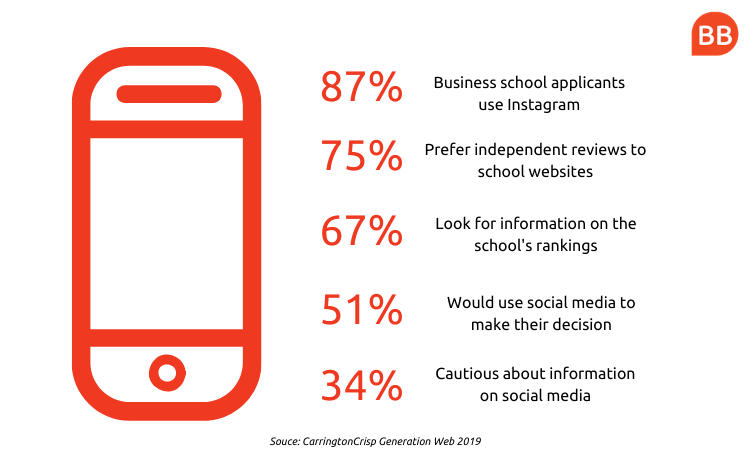 ---
Authenticity and differentiation
The GenWeb report looks into what information students look for on a school's website.
Rankings were by far the most popular, with 67% looking for information on this, while accommodation, fees, living costs, and career services all piqued the interest of 50%.
There is an increasingly cautious response to information which schools put on their websites and social media channels. The study revealed a distrust about the authenticity of information that schools were offering.
Three-quarters of applicants said they're more likely to read independent reviews of business schools as opposed to a school's website.
Andrew Crisp, co-founder of CarringtonCrisp, says this came down to authenticity and differentiation.
"There is too much content on business school websites and social media channels that looks just like other schools," Andrew says. "Students want an honest appraisal of what a school is really like and why they should study there and not somewhere else."
---
READ MORE: 10 Twitter Accounts That Every MBA Candidate Should Follow