As companies slowly recover from the impact of the Covid-19 pandemic, they need talented new recruits with relevant skills and expertise to join their workforce. Fortunately, demand for business school graduates is strong.

According to the Graduate Management Admission Council's Corporate Recruiters Survey, 91% of companies globally plan to hire MBA graduates in 2021.

Recruiters value the core MBA skills you'll learn and develop at business school, they trust that MBA programs prepare students well to thrive in their organizations, and MBA salaries and hiring returning to pre-pandemic levels.

So what are the skills you'll develop during your MBA, and why do they matter so much to employers? Here are 11 top MBA skills that recruiters value the most.
---
1. Communication skills
To run smoothly, businesses need employees who can communicate effortlessly with colleagues, clients, and bosses. The ability to express yourself in a clear and firm way is one of the most sought-out MBA skills in the corporate world—and one that you'll perfect during your MBA.
"As our clients tackle how to address business in the digital world, we look for candidates to have a good business acumen and client communication skills. You can be as smart as the day is long but if you don't communicate it then you don't get as far as you'd like," says Frances Taplett, managing director at top consulting firm Boston Consulting Group (BCG).
You'll be taught how to be a confident presenter, attentive listener, and concise writer, able to tailor your message to all kinds of audiences and across different media. If you can convincingly get your ideas across and expertly mediate conflict—whether in person or remotely — you'll be an asset to every team you're in.
"[Communication] will really create meaningful leadership, as long as it has authenticity and truth to it," explains JP Connelly, lecturer at UCD Michael Smurfit Graduate Business School.
---
2. Versatility and flexibility
During an MBA, you'll master the art of time management, as you juggle a heavy workload, social engagements, and professional commitments.
After one or two intense years of having to put on multiple hats, versatility and flexibility will feel like second nature.
The ability to take on diverse responsibilities and to quickly switch from one activity to another will prove just as important after graduating. You'll often have to organize various projects at once, and remain as adaptable as possible when problems arise and plans veer off-course.
For instance, many MBA grads will go on to work for management consultancy firms, which require you to understand the perspectives of various stakeholders and pivot mid-project.
---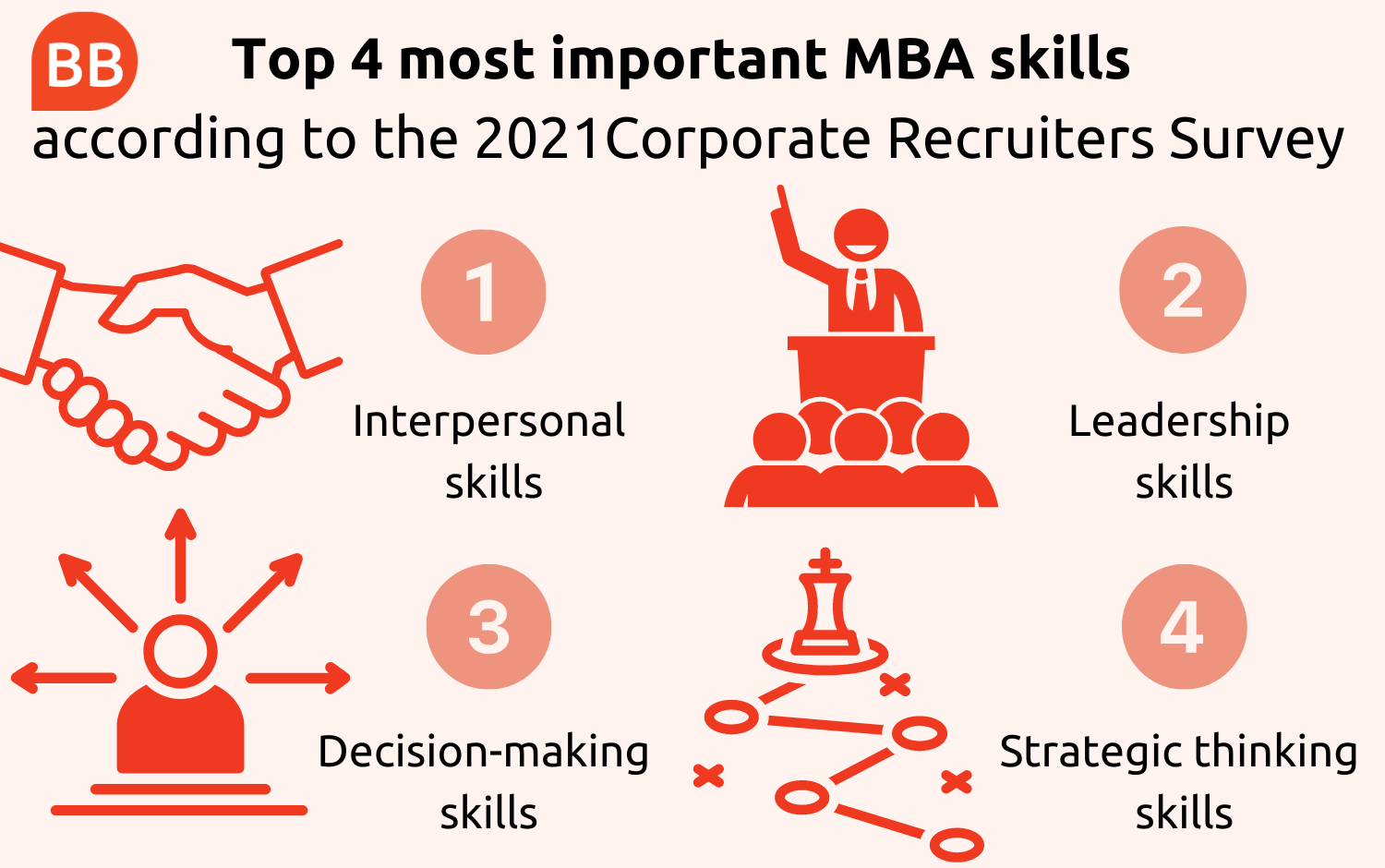 ---
3. Strategic thinking
Thinking strategically involves questioning your own biases and assumptions, seeking out relevant information to make informed decisions, and taking the time to reflect to find the right course of action.
Strategic thinkers are able to plan for the future by being attuned to trends and cultivating the necessary foresight, while keeping their eye on what demands immediate attention.
Your MBA will equip you with this invaluable and multifaceted skill, which employers think is crucial for a well-functioning workplace.
---
4. Digital savviness
Businesses have had to adapt to an increasingly digitalized world, and they're looking for the people who understand social media engagement, know how to navigate various softwares, and are willing to learn about the new technologies being developed everyday.
"It's about wanting to learn and constantly stay outside of your comfort zone, because we are working with more sophisticated tools and deeper expertise than we ever have before," reflects Keith Bevans, consultant at top consulting firm Bain & Company.
Depending on the modules on offer, your MBA will introduce you to a range of digital and technological skills including digital marketing, analytics, web development, and sometimes even coding. Expertise in those tools and the ability to leverage new tech will help you stand out in the corporate world, especially in the tech industry.
"The future is digital, and professionals need a digital-focused education to adapt to the new normal," says Professor Tai-Yuan Chen, Digital MBA program director at Hong Kong University of Science and Technology (HKUST).
---
5. Entrepreneurial spirit
Even if you plan to join a larger organization rather than starting a company of your own, an entrepreneurial outlook is an asset. Being able to think ahead of the curve is one of the most prized top MBA skills in the business world.
Companies' success is dependent on innovation, and they're constantly on the lookout for talented graduates who will come up with fresh ideas to drive the business forward.
Your MBA will teach you to identify gaps in the market and make sense of trends, which means you'll always be one step ahead. Through both individual and group projects, you'll develop a sharp business acumen that will make you an inventive and shrewd entrepreneur.
---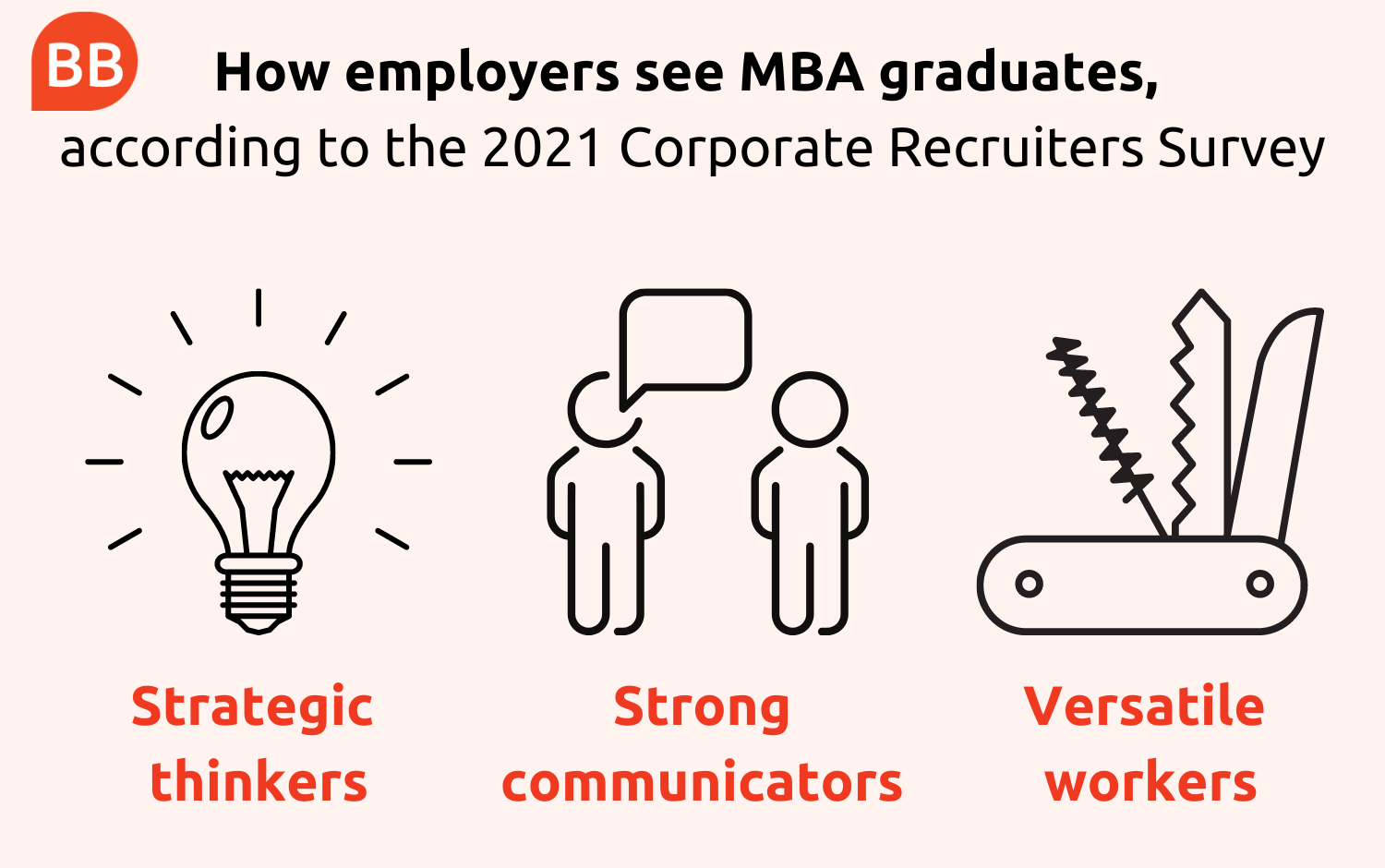 ---
6. Leadership skills
Leadership is one of the most fundamental MBA skills. Many programs offer core leadership courses, teaching you how to supervise, manage, and motivate a team to work towards a common goal.
It's the second most valued skill in business school graduates, just behind interpersonal skills, according to GMAC's Corporate Recruiters Survey.
Companies want empathetic and reliable leaders who are able to adapt to new contexts and unforeseen circumstances. If you're graduating from an online or hybrid MBA, you might also have developed a knack for remote team-building across different modes of work, time zones, and locations.
"There is a high demand for international and agile leaders with the professional experience to work in highly demanding positions," reflects Léon Laulusa, dean for Academic Affairs and International Relations at ESCP Business School.
"The MBA is the right program for this."
---
7. Resilience
You'll encounter a whole host of challenges during your MBA. Projects will fail, collaborations may fall through, and not every piece of work you produce will be of the highest quality.
You'll face similar setbacks in the corporate world, but what matters is your ability to bounce back, learn your lesson, and keep going. Progress is only possible through self-awareness, and a willingness to grow from your mistakes.
---
READ: Which Companies Hire The Most MBAs?
---
8. Problem-solving
Your MBA will teach you how to find solutions to complex problems by digging beyond the surface, factoring in different viewpoints, and always keeping in mind the bigger picture. You'll learn how to identify the source of an issue, brainstorm with your peers, and create clear steps towards resolution.
Your experience of collaborating with a diverse group of students and of reaching out across cultural boundaries will also serve you well. "Diverse teams are more effective mainly because different cultural groups see things in completely different ways," says Stephanie Jones, associate professor of organizational behavior at Maastricht School of Management (MSM). "Different perspectives help with problem solving and creative thinking."
---
9. Decision-making
Your MBA will teach you both short and long-term decision-making, which requires excellent time management, organizational, and relational skills.
Through learning how to negotiate, resolve conflict, and manage operations, you'll develop empathy for others and insight into their motivations. This will make you an efficient decision-maker, able to think on your feet and quickly decide on the best course of action.
You'll be able to determine how to allocate resources and prioritize tasks in a way that makes the business more productive, and keeps everyone satisfied.
---
10. Interpersonal skills
MBAs include a lot of group projects, which will teach you how to collaborate, communicate, and compromise effectively with people from a variety of backgrounds and different areas of expertise.
When you graduate, these interpersonal skills will be the most valued by recruiters, according to GMAC. Your ability to work with diverse teams, understand human behavior, and manage human capital will prove invaluable in a professional environment.
---
11. Networking
One of the most powerful benefits you'll get from your MBA is a diverse and tight-knit network.
You'll meet people from all over the world and create lifelong friendships that will benefit you years later. This ability to build, maintain, and expand a strong web of professional connections will come in handy in the workplace, as your employer might ask you to leverage this network.
The networking skills you've acquired during your MBA will also allow you to grow your network even further, creating opportunities for learning, partnership, and growth as you evolve within your industry.
---
Next Read:
50 Reasons Why You Should Get An MBA