Business school applications have held steady following 2020's surge and much of this growth comes from international MBA candidates, according to the Graduate Management Admission Council's (GMAC) latest Application Trends Survey released today.

The total volume of international applications to graduate business school programs rose by 4.1% this year, while 44% of MBA programs saw an increase in international applications, the new data reveals.

"[In 2020] candidates looked for alternative career options during the COVID induced recession and business schools introduced more flexible admission policies, resulting in soaring application volumes last year," explains Sangeet Chowfla, president and CEO of GMAC.

"The 2021 application cycle indicates that the surging demand for business education is not a passing fad, but has staying power beyond 2020," he adds.

The overall volume of business school applications remains relatively stable, experiencing growth of 0.4% in 2021. 41% of business school programs reported growth in applications overall.
---
International applications bounce back
As travel restrictions ease post-pandemic, and the US introduces friendlier student visa policies, applicants are keen to travel abroad for their business school experience. The number of international applications to business schools grew by 4.1% in 2021, while domestic applications declined by 3.8%.
This trend is especially prominent for highly ranked MBAs. Among the Financial Times' top 50 MBAs, 66% saw an increase in international applications.
"As student mobility gradually returns, the diversity it brings to a classroom will only benefit and enrich campus life," comments Katy Montgomery, associate dean of programs at INSEAD and GMAC board member.
---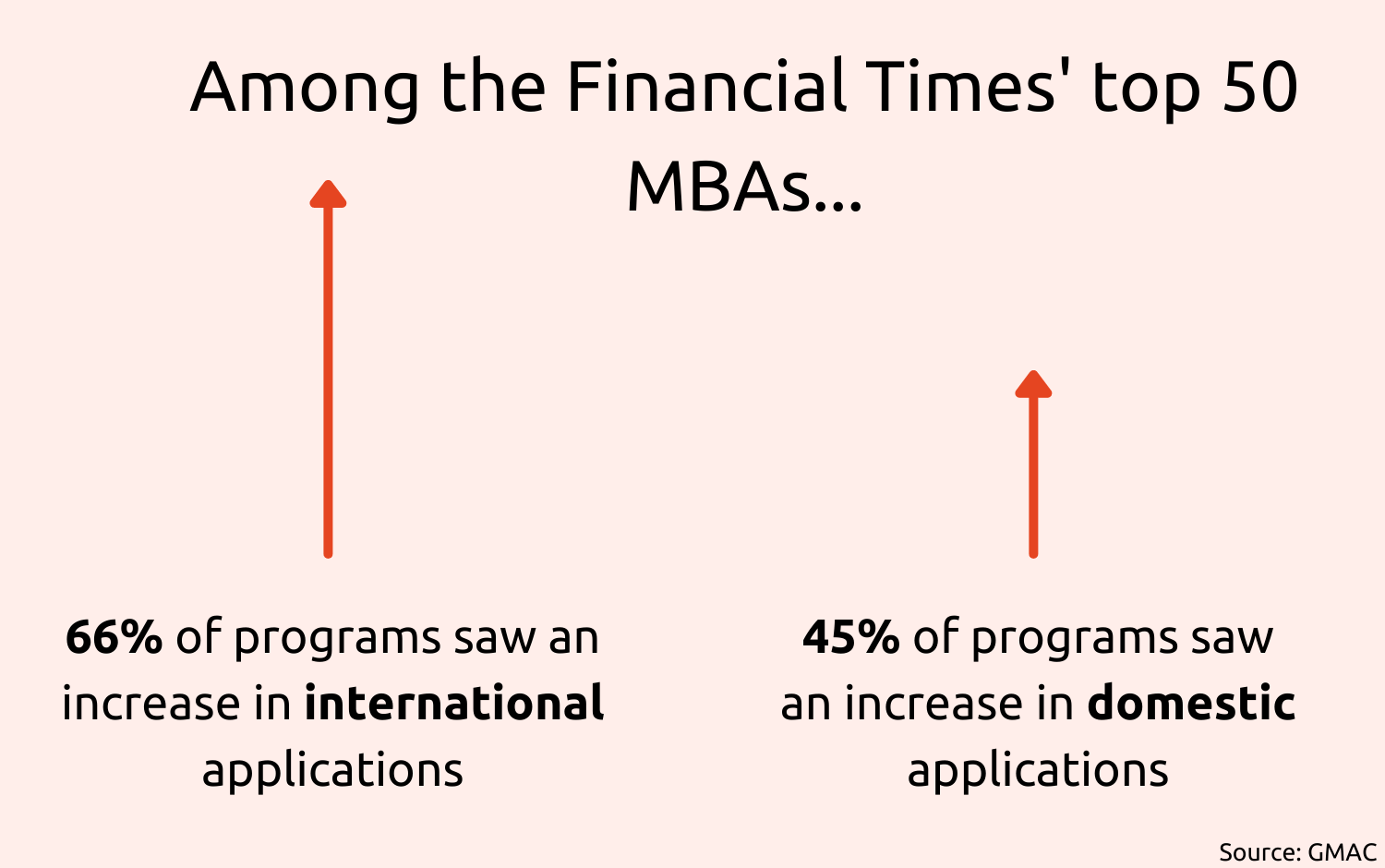 ---
Underrepresented candidates return to their MBA plans
2021 saw a significant increase in applications from candidates who belong to an underrepresented minority (URM) group.
56% of full-time, two-year MBA programs reported growth in URM applications in 2021—representing a significant pre-pandemic increase. In 2019, just 37% of these programs managed to grow the number of applications received from URM students.
Female candidates, too, are applying to MBA programs in greater numbers this year. In 2020, according to GMAC data, more than half of women said they were very or extremely concerned about how coronavirus would affect their business education, compared with just over a third of men.
This uncertainty discouraged many women from applying. But in 2021, 60% of full-time, two-year MBA programs reported an increase in female applicants, while just 43% of these programs found that more men were applying.
Recent Forté Foundation research confirms the growing presence of women in MBA programs. Among its partner schools, an average of 41% of enrolled students are women—up 2% compared with 2020.
As the impact of the pandemic wanes, more women are interested in pursuing in-person programs rather than Online MBAs. 42% of Online MBAs saw more female candidates this year, while 80% of programs attracted more women in 2020.
---
---
Master's applications hold steady
Broken down by program type, the full-time two-year MBA saw the biggest growth in applications globally in 2021, with 56% of programs reporting growth. 52% of one-year MBA programs reported increasing applications.
Yet the MBA isn't the only program type to see increased applications this year. 42% of all business master's programs saw a growth in applications.
Master in Data Analytics programs proved especially popular, with 47% of programs receiving more applications than they did in 2020.
Meanwhile, 36% of Master of Finance programs and 49% of Master in Management programs grew their application volumes.
---
Regional variations
Applications are up overall, but some regions are seeing more of a boost than others. More Canadian business school programs reported increased applications than any other region, with 69% of programs experiencing higher application volumes in 2021.
72% of Canadian MBA programs, and 56% of Canadian Business Master's experienced application growth this year.
In the Asia-Pacific region, the story is similar. 63% of programs reported increased applications. Business Master's in the region had an especially strong year, with 68% of programs reporting growth.
In Europe too, more than half of Business Master's programs (52%) saw stronger applications than in 2020—compared with just 34% of European MBA programs.
US programs on the other hand saw much more modest gains. Just 38% of programs reported increased applications, while over half (55%) actually saw applications go down. This trend held for both MBA and Masters programs in the US—58% of MBA programs and 55% of Business Master's saw their applications drop in 2021.
This represents a stark contrast with 2020, which saw 67% of US business school programs grow their application volumes.
---
Next Read:
5 MBA Admissions Trends For 2022 | How Competitive Is Your Application?