When deciding to go to business school your decision will revolve around more than just the career progression you'll see once you graduate.

There's also the cost, and financing your MBA is a huge commitment. According to the BusinessBecause Cost of MBA Report, the total cost of a top MBA in the US can exceed $200,000.

MBA loans are a common way for students to pay for business school, alongside MBA scholarships, personal savings, and company sponsorship. The average US MBA student takes out $62,000 in graduate student loans per year.

But how do you know if it's worth the financial burden?
---
The pros of MBA loans
---
MBA loans provide increased access for financially strapped students

The most obvious pro is that student loans increase accessibility to MBA programs for financially strapped candidates. With the cost of a program potentially setting you back six figures, a loan can help to cover the costs.
Taking out a student loan for your MBA can also open the door to affiliations with more prestigious educational brands, says MBA admissions consultant, Barbara Coward (pictured).
That's because they often fetch the steepest fees, and so without financial aid many candidates are counted out of the applicant pool. By taking out a loan you can give yourself the option of applying to the top, expensive MBA schools in the US like Harvard and Stanford. That pays off in the long term too, with the lifetime brand recognition that comes with elite institutions.
---
MBA student loan rates can be low
MBA loan interest rates are usually favorable. When shopping around, make sure you compare rates to get the lowest offer.
International student loans provider, Prodigy Finance, offers Masters student loans starting at 6.7% APR, and doesn't require you to start paying back your loan until six months after classes end. You can also take seven to 20 years to complete your loan repayments.
Juno, a student loans company set up by Harvard MBA grads Chris Abkarians and Nikhil Agarwal, uses group buying power to negotiate the best student loan rates possible for MBA and master's students, as well for other undergraduate and graduate programs.
The company promises to offer the lowest repayment rate for students, and will match a lower rate if you find one.
---
You can save on tax with MBA loans
Nikhil from Juno explains that many candidates who go down the loans route can also afford to pay for business school but choose to opt for a loan for tax reasons.
"The reason they don't want to pay for this out of their savings is because it's a taxable event if they liquidate their stocks to pay for this," he notes. "They'd much rather defer paying those taxes and continuing their growth in the stock market, especially when they can get a 4% fixed interest rate, 15-year loan through us."
---
You might be able to pay off your MBA loan quicker than you think
Some of the highest paying MBA jobs will see your salary spike to six figures. Graduates from the University of Chicago's Booth School of Business earn on average $200,000 three years out of business school. Grads from INSEAD see their salaries hit around $188,000.
So, even if you have to take out a six-figure loan, the likelihood is with hard work and a top job you'll be able to pay it back after several years.
There are also loan forgiveness programs at some schools, which remove your obligation to pay back part of all of your loan. Yale School of Management and Stanford Graduate School of Business offer loan forgiveness programs for grads who enter the nonprofit or public service sector.
---
You get an MBA

The lifelong return on investment of an MBA can't be understated. Yes, a lot of MBA programs are expensive, but the reasons to study an MBA outweigh the cost.
"The ROI of a top MBA is well worth the expense and hassle of a loan," asserts MBA admissions experts, Candy Lee La Balle (pictured). "In 16+ years of admissions consulting and hundreds of clients, not one has ever reported regretting the cost of their MBA. It is a life-transforming experience and that is truly priceless."
---
The cons of MBA loans
---
MBA loans could restrict your career options
When you take out a large loan it's often accompanied with stress, anxiety, and questions over how you're going to pay the money back.
This is arguably one of the major drawbacks of business school loans. To pay back the money, you might be more likely to target the higher paying MBA jobs in consulting, tech, and finance, rather than pursuing an entrepreneurial ambition or nonprofit work, which could fetch much smaller salaries.
"Having a $200,000 debt after you graduate that comes with a monthly payment might limit the set of jobs you can reasonably go for the first few years after you graduate," says Chris from Juno.
---
MBA loans increase your overall debt burden
Most MBA candidates will have been educated to undergraduate level; some might even have a master's degree. That means you often land in an MBA classroom having accrued a substantial amount of debt already.
"That can cause financial and/or emotional hardship," says Barbara. "Especially if you have unplanned expenses down the line such as medical bills; your budget is already stretched thin."
---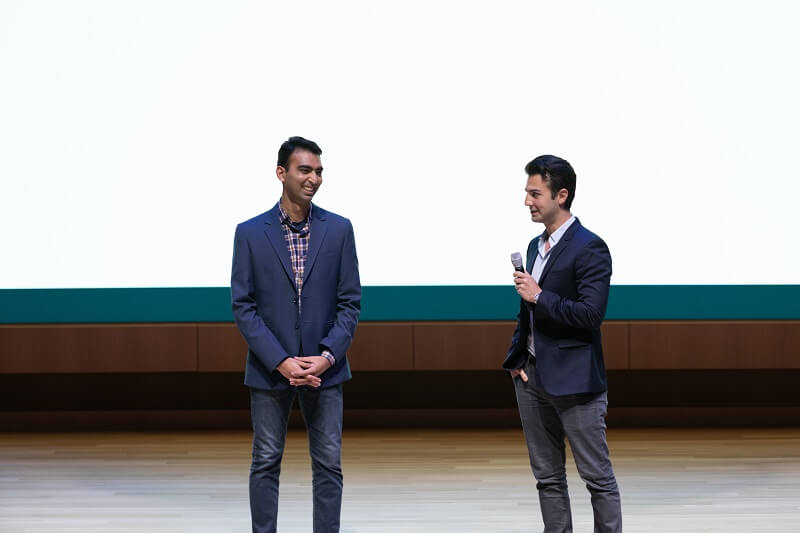 Nikhil Agarwal (left) and Chris Abkarians (right) cofounded Juno after the Harvard MBA
---
MBA loans can be risky for certain candidates
Even the best MBA loans come with a certain amount of risk, especially when post-MBA career options can sometimes be out of your hands.
There are several questions to weigh up when taking out your loan for business school, the major one focusing on whether you have a backup plan if things go awry. This is of particular concern for international students who might encounter visa issues if government policy changes unannounced.
"You're gambling on the unknown," Barbara asserts. "For instance, you could be an international student who takes out significant loans to attend business school in the US, but new visa regulations mean you have to return to your home country, where salaries could be lower."
---
There can be a lack of transparency from lenders
One con of MBA loans that Juno's Chris points out is a lack of transparency from some lenders. "It's more confusing than it should be to figure out what you're going to get charged in most scenarios," he says.
"It's very hard to tell the difference between one provider and the next, and there's often an assumption that the rates that one would get from bank A versus bank B are roughly the same, and they can actually be extremely different."
You should always triple check the rates of interest across providers, and compare what you're getting. Two providers could offer the same repayment rate, but one could have a high percentage application fee, for example. Or, there could be stark differences between the terms of repayment between two lenders offering the same interest rate.
Either way, be sure to be extra careful when applying for a loan, as you don't want to be caught out further down the line.
---
Next Read:
MBA Finance | 6 Unique Ways To Fund Your Degree
---
This article contains affiliate links, so we may earn a commission when you take a loan through links on our site at no additional cost to you.