The value of networking at business school should never be overlooked. Building a strong MBA network will enable you to access better career opportunities, meet likeminded peers, and broaden your perspective.

If you're looking for an MBA with top networking opportunities, here are five things to consider:
---
1. MBA cohort size | Bigger is not always better!
When choosing an MBA program, consider the average MBA cohort size at your target business school.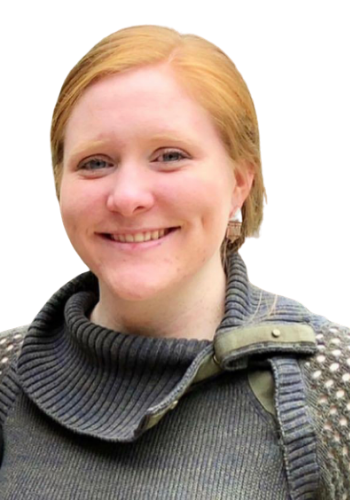 Marcella Desloge (pictured), an MBA student at the University of Washington Foster School of Business, has enjoyed being part of a smaller MBA cohort as she's been able to benefit from personalized career support.
Before her MBA, she had been working in healthcare administration, but she hoped to transition into tech within the healthcare industry post-MBA.
The Foster MBA cohort size is relatively small in comparison to some MBA programs, with the Class of 2023 comprised of 126 students.
During her time in the MBA so far, Marcella has worked with a career coach from the Foster MBA Career Development Office on a regular basis to develop a tailored career plan.
"Over the Summer, I was assigned a career coach who guided me with my MBA resume, how to voice my story, and connected me with alumni and students who had worked with Microsoft," she says.
This mentoring has led to her landing a role as a product marketing manager at Microsoft for their healthcare platform after she graduates from the Foster MBA.
In a smaller MBA cohort size, she's also been able to form close bonds and network with her classmates.
"The fact that I feel comfortable calling or contacting any one of my classmates speaks volumes," she adds.
---
2. MBA alumni network | Connect with professionals across industries
A strong and established MBA alumni network can help you tap into a forum where you can exchange different ideas, perspectives, and information.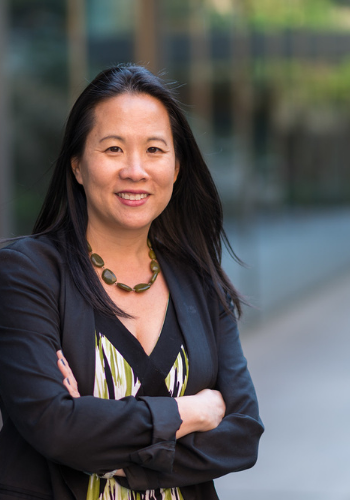 Christina Fong (pictured), the associate dean for inclusion and diversity at Foster School Business, explains that Foster alumni spend one-on-one time with MBA students, offering mentoring, career advice, or simply social networking opportunities.
The Foster alumni network is made up of over 57,000 alums. In 2019, Washington Foster ranked amongst the best business schools for networking in the US.
During events like Careers and Community Week, Foster MBA students take time off classes to connect with alumni.
There are also several affinity MBA alumni networks at Foster School of Business, including the African American Alumni Achievement group and the Association of Latino Professionals for America.
---
3. MBA clubs | Are there clubs and societies that match your interests?
Joining vibrant MBA student clubs can facilitate career exploration, as well as professional and personal development.
"MBA clubs and associations help students to apply their skills and drive students to work together to achieve something that's bigger for the community at large," says Christina.
From the Consulting Society to the Entrepreneurship and Venture Capital Club—there are many MBA clubs on offer at the University of Washington Foster School of Business.
MBA student Marcella oversaw the Husky Hackathon event for the Technology Club at Washington Foster, where students collaborate with the design and engineering school to create teams that create a prototype generation within a 48-hour timeframe.
"Seeing everyone's different approach to how you can make tech more accessible was incredible," says Marcella, adding that she had never worked alongside software engineers before.
---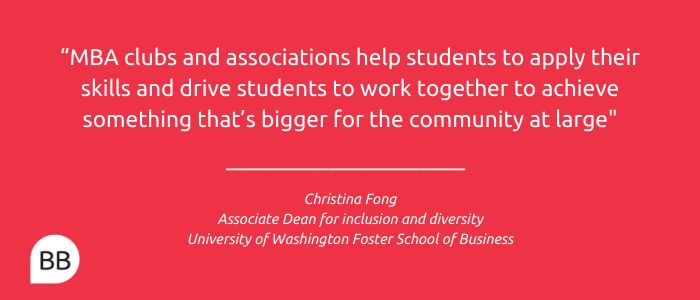 ---
4. Culture | Is your target business school the best fit?
When choosing a business school, it's important to research into its culture to make sure it fits with your personal beliefs and values.
To assess culture and how its fosters collaboration, engagement, and sense of belonging, you may want to look at the various diversity and inclusion efforts fuelled by the school.
Checking the percentage of international students enrolled in the MBA program of your chosen school is a good first step. At Foster, 40% of international students typically make up the MBA cohort. There are 40% women.
The spirit of the Northwest region infuses the Foster MBA, with a diverse mix of professionals, innovators, and team-players, working in a collaborative environment. Doing an MBA at Foster, the school says, is about being part of a wider community, making a positive impact, working hard and playing hard too.
In the first year of the MBA, students are placed into four different teams comprised of five students to work on assignments and projects together. These groups are purposefully curated to be diverse, both professionally and ethnically.
"Working with a diverse team is hugely beneficial—the diverse cohort at Foster constantly brings different perspectives to the classes," says Marcella.
Opportunities for non-academic collaboration through extra-curricular activities also build a positive MBA culture.
Foster MBAs can deepen their connections and reinforce the close-knit community by taking part in various activities; guided climbs of Mount Rainier, kayaking, and community projects.
---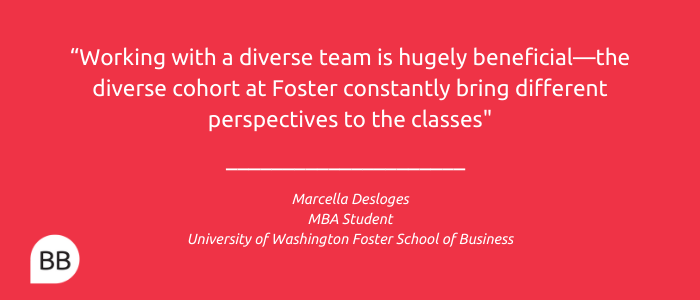 ---
5. Access to the wider business community | Get a job from your MBA network
A business school's connection with the wider international business community is also vital for MBA networking opportunities.
Top-ranked b-schools partner with global business leaders and companies that take part in guest lectures, student club events, field study projects, and mentorship programs.
Wendy Guild (pictured), assistant dean of MBA programs at Foster Washington, says having these links with industry helps create a springboard for further and deeper connections through Q&As, mentor relationships, and project-based engagements.
One way of identifying the strength of a business school's involvement with the wider community is by looking at the employer list with whom they partner with, says Wendy. Foster has strong relationships with companies across industries including Amazon, Expedia, Microsoft, and REI.
"Foster is deeply embedded in the vibrant business community here in Seattle, with over 2000 business leaders visiting our campus," Wendy says.
Getting involved with the wider business community will support your learning journey and may help you land an internship or post-MBA job.
97% of Foster MBAs land new jobs within three months of graduation, according to the Financial Times, earning over $156k on average after three years and increasing their pre-MBA salaries by 120%.
Related Content: