Whether you opt for a part-time or full-time program, studying an MBA is a considerable investment.
However, there are more affordable MBA programs out there and many students receive substantial scholarship support to help cut the cost. Plus, MBA grads can earn a huge salary bump post-graduation—arguably the most significant factor for a good return on investment (ROI).
For example, at the University of Washington Foster School of Business, grads earned a salary increase of 132% three years after graduation, according to the Financial Times MBA 2023 ranking.
Gaining a good MBA ROI is also about joining a business school with connections to your target companies, filling your skills and knowledge gaps, and leveraging networking opportunities.
This will help propel your career forward and maximize your MBA ROI—just like it did for these grads.
---
1. Use scholarship opportunities to gain a strong MBA ROI
MBA scholarships are a great way to reduce your student debt and contribute to your MBA ROI before you even start the program.
At the University of Washington Foster, all full-time MBA students are considered for a merit-based scholarship.
These MBA scholarships include the Forté Fellowship, The Consortium Fellowship, and the Reaching Out MBA Fellowship—all of which focus on diversifying the pool of MBA students.
The Foster School of Business also aims to increase accessibility to the program by offering a non-test optional MBA admissions process.
If you don't secure a scholarship, the Foster MBA program is still much lower than the average cost of an MBA in the US. According to the BusinessBecause Cost of MBA Report 2022, the average total cost of an MBA in the US is $225k.
However, the full-time Foster MBA program costs around $77k for state residents and roughly $112k for out-of-state students.
---
2. Consider how location could impact your MBA ROI
Where you decide to study your MBA can determine the career opportunities and industries you might access after graduation.
Abhro Pal, an MBA alumni from the Foster School of Business wanted to pivot from his technical engineering background as a software solution architect to a business role in tech.
"Because of my career goals, there was no other option than studying in leading Big Tech hub, Seattle," he says.
Seattle is home to the headquarters of major tech giants including Amazon and Microsoft. It's also home to the Foster School of Business.
The city also boasts a booming entrepreneurial and startup scene with more than 600 startups, including 20 unicorn startups.
After graduating from the Foster MBA program, Abhro has since landed his dream role as a business planner in the Microsoft Azure team.
"The scale at which Microsoft, and the business planning team I'm part of, is operating is truly amazing to be involved with," he says.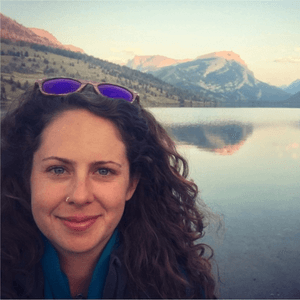 Seattle's buzzing tech scene opened doors for another Foster MBA grad, Courtney Wenneborg (pictured).
Having started her career in retail management, she used the MBA to develop her skills in finance. She's now the senior finance manager at multinational ecommerce platform, Shopify.
Having been immersed in Seattle's tech space, it's no surprise that 45% of Foster MBA grads landed roles in the tech industry in 2022, securing an average salary of around $138k.
The average total compensation for the cohort, including signing bonus, was $188k.
---
3. Be proactive in group MBA projects
If you get the chance to connect with top companies in MBA projects, demonstrating your skills could be your ticket to an MBA internship or even a full-time role.
It was during a business case competition on the Foster MBA that Abhro first connected with Microsoft.
Abhro and his classmates worked with Microsoft Azure AI, an artificial intelligence platform, to devise a framework that solves a business problem for Microsoft. The team concluded the project by presenting their findings to top leaders at the company.
"We won the case competition, which essentially opened doors for me at the company. It helped me make connections and eventually land an MBA internship at Microsoft," he says.
These connections meant Abhro was able to fast-track straight to the final round of interviews for his Microsoft MBA internship. For three months between the first and second year of the MBA, he worked with Microsoft Azure to create market strategies for the high-performing computing portfolio.
Courtney was also keen to impress when she got the chance to work with Nike on a business case during the Foster MBA.
"I didn't have a ton of business experience before, so I knew that experiential learning components were going to be really important to help me translate what I was learning in classes into a real business setting," she says.
After this exposure, Courtney secured a 10-week MBA internship at Nike, which turned into a full-time role after graduating. In this time, she progressed from finance manager to finance director of Nike's global footwear division.
Opportunities to connect with top employers during your MBA will build your professional experience, expand your network, and allow you to earn a good return on investment soon after graduating. In 2022, 99% of Foster MBA grads were employed three months after graduating.
---
4. Building a strong network can maximize your MBA ROI
Your network is one of the most important things you will gain from business school.
When choosing an MBA program, Courtney wanted to make sure the alumni network had connections to companies that appealed to her, allowing her to speak to alums about their experience and gain insider advice.
The Washington Foster alumni network is 57,000 strong. MBA grads have previously landed roles with top companies such as McKinsey, Goldman Sachs, Apple, and Deloitte.
"I wanted to find beneficial connections and mentorship, which really depends on the strength of community your school has," she says.
A strong business school network will stay with you throughout your career.
"Return on investment for me is knowing I can continuously open doors for myself and never get bored. The connections I made and the program itself meant there has been a huge diversity of experiences available to me," says Courtney.
---
5. Reduce your debt by studying a part-time MBA program
Studying a part-time MBA program means you don't have to take time out of work, offsetting the cost of paying for business school.
Chad Delrose (pictured) chose to join the part-time Evening MBA at the University of Washington Foster to secure a strong MBA ROI as he was able to progress in his career while studying.
After graduating from the Foster Evening MBA, Chad landed a promotion at Accenture, his then company, to become deputy chief financial officer (CFO) for the Western market.
Yet joining an MBA in Seattle opened Chad's eyes to the robust startup scene.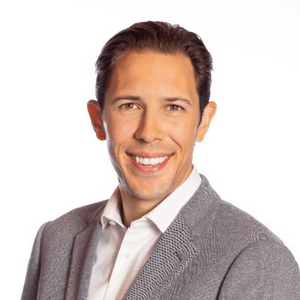 "The experience helped broaden my perspective around what's possible and what's out there, changing the perceived barriers I had about what my career should be," he says.
He decided it was time to take a risk and left his role at Accenture to become chief commercial and financial officer for energy storage systems startup, GENIESS.
"As the job market is changing dramatically right now, I think an MBA goes a long way in keeping you relevant and future-proofing your career," he says.
While your MBA ROI also comes down to the salary you earn post-graduation, it's also about how you define your success.
For Chad, success was pushing his career in new and exciting directions, unlocking his potential and gaining the confidence to take risks.
---
If securing a strong MBA ROI is at the top of your agenda, the best place to start is by assessing the affordability of the program and how to cut down your student debt.
Yet ultimately, maximizing your MBA ROI means being committed to leveraging all the experiences business school has to offer. With an advanced skillset and valuable industry connections, you'll no doubt make the investment worth it.
Related Content: