Levelling up an entrepreneurial venture to a global scale is no easy feat. As well as having the confidence and risk-taking mindset of an ambitious entrepreneur, you'll also need a solid understanding of the global diversity of your expanding customer base.

Studying abroad for your MBA can provide you with this global perspective as you'll be immersed in a new working culture with increased chances to network with people from across the world.

That's exactly what happened to Ben Giant. Since moving from the States to study an MBA at Cranfield University School of Management in the UK, he has worked across industries from airspace defence to apparel footwear, using his skills and expertise to grow small businesses into global ventures.
---
Studying abroad for an MBA
When deciding whether to study his MBA in the US or the UK, it was important to Ben that the program aligned with his entrepreneurial goals and offered a hands-on experience that would help him grow professionally and personally.
"The application process was very personal—Cranfield really took the time to get to know me and my background, and emphasized to me why they were the right fit for me, which solidified my decision to study there," Ben says.
Studying abroad on the Cranfield MBA also appealed to Ben as he only needed to take one year out of work before he could kickstart his entrepreneurial adventures. In the US, MBA programs are typically two years.
---
Learning MBA skills to pursue global entrepreneurship
If you're aspiring to become a global entrepreneur, building an international network and understanding different cultures is essential.
The Cranfield MBA is typically comprised of 60 students from 18 different nationalities.
"Interacting with so many different people on the MBA in the UK, I learned the nuances of communicating and working with different nationalities," Ben says.
Ben adds that sharing his MBA study abroad experience with those from different cultures and backgrounds would give him a rich professional experience he could take into his future career.
In his entrepreneurial ventures, Ben works with people across the world from Europe to Asia and says that gaining an understanding of the foundational cultural anchor points has been essential to expanding a customer and client base.
During the Cranfield MBA, students take part in practical consulting projects and competitions to test their skills in real world business situations. The European Business Plan of the Year Competition brings together teams from 12 leading business schools to showcase their business plan to investors.
"Being able to test ideas and try new strategies in a safe environment is what has given me the confidence to jump into new ventures throughout my career," Ben says.
Cranfield MBA students can also study electives in International Strategy and Managing International Mergers and Acquisitions to hone their skills towards working on a global scale. Additionally there is a language module, through which students can become well-versed in business acumen in Spanish or French.
Working closely with his classmates on projects and in classes, Ben says he learned as much from his cohort as he did from his professors, building a network that he still uses in his career to share experiences and advice.
"Immersed in the countryside campus at Cranfield, you're placed in a bubble surrounded by people who are driven and determined to make ideas a reality, which made the studying abroad experience so much more valuable," Ben says.
Being surrounded by this team of people further helped him to develop his own entrepreneurial mindset, he adds.
---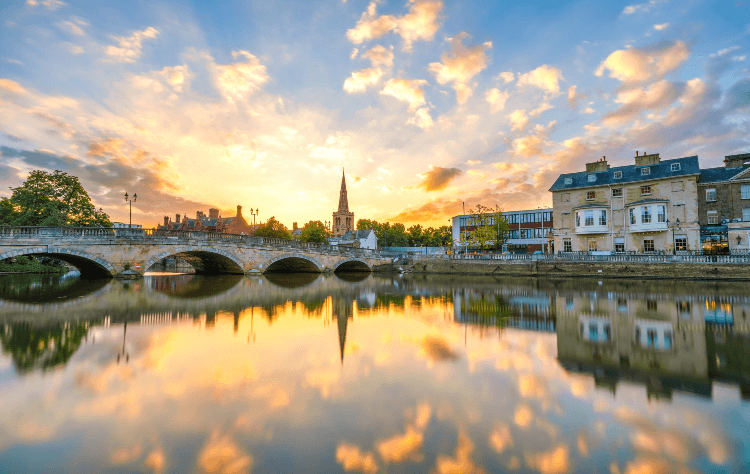 ---
Growing multinational entrepreneurial ventures
Constantly looking for his next challenge, Ben has worked on multiple entrepreneurial ventures across industries such as consulting and project management.
"I consider myself a builder; pairing my undergraduate degree in engineering with an understanding of strategy and entrepreneurship, it's become my passion to look for viable solutions to increase revenue and reach for businesses," he says.
Ben has worked with startups and small businesses in both the UK and the US. He's been able to successfully adapt his leadership style to suit each working culture due to his experiences studying abroad for his MBA in the UK.
At the end of the Cranfield MBA, Ben took part in the International Business Assignment where he was able to travel to different economies to experience how culture impacts upon business practice.
This experience means that Ben now confidently manages a portfolio of 15 projects for VF, a multinational apparel footwear company, where he works with top global brands such as The North Face and Timberland to drive modernization and implement effective supply chain management.
"I'm always thinking about what comes next. Armed with a professional skill set learned from my MBA, I'm prepared more than ever for the unexpected," he says.
---
Next Read: 5 Key Ways To Develop An Entrepreneurial Mindset
Related Content: