Social media giant LinkedIn has proved a hit with millions through seamlessly connecting employers and job seekers on its network-building platform. But could using LinkedIn actually damage your job prospects?
New research from emlyon business school in France has found that those who excessively use LinkedIn to find jobs fare worse than those who adopt a more considered approach.
Nikos Bozionelos, professor of international human resources management who led the research, explains how the scatter-gun approach that many LinkedIn users deploy doesn't help when looking for work.
"People who prioritise professional social media platforms like LinkedIn as a way to find a job tend to spend disproportionate amounts of time searching and sending out applications and are less selective in the jobs they choose to enquire about or apply to," he says.
"As a consequence, there is less chance of identifying those jobs that suit them best and they have less time to prepare their application well to maximise their chances to succeed."
A less aggressive approach was found to be more favorable. This includes spending time to carefully select job openings that were relevant to the applicant's skillset, and spending time preparing a convincing and attractive application that is tailored to that specific role.
---
LinkedIn is still important
As well as interviewing young professionals, the research group also surveyed recruiters, hiring managers, and HR professionals. What emerged is that networking sites like LinkedIn are still important to recruiters.
---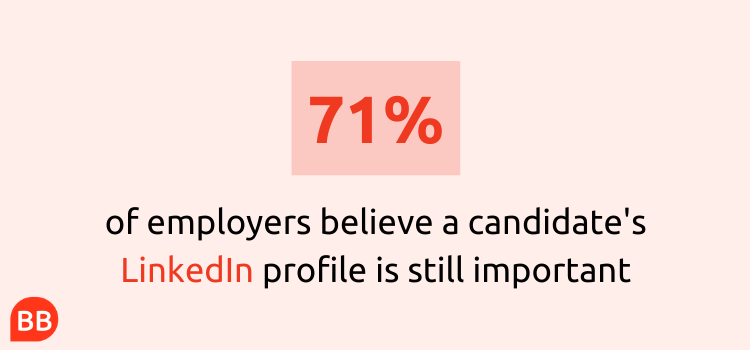 Source: emlyon business school
---
71% said that an applicant's LinkedIn is still of interest to recruiters, even if they haven't applied through LinkedIn. 78%, moreover, said that LinkedIn was more useful as a networking site that could yield future job prospects, as opposed to a site for finding a job.
"Putting a name to a face and having general conversation increases the chances of being informed about or applying for a job that fits their skills, experience and desires. This is more effective than just applying for any job that is loosely related to their desires or skills," Nikos explains.
Recruiters also advise healthy use of the site, encouraging self-promotion and personal branding in moderation, to make you more accessible to recruiters.
---
Networking in a time of crisis
The current MBA jobs market is not looking bright: 28% of employers believe there are too many applicants for too few jobs, while 61% are either 'not very confident' or 'not confident at all' in the current jobs market. With this economic uncertainty, networking remains a crucial tool for jobseekers.
LinkedIn and other networking sites can certainly play a part in building and maintaining a stable and reliable network during a crisis, but networking should go deeper than just having the most connections.
Cesar Aya, who graduated from Said Business School at the University of Oxford during the 2008 financial crisis, remembers how useful a close business school network proved to be.
"It's important to devote a lot of time to create meaningful networks, not just expanding your LinkedIn network with weak links, but having smaller and more meaningful networks.
"People that really know you, know who you are, what you have done, and who you can ask for help—for an endorsement, for getting a job, or introductions to someone who might invest in your idea. That's more meaningful than a wide network of weaker links."
Building connections through networking at business school, combined with a strategic job-hunting approach on LinkedIn, is the best way to ensure job application success.
---
Read more about applying for MBA jobs during COVID-19