At this time of year, graduating MBA students are usually rubbing their hands together, looking forward to launching the careers they'd dreamed of the day they set foot in business school. 2020 is a little different.

The coronavirus pandemic means this year's graduating class face obstacles in the form of hiring freezes, furloughed staff, a damaged economy, and certain industries in free fall. The International Monetary Fund (IMF) has predicted that the global economy will contract by up to 3% in 2020, which is much worse than the 2008 financial crisis.

As unemployment rates rise and companies strategize to overcome the challenges imposed by the pandemic, what will the prospects be for graduating MBAs?
---
MBA jobs in 2020
To quell the spread of the virus borders have been tightened, international mobility has plummeted, and sports venues worldwide shut.
It's no surprise then that the transportation, hospitality, and professional sports industries have been heavily hit. MBA graduates targeting those industries may have to put their plans on hold or look for alternative career opportunities.
Even if some countries reopen to international tourism this summer, it's unlikely the travel industry will recover at a pace that creates a plethora of jobs this year.
Delta Airlines has introduced a hiring freeze, as has JetBlue, according to a document obtained by Poets & Quants . It adds that Marriott is rescinding internship offers, as is NBC Sports.
---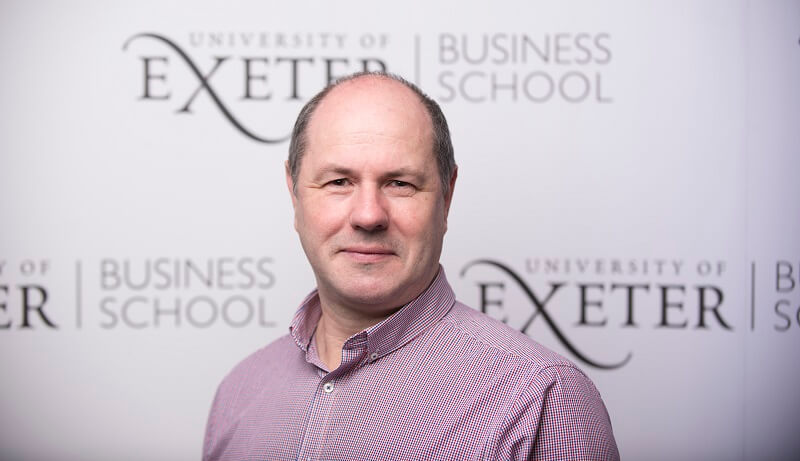 ---
Dominic Prosser (pictured below), MBA careers coach at the University of Exeter Business School, says an inevitable recession post-coronavirus will disrupt recruitment in the same way the 2008 financial crisis did, and possible more deeply. How the labor market recovered in 2008 will help us anticipate what is to come beyond the pandemic.
In 2008, the worst jobs cuts took place at investment banks, technology firms, and chemical and pharmaceutical companies, as well as the media—where vacancies halved during the course of two recruitment rounds.
This time around, however, it's likely that the travel, airline, leisure, and hospitality sectors will be the worst affected, as the pandemic puts severe restrictions on global movement and social distancing measures deeply hurt restaurants, bars, and hotels. In contrast, the same technology and pharmaceutical industries that saw drastic cuts following 2008 could find themselves buoyant.
Firms like Zoom, a video conferencing company, and Slack, an office communications tool, have seen their stocks rise during the crisis. Pharmaceutical and healthcare companies will also need experienced, trained management professionals to manage the race for a vaccine and the global strain on hospitals and medical providers.
---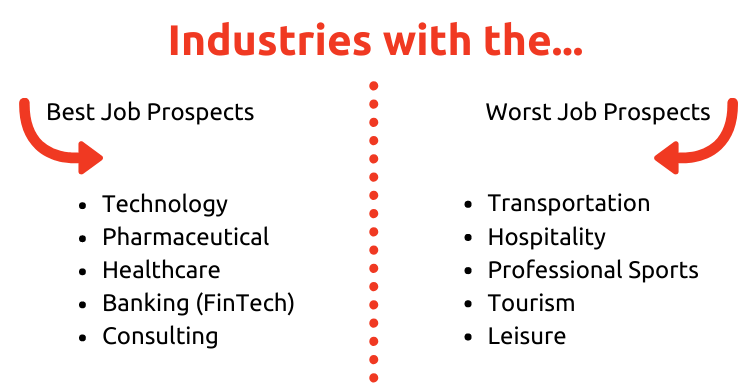 ---
The banking sector could also see a spike in recruitment. In the UK, for example, in the last three years new tech roles in banks have increased by 46%, according to a new report by global recruiter Robert Walters and market analysis experts Vacancy Soft.
That is set to be amplified by the COVID-19 crisis. Tom Chambers, senior manager for technology at Robert Walters says that "lockdown and social distancing measures mean that banks have had no choice but to scale back their retail operations, instead pushing customers towards digital platforms."
Robert Walters analysts predict that online banking penetration will reach 90% by the end of 2020, driven mainly by COVID-19—business school graduates may look attractive prospects to banks grappling with increased digitalization.
"At Exeter our 2020 MBAs have nurtured their skills in resilience, change management, and self-awareness," Dominic explains. "This will fortify them with the adaptability and tenacity required to navigate what will inevitably be a challenging jobs market for several years to come."
---
Bain, BCG & McKinsey: How are the consulting firms holding up?
The consulting industry is likely to benefit from the downturn in other sectors. As companies look to recover from the impact of the pandemic they may turn to the expertise and insights offered by consultants to help steady the ship.
At the Boston Consulting Group (BCG) virtual recruiting is well underway. The company say they are utilizing technology to connect with candidates regardless of where they are, addressing their questions and providing insight on the latest opportunities available at the firm.
They are also paying strict attention to federal, state, and local authorities as they consider their reopening and campus engagement plans. But any concrete plans for this are as yet unannounced.
---
READ MORE:
---
McKinsey takes a through cycle approach to hiring, meaning they are continuing to recruit. They are also honoring the offers already extended to full-time consultants as well as summer interns. The firm doesn't see any major changes to their hiring approach and have no plans to cut staff.
McKinsey's summer internship program is continuing, with health and safety measures in place. The North American internship program has begun and is fully virtual, with the third and final group set to start at the end of June.
The company is also planning to recruit at typical levels this Fall. Many school career services are asking employers to recruit virtually through to the end of 2020 for health and safety concerns, and so McKinsey's hiring will follow suit until at least the end of the year.
A lot of hiring at Bain & Company had already taken place before the pandemic hit. Keith Bevans, global head of consultant recruiting at Bain, explains that for graduates full-time recruiting typically happens in the fall—MBA internship recruiting happens primarily in January.
He adds that those already with offers before the pandemic hit will be onboarded virtually and that their work will be carried out online like the rest of the industry.
---
Should MBAs be worried?
A Graduate Management Admission Council (GMAC) survey snapshot of more than 1,000 prospective b-school candidates showed that the impact of the coronavirus pandemic has amplified the concerns candidates have over the jobs market.
The proportion of b-school candidates that said the job market was an area of concern due to COVID-19 increased from 13% on March 15th 2020 to 51% on April 15th—for MBA candidates specifically, that figure rose to 53%.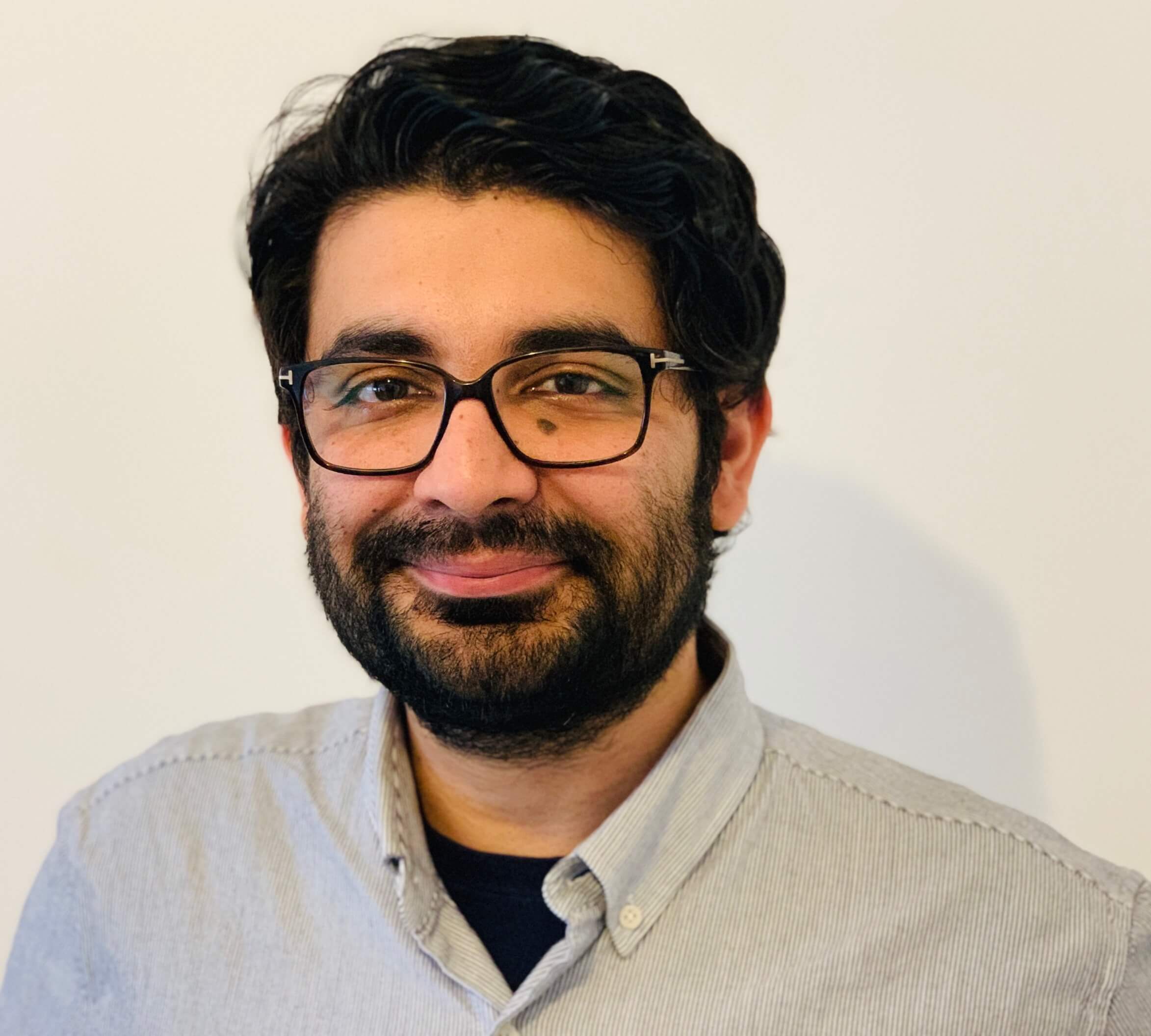 Should MBA graduates be worried about their job prospects this year? If they had their sights set on the travel, hospitality, or sports industries, then the heavy impact on these sectors may take its toll.
Nonetheless, healthcare, technology, and consulting firms may see an uptick in the number of hires, especially the latter. An MBA could in fact help you stand out in the crowded jobs market to come.
Hamza Mudassir (pictured right), an MBA graduate from the University of Cambridge Judge Business School, believes consulting firms will require MBA graduates as they grapple with one of the key challenges to come out of the pandemic for businesses: digital transformation.
The MBA taught him how digital business models work, as well as giving him a helicopter view of an entire business. He believes digital savvy MBA grads will be in high demand in the next few years.
That's because the operational ability of a business now rests on its digital infrastructure, as entire workforces work remotely, and international business trips are replaced by virtual conference calls.
Chris Garnett (pictured below, right), head of postgrad careers and employability at Alliance Manchester Business School, echoes Hamza's point. Although he says that recent graduates are naturally worried and need to be flexible and pragmatic in their approach to their post-MBA career, the value of the degree goes far beyond their first job out of business school.
"Whilst you may need to reassess in the short term, you have invested in yourself and your career for the long term, and that will pay dividends," he says.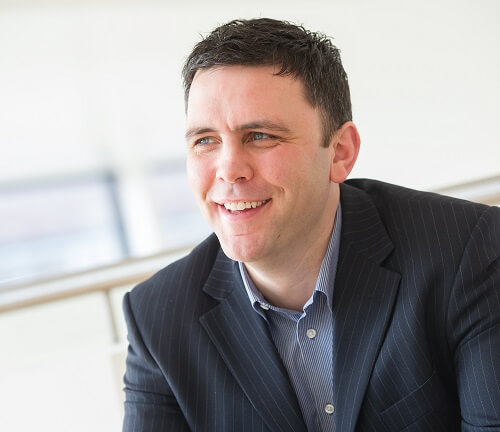 "Everything is changing around us so much at the moment that it's hard to not be concerned, but for people considering doing an MBA there is a strong argument that leaving the job market for a while at the moment makes sense."
Whereas 10 years ago, post-financial crash, some governments opted for austerity measures, this time around they seem to have agreed that stimulus is the best way forward—that can only be good for business, says Tony Somers, employer engagement director at HEC Paris' Career Center.
At HEC Paris, he says that they are receiving (so far) few, if any negative signals regarding recruitment in Fall 2020. Virtual recruiting activities will become the dominant feature of the recruitment cycle, leading to a possible change in the way recruiting is conducted.
---
---
The future of MBA recruiting
Companies do need to rethink the way they recruit during the pandemic, with face-to-face interviews and campus hiring not currently an option. Highered, a global talent platform, and EFMD, a management development nonprofit, have launched the EFMD Virtual Career Fair Series in response.
In the first series around 100 companies signed up to the virtual career fairs, and over 25,000 students met with 800 recruiters. Companies from Bloomberg to Coca Cola, KPMG, Amazon, and Heineken have taken part, connecting with students from schools such as Cass Business School, China Europe International Business School (CEIBS), BI Norwegian Business School, and Singapore Management University (SMU).
Students can access the fairs from their tablets, smartphones, or desktops. As if it was a standard recruiting event, they can access company 'stands', chat with recruiters, view and apply to jobs.
The CEO of Highered, Bernt Blankholm, explains that it removes the need for companies to visit only a select number of campuses, and expands the reach for business schools who might only hold recruiting fairs with local companies. It puts them all in the one place.
---
Companies Signed Up To The Virtual Careers Fair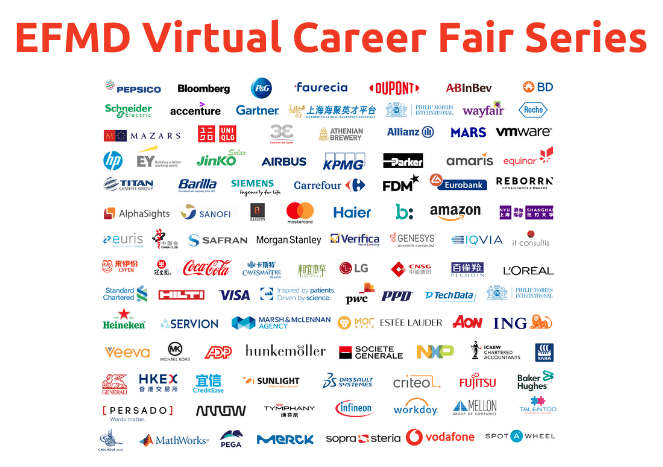 ---
There's also the sustainability aspect, he adds, of removing the need for companies to spend vast sums on flying their recruiters around the world for campus recruitment.
It's a sign of the accelerated innovation needed to adapt and thrive throughout the coronavirus pandemic. "We needed to help our students find jobs and virtual fairs are the way to go," says Bernt.
He hopes it will become the future of recruiting. It's something that brings more value to both sides and evens the playing field. You have companies that will only go to certain schools to recruit, but the virtual career fairs mean they can meet up to 100 schools in one place.
"When you look back this is one of the things that has come out of the pandemic—it has forced us into becoming digital. I think the whole MBA and international education will come out stronger, because it's more apparent that you will be able to recruit internationally without it costing a fortune in travel."
---
Find out more about the Value Of An MBA in a crisis