For those who were at business school when Lehman Brothers collapsed in 2008 and triggered a global financial crisis, the jobs market looked pretty bleak.
In light of the coronavirus pandemic, today's forecast is just as gloomy, as the global economy faces up to its worst recession in centuries, creating an increasingly uncertain jobs market and business landscape. Making a considerable investment in an MBA or Master's degree might not seem like an obvious priority.
But as those who were at business school during the world's previous crises will attest, now is as good a time as ever to strengthen your skills, your professional profile, and ultimately your resolve to withstand a crisis.
So what is the value of an MBA in a crisis?
---
1. It will help you stand out to employers
---
Given the economic situation, now might be a tricky time to pull off a dream career switch or promotion, but the value of a business school degree is longer-lasting.
Scott Kennedy, who completed an MBA from Alliance Manchester Business School in 2009, graduated into a turbulent job market. At the time when most students would have been looking for jobs, companies seemed to have stopped hiring.
When jobs started to appear again, Scott's MBA helped him stand out to his future employer HSBC—"They were quite specific about the quality of people they hired, the type of education they had, and the skills they had," he says.
He sees this temporary dive in the economy as the best time to take yourself out of the workforce.
"It's opportunistic—the version of you that comes out of business school will be a lot more capable than the person who comes in, so you'll be a lot more attractive at a time when people will be hiring again."
You can't influence how long the pandemic or lockdown is going to continue for. But applying to business school can influence how well you fare after the economy does recover.
---
2. An updated skill set
---
'Upskilling' has become a byword for the skills and hobbies that people have finally found time to hone during lockdown. A surge in popularity for Massive Open Online Courses (MOOCs) through sites like Coursera shows how people are using this time to invest in themselves and their job profile.
Audrey Hametner, an Executive MBA graduate in 2009 from Imperial College Business School, knows how important this is. Weeks after graduating, Audrey lost her job, leaving her out in the cold in a barren jobs market.
"The biggest thing for me wasn't to fall into this depression and stop learning," Audrey says.
Alongside the consulting firm she set up, Audrey now runs career coaching for young adults. She advises potential MBA applicants to think about areas in their profile that might need 'upskilling'.
"One of the biggest things for me is saying, "What areas were you struggling with, and wished you had more time to grasp?".
Audrey says the investment she made in her business school degree has more than paid off in the long-term.
---
3. A wider, useful network
---
The network you build can be really valuable to your career. It might be something you grow to rely upon if times get tough—whether this is in an unfruitful job search, or a search for investment.
MIT Sloan MBA graduate Adam Siegel will also testify to how a network can make all the difference in an uncertain job market.
Adam graduated in 2009, and was determined not just to take any job. He had his mind set on a career in corporate sustainability, and was rigorous in his networking to make sure he found the right role for him.
"My MBA gave me the confidence to back myself and take that all-important time to network. In a year of unemployment, I probably spoke with over 100 people who worked in sustainability in different capacities––people in corporate responsibility roles, consultancies, renewable energy, startups, nonprofits, and government."
For Adam, this network no doubt opened valuable doors into the industry. He is now senior vice president of research, innovation, and sustainability at Retail Industry Leaders Association (RILA).
---
4. Chance to explore career alternatives
---
Many will go to business school with plans for a top job in finance or consulting. But if those corporate giants aren't hiring at the moment, then it's worth considering alternatives. Business school could help shed light on alternative routes, like starting your own business.
Cesar Aya, who studied his MBA at Saïd Business School at the University of Oxford during the financial crisis, remembers what it felt like when corporate jobs started disappearing.
"I remember applying to many companies, taking hours to create the application and profile," Cesar recalls, "Five minutes after hitting the send button, we got a reply that everyone in our class was getting. "After careful consideration, we regret to inform you that…".
His ambitions to land a job at a top European financial institution suddenly seemed less likely. So he started looking for alternatives—importantly, where could he expend his energy and time in a place that could be profitable and rewarding.
He recalled meeting entrepreneur Reid Hoffman, the LinkedIn founder, during his MBA, who talked about how his own site had grown into a global social media giant with the help of well-timed investment.
He returned to his home country of Colombia, where he set up T2M Capital, a venture capital fund which invests in tech companies.
"When these dramatic situations emerge, it might be good to go to your basics, and find out what really moves you. Think about how you might create something that is more meaningful for your community and society, even at a small scale," Cesar explains.
---
5. Learning how to lead in a crisis
---
There will be many lessons learned from the current pandemic. One will be how to prepare for and respond to a crisis, be this financial or otherwise.
Perseverance is crucial. Entrepreneurs will attest to this—if at first you don't succeed, keep trying until you do.
"Don't feel down on yourself if you don't secure the exact job you wanted straight away. You can't expect to get your ideal job right away in a fragile economy," Adam from MIT Sloan insists.
Agility and flexibility are also important. Cesar from Saïd acknowledges that his post-graduation career may not have been what he had expected, but it was his MBA that helped him adapt without feeling like he'd compromised.
"These situations might truly [turn things] upside down, for anyone and everyone, and accepting that, and being flexible towards those expectations, is a first step."
---
Business school as a long-term investment
---
Uncertainty still surrounds business schools, whether this is admissions deadlines, start dates, or even whether the course will be hosted online or in-person.
What is certain, however, is that business school will pay dividends for the rest of your career, long after the lockdown is lifted and normality, whatever that looks like, resumes.
"The best way to minimise uncertainty is to find evidence of what is proven, known fact. What do we know? We know that in the short, medium, and long terms, to varying degrees, investing in management education pays off," insists Rahul Choudaha, director of industry insights at the Graduate Management Admission Council (GMAC).
"The economy is under a lot of pressure, jobs are under threat, and that threat is bringing up an important aspect, which is how do you make sure that your career is protected. That's where investing in management education is important."
---
What is the Value of an MBA in a Crisis?
---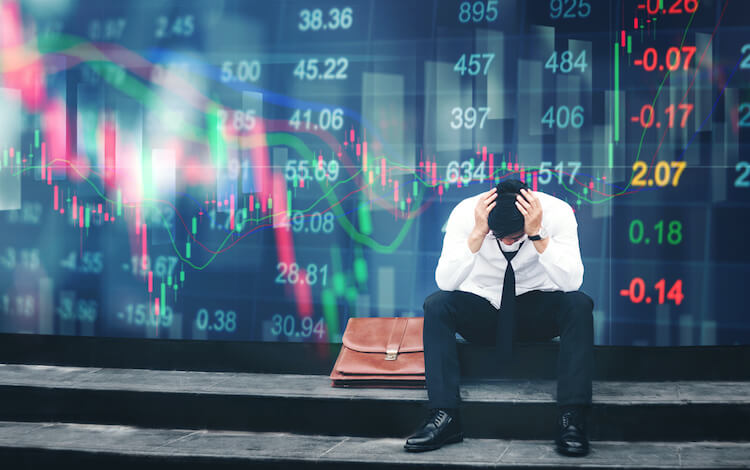 ©sarinyapinngam
---
Read our stories of MBA graduates from the 2008 financial crash. Find out how their degree helped them weather the economic crisis.
Audrey Hametner | Imperial College Business School
Adam Siegel | MIT Sloan School of Management
Scott Kennedy | Alliance Manchester Business School
Cesar Aya | Said Business School, University of Oxford
Damian Wisniewski | MIT Sloan School of Management