MBA students are drawn to the consulting industry for its fast-paced work environment and generous salaries. Graduates will be dismayed, then, to find that COVID-19 has impacted MBA consulting salaries.
80% of consulting firms either cut or froze MBA consultant starting salaries for 2021, according to the ManagementConsulted 2021 Salary Report. McKinsey, Bain, and Boston Consulting Group (BCG)—also known as the 'Big Three'—all froze their starting salaries.
This comes after Bain recorded its best ever quarter in Q3 2020 and after McKinsey told BusinessBecause that 2021 would be its record MBA hiring year.
---
Check out our list of consulting salaries for MBAs
©VladZymovin

---
McKinsey, Bain & BCG consultant salaries frozen
McKinsey, Bain, and BCG remain among the top employers of MBA students in 2021. Brian Rolfe, global talent acquisition lead for McKinsey, told BusinessBecause that 2021 would see "the largest incoming class in McKinsey's history".
MBA salaries at all three, however, have been frozen at the same level as in 2020, at a base salary of $165,000.
Salaries are still very high compared with other industries. The ManagementConsulted report estimates that total compensation for MBA hires at Bain and BCG (combining salary, performance bonuses, and signing bonus) can reach up to $236,000, while McKinsey MBA hires receive $230,000.
---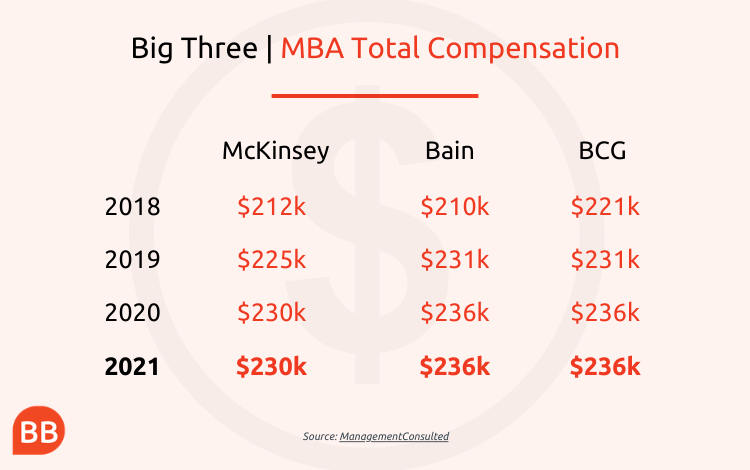 Total compensation includes base salary plus performance and signing bonuses
---
To break this down, base salaries for MBAs at the Big Three consulting firms all come in at $165k a year. Performance bonuses can add up to $41,500 (25%), while signing bonus comes in at around $30,000.
Top firms like the Big Three seem to have taken advantage of market disruption in 2020 when other top MBA recruiters, especially those who for some time had been poaching recruits from consulting firms, largely froze hiring.
---
Salaries cut at Deloitte, KPMG & boutique consulting firms
Other consulting firms witnessed a harsher impact of COVID-19 on their MBA hiring. Deloitte, PwC, and KPMG cut MBA consultant salaries.
New recruits at Deloitte Consulting can expect around $151,000 in total compensation, $22,000 less than new hires in 2020, back closer to the rate paid in 2018.
KPMG slashed salaries by $15,000, from $190,000 to $175,000. KPMG Strategy & Operations (S&O) recruits saw salaries cut from $230,000 to $215,000.
EY was the only firm to increase MBA starting salaries, albeit by just $5,000.
According to ManagementConsulted, some boutique consulting firms offer higher overall compensation than some of the Big Three. These firms offer higher pay-packets as a way of competing with better-known, global brands.
Total compensation at LEK Consulting can come in at up to $283,000. On top of the $165,000 annual salary, and up to $25,000 performance bonus and a $55,000 signing bonus, employees could earn a possible $38,000 through the company profit sharing scheme. This is an incentive offered by smaller firms as a way of differentiating themselves.
Close behind is PwC Strategy&, where total compensation can reach $253,400, followed by AlixPartners, where total compensation can tally up to $250,000.
---
Will consultant salaries recover?

Part of the reason for diminishing MBA salaries was the predicted impact of the COVID-19 pandemic on the consulting industry. Many firms anticipated the same widespread economic damage to their industry as with many other industries, and froze or cut salaries accordingly.
On the contrary, consulting saw a sharp increase in demand in 2020, as companies looked for consultant advice on navigating uncertainty or even restructuring their businesses.
MBA graduates can therefore expect starting salaries to grow again in the future, while MBA hiring looks set to skyrocket as consulting firms look to meet growing demand.

Next Read:
How To Get Hired By The Big Three Consulting Firms