Timothy Llewellyn-Davis has always tried to make responsible choices—from using reusable food containers to educating friends and family on sustainability. But after his MBA at Barcelona's Esade Business School, he decided to channel his values into a full-time social impact career.

He left his business development role with biotech firm, SynCore, to study at Esade full-time, hoping that exposure to different cultures and industries would help him discover the right path.

"One of the main reasons I chose an MBA was to change gears," he explains. "Biotech wasn't my passion, and I wanted to find something that really motivated me."

Everything fell into place when he studied a module in sustainable investment, and landed a role with impact investment firm, Oryx Impact, as an analyst.

Timothy is not the only MBA prioritizing social impact in his career.

"We've realized that students are really interested in these concepts," explains Lisa Hehenberger, associate professor and director of the Esade Entrepreneurship Institute and the Esade Center for Social Impact.

"They're asking how they can apply the skills developed at business school to have a positive impact."
---
Interest in social impact on the rise
MBA employers, too, are beginning to recognize the value that business can have as a force for good.
"Companies are now taking this seriously, and not just for their own reputation," Lisa adds. "There's pressure from major investors such as Blackrock to have a positive social impact."
This cultural shift has resulted in a larger pool of social impact roles for MBAs to choose from.
These roles are diverse, with opportunities everywhere from NGOs, to CSR departments, to social enterprise accelerators and incubators.
"With more jobs like these on the market, graduates can maintain good salaries but use their skills for impact at the same time," says Lisa (below). "It's a no-brainer."
To help students make the impact they want when they graduate, Lisa has been working closely with career services at Esade.
The skills required to succeed varies with function and industry, and the career service is helping students identify the experience, and connections they need to break into their chosen role.
But whatever the role demonstrating passion is crucial, advises Deborah Gold, manager researcher at the Esade Center for Social Impact an the Social Impact Lab.
"What's popped up in conversations with people from various sectors is the importance of motivation," she explains. "The people who make a difference have demonstrated motivation through volunteering or pro-bono consulting."
---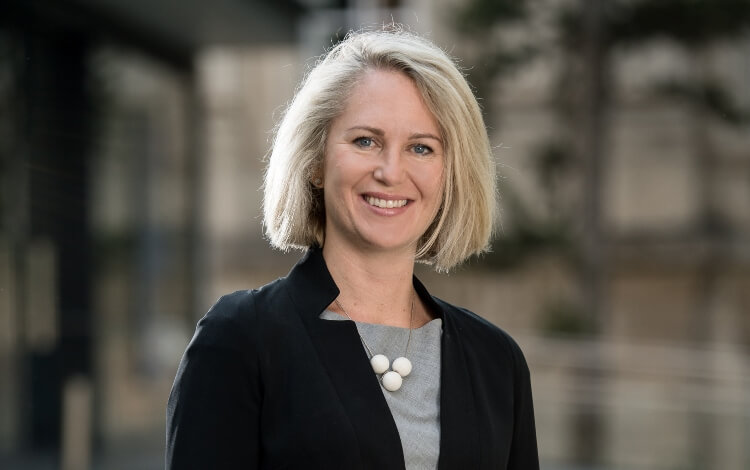 ---
Hands-on experience is crucial
To equip students with the skills they need to thrive in social impact, Esade offers plenty of hands-on experiences.
The school's Social Impact Lab provides a range of networking events, workshops, and hands-on consulting projects, including an upcoming study tour of the social entrepreneurship ecosystem in Barcelona.
After each experience, participants are also encouraged to reflect on what they have learned, and how they could apply these insights in their own careers.
"We make space for workshops that are dedicated to inner reflections, making space to discuss doubts and challenges," Deborah explains.
"It gives students a chance to reflect on their purpose in a constructive way," adds Lisa.
During his own time at Esade, Timothy took advantage of the hands-on social impact projects on offer. One highlight was conducting pro-bono consulting projects for NGOs in Kenya and Mozambique, facilitated by Esade's University Development Service.
In Kenya, the NGO had a shop where refugees could bring crafts to sell, but there were issues with keeping track of sales and payments. Timothy developed a strategy to ensure things ran smoothly, and everyone received their payments.
A year later, he worked with a program in Mozambique that taught local children to surf, helping it become self-sustaining.
"These were great opportunities to get your feet on the ground and apply what you learned in class to real cases," he says.
Back in the classroom, Timothy elected for an impact investing module—which led to his current role with Oryx Impact. His professor connected him with the company for a three-month internship, which became a full-time analyst position.
Oryx is focused on Africa, with the ultimate goal of ending forced migration.
"We do that by investing in three areas: economic development and job creation, climate change, and gender equality," Timothy explains.
---
Joining the social impact community
At Oryx, Timothy draws on a lot of the skills he developed at Esade.
"Impact investing is still investing, so you need a lot of analytical skills including financial modelling, understanding marco landscapes, and diagnosing business problems," he reflects.
He still keeps in touch with the social impact community at Esade, through the Alumni Social society, which offers free consulting services to social enterprises and this year celebrates its 15 anniversary.
Since joining Oryx, several current Esade MBAs who want to follow in his footsteps have also reached out to Timothy to hear about his journey. This kind of community building is vital for MBAs who want to launch a social impact career, which is why personal is a core principle of Esade's Social Impact Lab.
"The idea is for students to get to know each other, help each other, and grow together," Deborah notes.
Whenever he speaks to these students, Timothy encourages them to keep pursuing their social impact goals.
"I highly recommend considering a career in social impact," he reflects. "Everyone I meet in the industry seems friendly and happy, plus it's very collaborative and that's a nice way to do business.
Related Content: