Aged 27, Rosie Fang decided it was time for a change. She'd spent half a decade in marketing and PR, but dropped it all to pursue her passion for luxury in one of the world's luxury capitals: Paris.

Rosie enrolled in the ESSEC Business School Global MBA, home to a luxury brand management specialization. She was after a degree that would hone her understanding of the industry.

Fast forward to graduation and Rosie is now living her dream as an international communications project manager for L'Oréal Luxe. The MBA played a pivotal role in launching her new career.
---
Why MBA: ESSEC Business School
Pre-MBA, Rosie had success as a project coordinator for a consultancy and as a content manager for a startup in her native Shanghai. But she found herself wanting a change.
"Shanghai is amazing, but I was a little bit tired of it," she says, "I wanted to find something new, something fresh."
Choosing the luxury industry made Paris a great destination. Rosie decided an MBA would also give her a better opportunity to break into the competitive sector.
"After researching I saw ESSEC is one of the top schools," she explains. "The key reason why I chose it was because of the luxury brand management track."
The track is taught across three semesters. It begins with a pre-semester period where students are introduced to the cultural foundations of luxury.
The curriculum covers topics like luxury marketing, the global luxury economy, sustainability in the industry, and consumption and consumer behavior. It also breaks down the different sectors including jewelry, wine and spirits, perfume, and watches.
---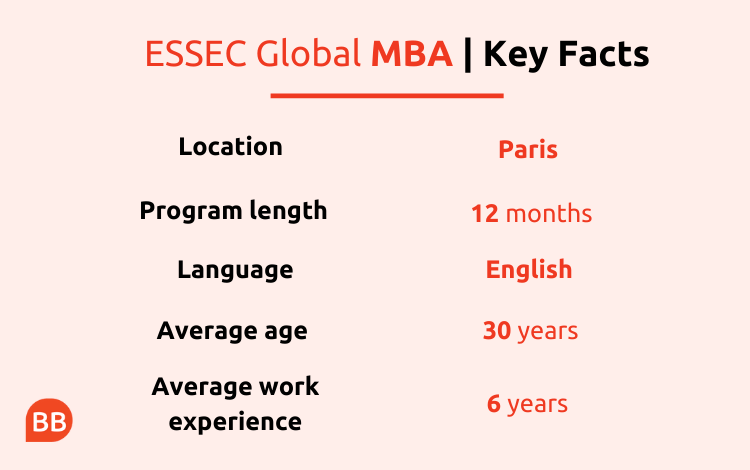 ---
Alongside L'Oréal Luxe, partners of the program include some of luxury's biggest names. The full list includes the likes of Burberry, Chanel, LVMH, Kering, Richemont, Estée Lauder Group, Gucci, Hermès, and Cartier. Partners participate in case studies, company visits, and career fairs.
The program also packs as much immersive experience as possible into a 12-month period.
"During the year we had trips to places where luxury is booming," Rosie says. "These trips were super appealing to me. We visited a lot of Maisons and interacted with many professionals in the industry."
At the end of the program Rosie says she had a 360-view of what makes a luxury brand tick, as well as how luxury items are designed, distributed, marketed, and sold. She'd also had the chance to connect with key industry figures and got a behind the scenes look into the industry.
---
Acquiring core business skills
Rosie coupled her luxury skills with core business modules covering accounting, finance, HR, strategy, and organizational behavior—subjects she'd never studied before.
"I didn't become an expert, but it was a great introduction," she says, "I'm not scared of financial reports anymore, and it's really great being able to look at a company from a top management level."
Some projects require students to present their work to their cohort or a panel of faculty members and industry experts. The final capstone consulting field project is a three month-long immersion assignment requiring students to present a solution to a real-life business problem.
Rosie worked as a consultant for DFS Group, a leading luxury travel retailer, advising on the €500 million rebirth of the luxury La Samaritaine department store in Paris, which reopened in June 2021. She had to present her work after completing the project.
"I was scared to talk in front of a big group of people but because of all these presenting experiences I became really good at it," Rosie recalls. "That really helped me with interviews and helps even now at work."
The MBA uses group projects to develop your communication and teamwork skills. At ESSEC Business School, students are encouraged to work with as many members of their cohort as possible during a variety of group projects. The course is 94% international students, providing a diverse mixture of different cultures and personalities.
"The experience of dealing with all these problems and working in group projects has made me better in group situations and helped me know how to manage people," Rosie says. "I would say that's really amazing."
---
Launching a dream career at L'Oréal Luxe
Finding a job in Paris as a Chinese graduate is no easy task, but Rosie achieved this In April 2021 after landing her dream job with L'Oréal Luxe. She acquired the role using connections she'd made on the program during one of the many networking events organized by the school.
"What is amazing is that the school opens doors for us and puts us in the same room with a lot of important people," she says, "but what you are going to get out of that really depends on you."
Her role sees her managing communication for top luxury brands like Maison Margiela in the China market. Day to day she works on introducing brands to consumers and making them more attractive by communicating the right message, using skills she learned on the MBA.
"The courses I took and experience I had at ESSEC Business School really gave me a deep understanding of the factors that make up a luxury brand, so it is super helpful for me to deliver the right information," she says.
She also works closely within her team, brainstorming new ideas for upcoming campaigns and utilizing her improved soft skills.
Reflecting on the huge decision she made to leave her home and job in Shanghai, she says, "when I look back I have definitely achieved the goals that I set myself, and ESSEC definitely played an instrumental part in it."
Related Content: