Big Three consulting firm, the Boston Consulting Group (BCG), boasts more than 22,000 employees worldwide and that number's growing, according to Angela Michalik, head of consultant recruiting at Wharton, Columbia, and Yale.

MBA grads are in high demand at BCG. "Today's MBA programs attract people who are looking to learn, grow, and achieve more—these are our kind of people," she says.

BCG plans to increase its MBA hiring. Hundreds, if not thousands of students are set to be hired by the firm. "What used to be seasonal recruiting has now become full time recruiting 12 months per year," Angela says.
---
What you need to be a BCG consultant?
In the US, Angela says the big-name schools BCG targets are the likes of Wharton, Columbia, Yale, Kellogg, Duke Fuqua, Chicago Booth, and MIT Sloan. But BCG consultant recruiting does go beyond that. "Basically, name a school in the US and we'll be hiring from it in some form," Angela (pictured) says.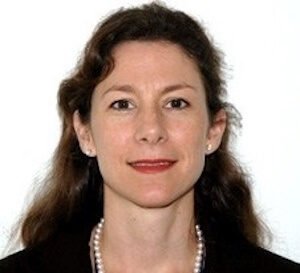 BCG recruitment involves evaluating your application holistically. However, there are a few ways to stand out.
"The GMAT is one of several key inputs we consider when assessing MBA students' qualifications," Angela explains. "A strong score on the GMAT tells us that an applicant is likely to have the critical thinking and analytical skills that are foundational to success at BCG."
BCG is looking for MBA students whose values align with the firm's.
BCG's values are:
→Integrity as an expression of courage and accountability
→Respect for the individual and the capacity and desire for personal growth
→Diversity of thought, expertise, experience, and background
→Clients come first
→The strategic perspective enabling clients to deliver superior results in a sustainable manner
→Value delivered in the form of tangible, positive, and lasting change
→Partnership
→Expanding the art of the possible
→Social impact
---
READ: BCG Consultant Salary | What Could You Earn At The Boston Consulting Group?
©ictor
---
To stand out during the BCG recruitment process you need to be genuine and able to communicate what makes you unique, says Angela. You need to be intellectually curious and capable of demonstrating how you'll contribute to BCG's culture.
When you're going through the application process, BCG recruitment teams want to see thoughtful examples from your past experience and personal life. The conversation needs to be natural.
"We don't want people over-prepared," BCG recruiter Angela asserts. "We want a natural conversation. You need to be able to ask questions, show you're intellectually curious, show your values and what's important to you is aligned with what's important to us."
---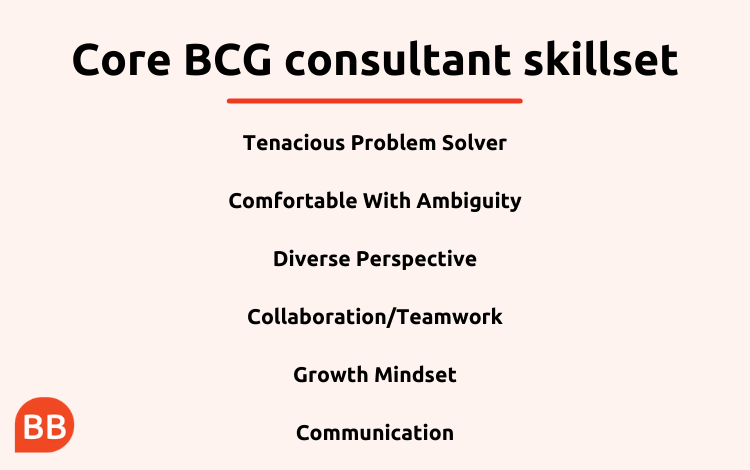 ---
BCG recruitment process
BCG consultant recruiting from business schools covers both the MBA summer internship as well as full-time hires.
For the BCG internship, the application deadline is often the end of November/early December, for the following summer. The BCG interview process is then complete by mid-January, with decisions coming the week after. MBA students then need to accept by February.
Meeting on campus
BCG will usually be on campus at your school for a recruitment fair or event. When you meet representatives from the firm, commit to networking. "I always say to people focus on the quality not the quantity of the interactions. Be selective, that's where you'll get the most value."
Requirements
If you want to apply, you'll need to fill in an electronic application form, complete with resume, GMAT score, and three BCG offices you're interested in working in.
Interview process
Then BCG decides if you've made it to interview. There are four interviews in total: two first round and two decision round interviews.
A lot of the first round of interviews are regional, and then they become more office specific. The format doesn't change between first round and decision round interviews.
The core of the BCG interview process is the case study interview. You'll go through a real BCG case based on previous BCG client work.
You're presented with a client challenge and have 45 minutes to walk your interviewers through how you'd tackle the case.
"It's an interactive process with the interviewer," Angela explains. "It's about understanding your thinking and why you came to the answer you did."
The second part of the interview is more personal. Angela explains that they're looking at your experience, how it's shaped you, your leadership experience, and how you've navigated challenges in your life.
---
READ: Where Do McKinsey, Bain, BCG Hire The Most MBAs?
---
How to prepare for a BCG interview?
It's highly likely the business school you're at will either have people in the classroom who've worked for BCG or alumni now at the firm. Use them.
"The ones who came out of undergrad and now went back to grad school—they're a phenomenal resource for you," Angela says. "They know the firm well, they know the culture, so talk to them about the experiences they've had—they can give you a practice case as well."
There's also a wealth of practice cases online, and BCG offer a lot of practice case sessions and workshops. Consulting clubs at your school will also have sessions on interviewing and case workshops.
As a BCG recruiter, Angela's two big pieces of advice are to seek out the people who've worked in BCG before, and don't be over-prepared.
"Don't just do 50 cases for the sake of it. Make sure that between each case you know what you want to change and improve upon. Do one case, then get feedback."
At the end of a case make sure you know where you're weakest. Then in your next case go in hard on that area. "I feel by doing that, students really improve," says Angela.
She also adds that some students when they start casing find the mental math element tricky. If that's an area you're struggling with, she suggests downloading mental math apps and daily practice.
When you move from the case into the next portion of BCG interview, interviewers are looking at a few key areas.
"We're trying to understand the leadership experience […] and the problem-solving challenges you've had. I would reflect on what we're looking for and make sure you can talk to that based on your background."
So, comb your resume for examples of leadership and problem-solving. Also, be natural. Don't approach the interview with scripted answers for every question. BCG wants a conversation that flows naturally and that allows your personality to shine through.
---
Next Read:
11 BCG Careers For MBA Students