Big Three consulting firm the Boston Consulting Group (BCG) is ranked among the best consulting firms to work for. BCG is also a major recruiter of MBA and business master's graduates.

BCG hires from top US business schools including MIT Sloan, Kellogg School of Management, and Columbia Business School, as well as internationally.

Along with the opportunity to work at the cutting-edge of business, a typical BCG consultant salary hits a lucrative six-figures. BCG consultant salaries have also risen for 2023, along with the other Big Three consulting firms.
---
BCG Consultant Salary & Bonus
One of the key attractions of joining the Boston Consulting Group is the BCG consultant salary prospects awaiting successful candidates. An incoming master's hire can expect a starting base salary of $110,000 at BCG. Incoming MBA hires can expect a lucrative $190,000 per year as a starting salary.
That's before the performance and signing bonuses that accompany annual salaries at the top consulting firms. Master's graduates can expect a performance bonus of up to $25,000 and a signing bonus of $5,000. Their MBA peers joining BCG can earn a performance bonus of up to $50,000 and have a signing bonus of $30,000.
According to Management Consulted, in top consulting firms you can typically expect a 10-to-20% increase in your base compensation and/or performance bonuses each year.
There is a steeper increase in compensation too when you're promoted to the next level.
These numbers are just starting salaries. BCG consultant salaries and bonuses tend to grow by 10-to-20% each year. Each promotion to a higher level will also coincide with a salary leap.
Master's-level hires tend to come in at the Bain business analyst salary level while MBA hires come in at the BCG associate salary level.
Two-to-three years out of an MBA program, BCG manager salary prospects are around $220-to-$240,000 in base salary and $100-to-$140,000 in bonuses.
A BCG associate principal salary sits at around $275-to-$350,000, while BCG partner salary prospects start at around $375,000 and go up to $500-to-$700,000 for a senior partner with potential bonuses of over $500,000.
You'll find similar colossal consultant salaries across all the Big Three consulting firms: Bain, Boston Consulting Group, and McKinsey.
---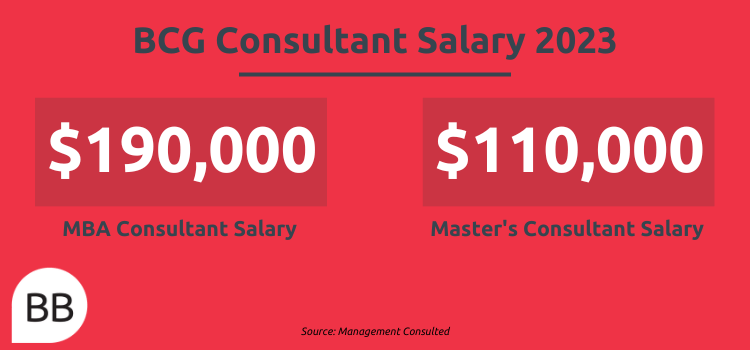 ---
BCG Careers
Joining BCG comes with added perks that make landing a job after graduation even more lucrative—the firm is also listed as one of the world's best companies to work for by Glassdoor.
Master's graduates can expect 15 days per year of paid time off. They also get up to $4,400 per year dropped into their 401k retirement account as part of a profit-sharing initiative for employees.
MBA hires are also given 15 days of paid time off a year at BCG. MBA hires can also expect between an interest-free relocation payment, and $10,930 per year into their 401k retirement fund.
Business school grads turned BCG consultants interviewed by BusinessBecause say the firm looks for hires with broad business knowledge.
Zia Siddiqui, EU Business School MBA (pictured below):
My department at BCG were looking for someone who could start immediately and I got my contract just after finishing my MBA. [To get a job at BCG] you need to possess the right amount of business knowledge and experience. It's a prerequisite,.
---
---
How to get hired by BCG
Amber Grewal, managing director and partner of global recruiting at BCG, says she looks for consultant candidates who can demonstrate intellectual curiosity, resilience, analytical rigor, and an ability to work with ease in a team and cultivate relationships.
The COVID-19 pandemic has also changed the way we work—good news for potential BCG hires who have adapted during the crisis. The qualities BCG looks for in candidates are qualities that are often valued during a time of crisis; resilience, focus on teamwork, and working well under pressure.
"As the world becomes more digital, incoming consultants will need to have an agile mindset, the ability to work in cross-functional teams, and seamlessly collaborate with colleagues in a virtual environment," says Amber.
---
Read more about Consulting Salaries For MBA & Master's Graduates
---
The data in this article was sourced from Management Consulted's 2023 Consulting Salary Report. The salary figures in this article are for those joining management consulting positions in 2023. This article is updated annually.