For some professionals, taking time out of the workforce to study a full-time MBA for two years isn't an option. But for candidates still intent on building a career in management, a part-time MBA could offer the same career benefits.

That was the case for Richard Zong and Rudra Mitra, two graduates from the part-time, Evening MBA at the University of Washington Foster School of Business.

Richard entered the program as an engineer for healthcare company, Phillips, and is now an associate for global Big Three consulting firm, McKinsey.

Rudra started the Evening MBA as a software development manager for Microsoft's Office 365 and is now corporate vice president for Microsoft 365 Security, Compliance, and Privacy.

Here's how a part-time MBA enhanced their careers.
---
A part-time MBA can equip you with the same skills as a full-time MBA
Richard (pictured) joined the Evening MBA as he wanted to gain an understanding of how product development worked within the broader context of a business. The part-time nature of the Evening MBA worked for him, with classes typically being every Monday and Wednesday after work.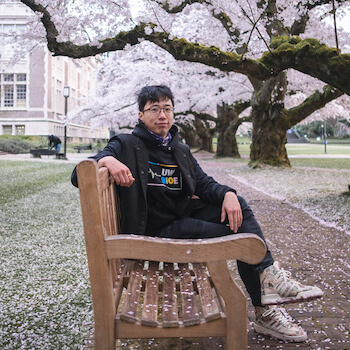 The Evening MBA is designed to be completed in three years, and the education is set up in a similar way to a full-time MBA. In the first two years, students take core courses in Financial Reporting and Analysis, Microeconomic Analysis, and Corporate Strategy. In the third year, there's the option to tailor your studies by choosing electives in Marketing Analytics, Finance, Management, Entrepreneurship, and more.
"When I started the evening MBA, I was still pretty junior," says Richard. "There's nothing like learning while doing, so it perfectly complemented the acceleration of my career."
While enrolled in the Evening MBA, Richard was promoted from engineer to project manager, and a year later he moved into a product manager position. Being able to simultaneously work and learn at school positioned him to apply newly acquired skills on the job.
---
A part-time MBA can accelerate your career shift
In his final year of Washington Foster's Evening MBA, Richard decided he wanted to work in consulting. Although he hadn't applied to any consulting internships in his second year, Foster's career service supported his decision to make the leap.
Richard joined workshops to develop his resume, his personal brand, and his elevator pitch. He took part in one-on-one coaching sessions, where he worked on consulting case interviews, behavioral interviews, and experience-based conversations. After graduating, he successfully made it through the application stage to become an associate at McKinsey.
"The career management team was incredibly helpful—they start as soon as you join the program," explains Richard. "At the point where I was applying to McKinsey, I already had two years of mentorship and support from career management to the point where I felt very prepared."
---
A part-time MBA will broaden your perspective
Rudra (pictured) joined the part-time MBA as he was looking to learn from the perspectives of different industry leaders on how to perfect his strategic approach to business.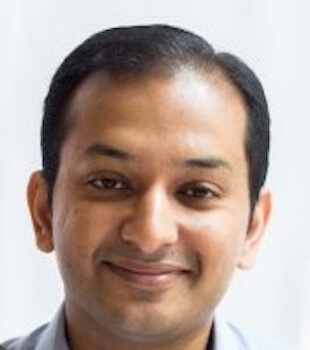 "Foster is located in the hub of the tech industry, the manufacturing industry, and the startup world, with companies like Amazon, Microsoft, Google, and Facebook," he says. "You get a great nexus of talent coming into the school from many different industries."
As Rudra came from an engineering background, he found it incredibly useful to solve problems in teams and work across multiple disciplines.
"I really learned from my peer group," he explains. "There were some strong leaders from multiple fields who approached their careers in different ways."
Now leading teams at Microsoft, Rudra says he's seen tangible benefits to his career from studying the Evening MBA. He encourages others to move away from one-dimensional ways of thinking to gain a richer result when strategizing and coming up solutions to business problems.
---
A part-time MBA builds your network
For Richard, one of the key pillars of Foster's culture is its collaborative community, whether that's represented through the students, the staff, or the alumni.
During his time in the Foster Consulting Society (FCS), the society held events with local alumni working in consulting who wanted to help current students prepare for their applications.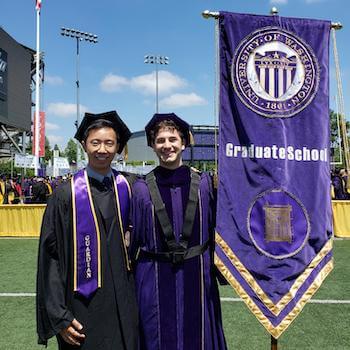 Richard was overwhelmed by the alumni support and wanted to give back and serve the school himself. During the Evening MBA he was president of the program's student body. When Covid hit and the school went completely online, he and his team worked hard to stay connected.
"We scheduled drive-in movies, virtual magic shows, and virtual cocktail hours to make sure we stayed connected within our community," he says. "That all came from valuing what this community is, what it can give to you, and how you can personally grow from it."
Now that Richard is an alum, he engages with the school and helps current students prepare for their interviews at McKinsey.
"I was very grateful for the team of leaders who had a genuine interest to give back to the Foster community," he concludes. "Learning how to be mindful of a community has made me feel incredibly comfortable working in the small teams we work in within consulting."
Related Content: