With a growing world economy, many firms have offices in all corners of the world, providing opportunities for business school grads to enter international business roles in management, finance, marketing, or HR wherever they wish to live.

An international business career enables you to travel the world, learn about new cultures, and be a part of a diverse and inclusive workforce. It is also a pathway to higher salaries and greater career progression in the long-term.

BusinessBecause caught up with two alumni from the HEC Montréal MBA­­­­­­­­­­­­­­­­­—second best program in Canada according to the 2021-2022 Bloomberg Businessweek ranking— who have used their business degrees to launch their international careers. Simarpal Randhawa and Adrián González Sánchez tell us the skills you'll need to succeed in your own international business career:

Is it your dream to work for an international company such as IBM, Apple, Deloitte, Amazon or Facebook? Here are the skills you'll learn in the HEC Montréal MBA to launch you international business career.
---
Improve your networking capabilities
The number one step to kickstart your career in international business is to build a strong network outside your home country. With powerful networking abilities, you will better access international career opportunities and be able to broaden your perspective.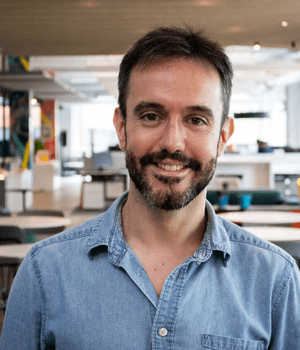 HEC Montréal—with an alumni network of 82k members worldwide—understands the importance of this skill. The business school provides a session dedicated to the art of networking, explaining top tips and techniques for students to understand how to best leverage a network.
Adrián González Sánchez (pictured), previously studied and worked in France, Spain, and Argentina before deciding to move to Canada to further develop his professional career. He now works as a Cloud, Data & AI Specialist at Microsoft, and university lecturer and online instructor in Montréal.
Adrián explains that during this session, HEC taught students to take their time to engage and create connections with people without demanding anything in return. At the end of his studies, Adrián says: "It was so smooth for me to find a job in Montréal because of the initial network we built."
Also, if you have strong networking abilities, you will become more marketable as an employee as you have acquired some transferrable skills to leadership, says Simarpal.
"Excellent networking skills help you become more diplomatic, tactful, and you learn to be a good listener," says Simarpal. Networking is what propels you further in your internal business career."
---
Learn collaboration and teamwork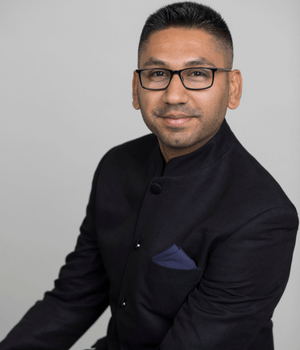 While networking is important, it is only useful if you are capable of collaborating with others. This skill will in turn enable you to gain trust amongst your team.
A collaborative mindset propels a global corporation towards greater success as the workforce shares a common vision of the firm's goals. This is an important skill to hone if you want to succeed in an international business career.
Simarpal (pictured) has several years' experience as an engineer in the fashion industry in India. He decided to do an MBA in Canada to hone his international business skills and now works as a product developer for Medisca—a pharmaceutical company in Montréal.
He says: "It also helps to build confidence because when you're collaborative, you talk to people which helps them see you as somebody they can rely on," says Simarpal.
---
Develop cross-cultural communication skills
Working in an international business environment means being surrounded by a diverse workforce, with people from different cultures and backgrounds.
It is important to understand how cultural elements can influence communication among different employees in the workplace. Once you are aware, you can become more respectful and sensitive to cross-cultural differences and become a better international leader.
"My company has about 500 employees, I am exposed to over 80 nationalities weekly, and in an international business you often have other stakeholders who may also have a different culture to yourself," says Simarpal, "you must learn to be sensitive, respectful, diplomatic, do your research until your cross-cultural communication skills are impeccable."
---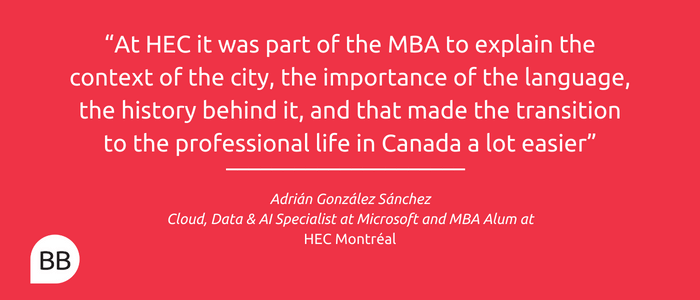 ---
Adds Adrián: "At HEC it was part of the MBA to explain the context of the city, the importance of the language, the history behind it, and that made the transition to the professional life in Canada a lot easier."
HEC Montréal offers the option of the MBA+, which has the same value of the MBA, but with the added benefit of improving your French-language skills. This option can facilitate students' immersion into a new city and country.
---
Nail the necessary business 'hard skills'
To succeed in an international business managerial job, it is necessary to undertake an MBA and learn the common hard skills related to management that are taught to all b-school students. Examples might be data analysis, financial reporting, or negotiation.
"You need scalable skills that are more or less the same whether you do the job in Tokyo, New York, or Rome," explains Adrián.
To kickstart your career in an international business, making sure your education is transferable to the place to which you wish to relocate is vital. To beat the competition, aim also for a top-ranked school such as HEC Montréal to give you a headstart.
Related Content: