Google. It's a company with a prestigious brand that's instantly recognizable, and one of the key employers that tech-focused business school graduates look to after completing their degrees.
Alongside fellow Big Tech firm, Amazon, Google ranks as one of the most desirable companies to work for among business school students, according to a 2022 survey.
A top recruiter of b-school talent, take a tour of the yearly on-campus recruitment events at INSEAD, Harvard and any other of the world's top business schools and you'll also find Google's representatives in attendance.
So, what are some of the main entry level Google jobs that MBA or business masters graduates can land straight after graduating from business school?
Another important question: Just how much can fresh b-school graduates expect to earn at the firm?
Here's a breakdown of six Google jobs available to new grads, as well as the average salaries they pay, according to Glassdoor.
---
6 top entry level Google jobs
---
1. Google Product Manager
Product management is one of the most common career routes for business school graduates among the Big Tech firms, and Google is no exception.
With such an array of products among the company's portfolio, Google hires product managers across a plethora of business lines, including Google Home, Google Cloud, and Google Assistant.
Their key responsibilities include leading the design and development of key technologies within their divisions. Product managers work with designers, engineers, marketers, and other key stakeholders to execute the delivery of products that benefit Google customers.
"The idea is: how can we bring value to the user without them employing a lot of cognitive load on themselves, so that they are notified at the right time and place, with the right information," says Ishaan Aggarwal, an MBA graduate and product manager on Google's wearable tech system, Wear OS.
The average Google product manager salary exceeds $178,000 in the US. They can also expect cash bonuses of around $33,000, and stock bonuses amounting to more than $77,000, on average. This amounts to a significant total compensation package of nearly $290,000.
---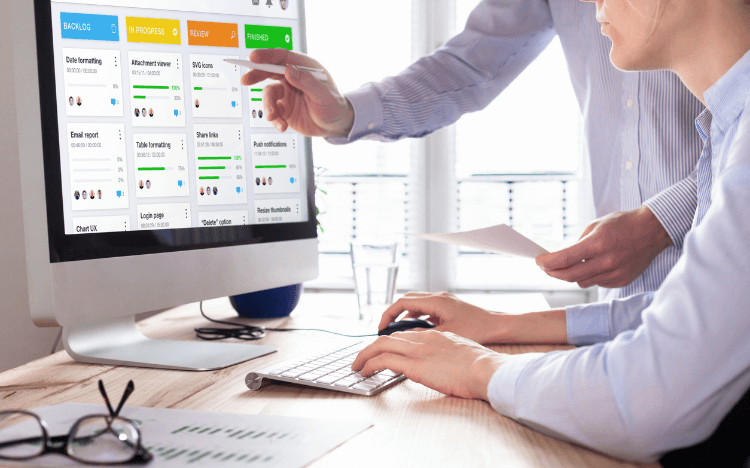 ©NicoElNino/iStock
---
2. Google Program Manager
Business school graduates who aim to launch careers that utilize fundamental business and management skills can find a range of program management roles at Google across various divisions.
For the more technically minded, Google hires program managers in areas such as data infrastructure or systems and data management. There are also opportunities in areas including human resources and supply chain and logistics.
Program managers at Google oversee one specific area of the business. They are largely responsible for managing changes and identifying problems within that area, before devising programs or processes to help fix them.
Program managers will also work on more large scale organizational changes, working with cross functional teams across other sections of the business.
A lucrative career path, a typical Google program manager salary totals around $157,000 on average in the US. There's also the prospect of cash and stock bonuses, which can bring the entire compensation to more than $238,000.
---
3. Google Product Marketing Manager
Less popular than the more generalist management roles, product marketing management is a viable career option for marketing-focused b-school grads who aim for a career in tech.
Google offers a wide range of products that are aimed at both businesses and consumers. However all of these products require marketing teams to position and communicate them to users.
Product marketing managers lead these teams, conducting competitor analysis, deciding product names, and leading marketing campaigns. A base Google product marketing manager salary averages at around $160,000, while those in the role also take home cash bonuses of around $28,000 and stock bonuses exceeding $51,000.
A key role at Google, product marketing managers can therefore earn total compensation packages of around $240,000.
---
4. Google Strategy & Operations Manager
A role that's typically aimed at more experienced candidates, and often those who have an MBA, strategy and operations management requires employees to lead broad cross-functional teams and drive strategic planning.
Responsible for both day to day operations and longer term strategy, this is a role that requires a holistic business acumen and fine tuned management capabilities. At Google, strategy and operations managers often lead global teams.
The in-depth responsibilities are reflected in strong compensation prospects: the average Google strategy and operations manager salary in the US sits around $178,000, while cash bonuses sit at approximately $37,000 and stock bonuses more than double that at $77,000 on average. Total take home pay is therefore around $293,000.
---
---
5. Google Logistics Operations Manager
For b-school grads with a particular interest in supply chain or logistics, Google offers the role of logistics operations manager. MBA grads who have undertaken a specialist track, or supply chain management masters graduates can find opportunities in this role.
This requires employees to lead logistical operations in a given location, such as Google's data center campuses housed in various global locations.
The role often requires a number of skills such as problem solving and project management. Logistics operations managers regularly have to manage costs and budgets, establish relationships with third party vendors, and oversee daily operations.
B-school grads who land roles as logistics operations managers at Google can expect to earn average base salaries of approximately $188,000, with additional compensation amounting to around $22,000 in cash bonuses and $35,000 in stock.
---
6. Google Financial Analyst
B-school graduates with expertise in areas such as finance, economics, and operations can find roles with Google in financial analysis, a key part of the business which influences company decision making.
Financial analysts typically work on multiple projects, which involve tracking performance metrics, designing data infrastructure, allocating resources, and modelling business scenarios. They feed their findings into senior managers who in turn will use these recommendations to inform their strategic decisions.
The typical Google financial analyst salary sits at around $108,000, while average cash bonuses are approximately $16,000 and stock bonuses more than $21,000. Finance-focused business school grads can therefore expect to earn total pay packets of around $145,000.
---
If you're interested in finding out how you can launch a career at Google, including free advice from b-school careers experts, download our BusinessBecause Careers Guide: What's Next After Business School
---
All salaries are based on Glassdoor figures as of October 2023.