Business schools are taking more of their learning online. In the past five years, the number of AACSB-accredited business schools offering fully-online MBA programs has increased by 83%.

Juliane Iannarelli, chief knowledge officer at AACSB, says COVID-19 could accelerate this trend as many MBA programs have shifted from an in-person to online format over the past 12 months.

"We expect the impact of the pandemic on MBA programs to vary, with some offered fully online, others offered on-campus with strict safety guidelines and testing, and others a blend of both delivery methods," she says.

The University of California Davis, University College London, and Michigan Ross have now joined the ranks of big-name schools offering online MBAs. For business schools, going online is a way to reach a global market and diversify program portfolios to meet demand.

For students, it is about flexibility; the opportunity to work, travel, and study at the same time. According to the Graduate Management Admission Council (GMAC), applications to Online MBA programs increased by over 43% in 2020, compared with 11.6% for in-person programs. In the BusinessBecause Online MBA Guide 2021, we look into the rise of the Online MBA and the benefits of studying virtually.

So, is an Online MBA worth it?
---
Considering an Online MBA?
Download our Online MBA Guide 2022
---
---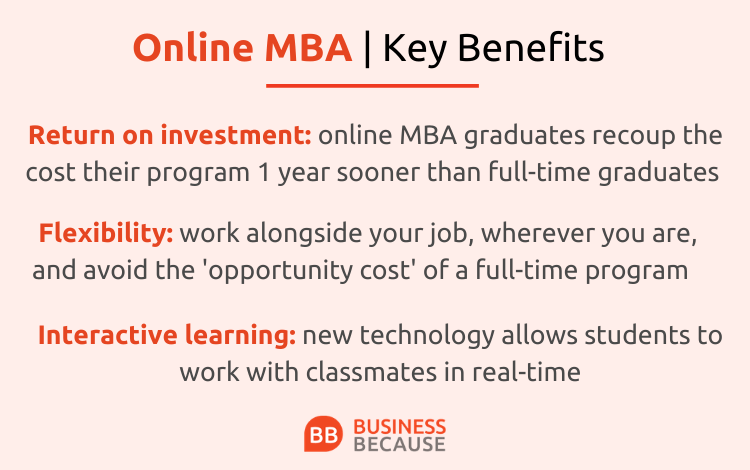 ---
Online MBA vs Full-Time
---
Patrick Gettleman, a student on Birmingham Business School's 100%-online MBA program, says he could not have studied an MBA without the flexibility it offered. "Online was the only option that would work for me outside of quitting my job to become a full-time student."
Patrick is one of more than 400 students who...
Register for free to continue reading