Business schools are taking more of their learning online. In the past five years, the number of AACSB-accredited business schools offering fully-online MBA programs has increased by 83%.
Juliane Iannarelli, chief knowledge officer at AACSB, says COVID-19 could accelerate this trend as many MBA programs have shifted from an in-person to online format over the past 12 months.
"We expect the impact of the pandemic on MBA programs to vary, with some offered fully online, others offered on-campus with strict safety guidelines and testing, and others a blend of both delivery methods," she says.
The University of California Davis, University College London, and Michigan Ross have now joined the ranks of big-name schools offering online MBAs. For business schools, going online is a way to reach a global market and diversify program portfolios to meet demand.
For students, it is about flexibility; the opportunity to work, travel, and study at the same time. According to the Graduate Management Admission Council (GMAC), applications to Online MBA programs increased by over 43% in 2020, compared with 11.6% for in-person programs. In the BusinessBecause Online MBA Guide 2021, we look into the rise of the Online MBA and the benefits of studying virtually.
So, is an Online MBA worth it?
---
Download the BusinessBecause Online MBA Guide 2021
---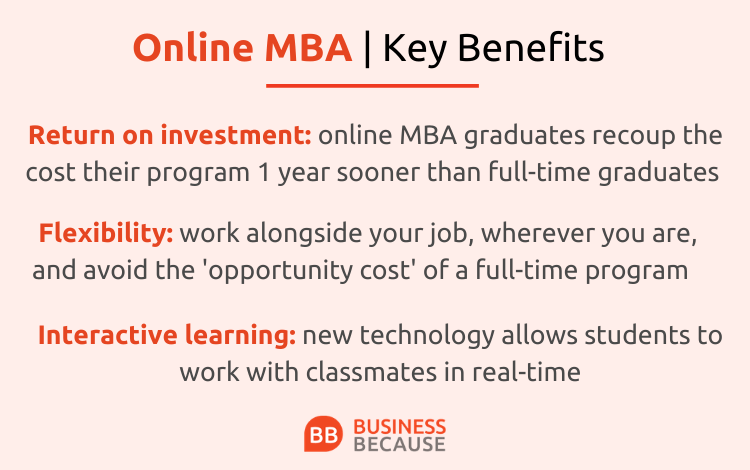 ---
Online MBA vs Full-Time
---
Patrick Gettleman, a student on Birmingham Business School's 100%-online MBA program, says he could not have studied an MBA without the flexibility it offered. "Online was the only option that would work for me outside of quitting my job to become a full-time student."
Patrick is one of more than 400 students who have enrolled on Birmingham's online MBA—the first fully-online MBA to be accredited by the Association of MBAs (AMBA)—since its launch in September 2015. AMBA accreditation requires at least 120 real-time contact hours.
Birmingham splits its online MBA class by time zone, delivering fortnightly 'live sessions' to groups of up to 25 students, to meet this requirement.
While online MBAs have been seen as secondary to campus-based courses, such advances in technology—bringing more interactive learning experiences—mean schools are increasingly offering online MBAs as direct alternatives to the traditional, full-time MBA.
Birmingham promotes the idea of the 'One MBA'. Whether studying online or on-campus, students cover the same content. For the 2021-22 academic year, Birmingham's 100%-online MBA costs £21,600 ($30,000). Birmingham's full-time MBA costs £30,450 ($42,000).
Dan Chicksand, the online MBA's former director, says the program offers students the same quality of learning experience as the on-campus course with a different mode of delivery. The online MBA is a program in its own right, he says, developed for the online space and priced with the global reputation of the university in mind.
---
Online MBA Cost
---
Online vs full-time
When it comes to the most affordable online MBA programs, Birmingham's online MBA is cheaper than most. The online MBA offered by UNC Kenan-Flagler Business School is the most expensive in the Financial Times Online MBA Ranking 2021, at over $120,000. The school's full-time MBA costs around $134,000.
But with students largely missing out on the campus element of the full-time MBA, is paying a similar price for an online MBA worth it?
One way to consider a program's worth is by calculating return on investment (ROI): the money paid for a program and the salary earned after it. By this calculation, online MBAs are typically less 'worth it' than full-time MBAs.
At Warwick Business School, full-time MBA students can expect a 76% increase on their salaries three years after graduation, according to the FT. Online MBA graduates can expect a 35% increase. The programs cost £43,950 ($61,000) and £34,150 ($47000) respectively.
But comparing the 'worth' of an online MBA in this way is misleading. First, online MBAs tend to attract an older, more experienced student, who earns more and is less likely to experience the salary jump of an early-career professional.
Second, most online MBA students continue to work, and earn a salary, alongside their studies. That means no 'opportunity cost' for students from taking a year or two off work to pursue the MBA. And why GMAC says it takes alumni of online MBAs two and a half years on average to recoup their investment compared with three and a half years for full-time MBA alumni.
---
Who is an Online MBA for?
---
There is more to the worth of an online MBA than money. GMAC's Alumni Perspectives Survey asked 11,000 business school alumni whether they found their degree personally, professionally, and financially rewarding.
79% of alumni from full-time MBAs found their programs financially rewarding compared with 69% of alumni from professional MBAs. However, alumni opinion on the personal and professional value of their MBA was similar whether they took a full-time MBA or a part-time, online program.
Leila Guerra, associate dean of programs at Imperial College Business School, says the school's full-time and online MBAs are equivalents but not replicas—learning on the online MBA is tailored for the online space while full-time students pay more for more time and, she says, the increased networking opportunities available on campus. Imperial's online MBA costs £41,350 ($57000); its full-time MBA £54,500 ($76,000).
GMAC research suggests online MBA students are more likely than full-time MBA students to be motivated by career advancement—a promotion or salary increase—rather than a disruptive career change.
Despite the programs' differences, Leila says full-time and online MBA students can get the same kind of personal and professional return:
"Every time I have seen an MBA student a few years after graduation and asked them: Was it worth it? I've not yet met anyone who has told me it was not. The transformation is similar whether they're from an online or a face-to-face program."
---
---
Vlerick Business School's 100%-online MBA—like Birmingham's—is positioned as equivalent to its full-time program. Vlerick's online MBA costs €37,500 ($45,000); its full-time MBA costs €39,500 ($47,000). "We don't want an A and a B product," says Steve Muylle, the program's academic director (pictured below)
However, Steve says the programs serve different market segments with different needs. Vlerick's 70 online MBA students have an average age of 37, compared with 30 for the 41 students on the full-time MBA.
30% of Vlerick's online MBA students are international, compared with 80% on the full-time MBA. Many online MBA students come from a 100-mile radius of the Brussels-based school, working locally, familiar with and attracted by the school's brand. Around 40% of them are sponsored by their companies.
---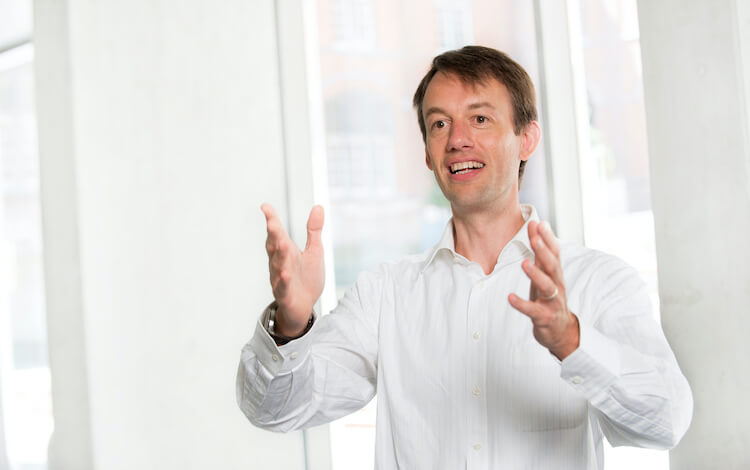 ---
Vlerick has developed Impact Learning Indicators to understand how the program is helping students reach their goals. Students are asked about their expectations from the program, whether it has delivered on them, and whether they feel it is delivering value.
Whether they study online or full-time, the worth of the MBA for students, says Steve, is decided by their individual career goals.
The outcome of the Impact Learning Indicators is not just a financial, salary story. "People are looking for a purpose," Steve says, "for something they believe in."
Next read:
Download the BusinessBecause Online MBA Guide 2021
---
This article was first published in June 2019 and last updated in March 2021
Please Enter the Code Below