2U CEO Chip Paucek didn't take a single business course until he was in his 40s. It was after cofounding the edtech company in 2008 and working as COO for almost four years that he decided the time was right for an online MBA.

He moved into the CEO position at 2U in 2012, and cherished the opportunity to strike up a relationship with an institution whose badge he'd longed to wear on his sleeve.

He grew up in the South, and the University of North Carolina at Chapel Hill (UNC) had been an aspirational school to him as a kid. He watched a lot of basketball growing up, and his regional bias was formed by the allegiance he felt by watching their college team.

After clearing the steepest hurdle—convincing his wife, and the board of 2U, that he wasn't a "total lunatic" for wanting to balance running a company with an MBA—he got his wish. Chip enrolled on the Online MBA at UNC's Kenan-Flagler Business School, a partner institution of 2U, in 2012.
---
Life on the online MBA
When Chip (pictured below, right) looks at himself as a CEO before the MBA, and afterwards, he says he is now a more well-rounded businessperson. In the same way he believes a strong undergraduate degree creates a well-rounded person who can write, think critically, and speak confidently, an MBA creates someone equipped with a broad base of business skills.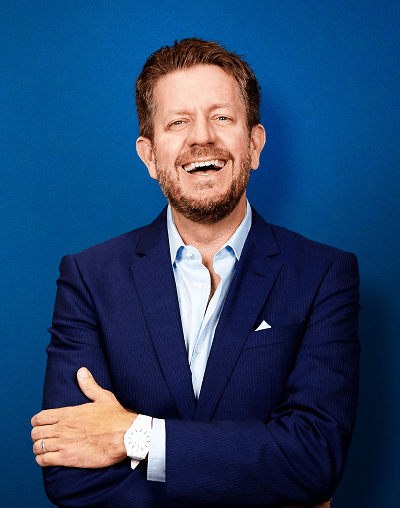 "It peels back the onion, reveals the world a little bit more," he explains. But you also get much more than just the academics.
"My classmates were critical. The reality is, I know I was a public CEO but I was a normal grad student, and I can say the rigor of these programs is very real, the quality is very real, and the network you form is very real."
One of the criticisms of online MBA programs is that students can miss out on the network building akin to an on-campus program. But as programs become more sophisticated, that is becoming less of an issue.
Students of the Online MBA at Kenan-Flagler learn through a combination of highly collaborative online classes, interactive coursework outside of class, and strong networking opportunities.
2U provides their partners with the tech platform to deliver their content, as well as marketing and student support, faculty support, clinical placements, and any privacy concerns around GDPR. In exchange they share tuition revenue, which typically sits above 50%, Chip explains.
---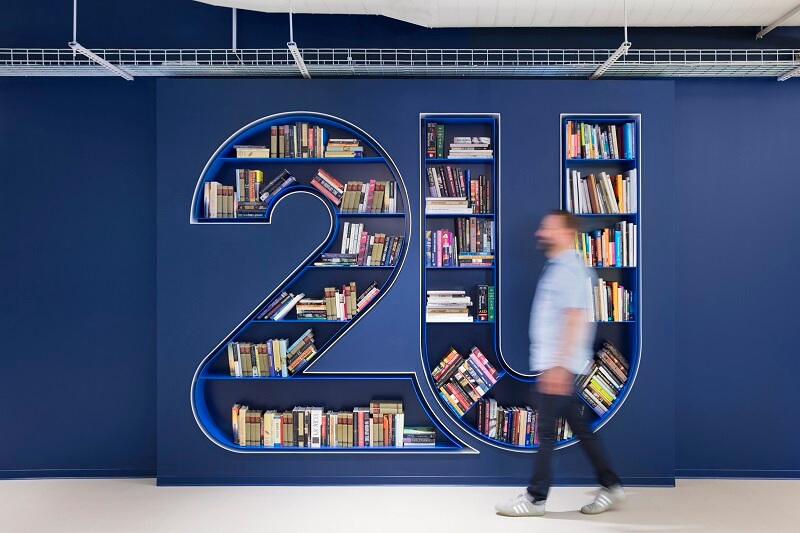 ---
The Online MBA at Kenan-Flagler also provides Global Immersions, which take students all over the world for intensive, weekend-long learning experiences. They meet their professors, peers, and take in local culture while working on collaborative class projects.
"You don't sacrifice anything," says Chip. "My point is you really do build those relationships."
He has a still photo taken during one of his live, online classes. Two of the students in the picture, though they lived on opposite sides of the United States, are now a couple, and are currently engaged.
"Seeing each other in live classes makes a difference, then you meet each other, and you'd be shocked how well you can get to know somebody through consistent, routine live classes."
Chip now lists among his friends a student who worked for Shell on an oil rig off the Gulf of Mexico while studying his MBA, and one who is the CFO of Royal Caribbean Cruises.
---
2U Partner Schools (Business)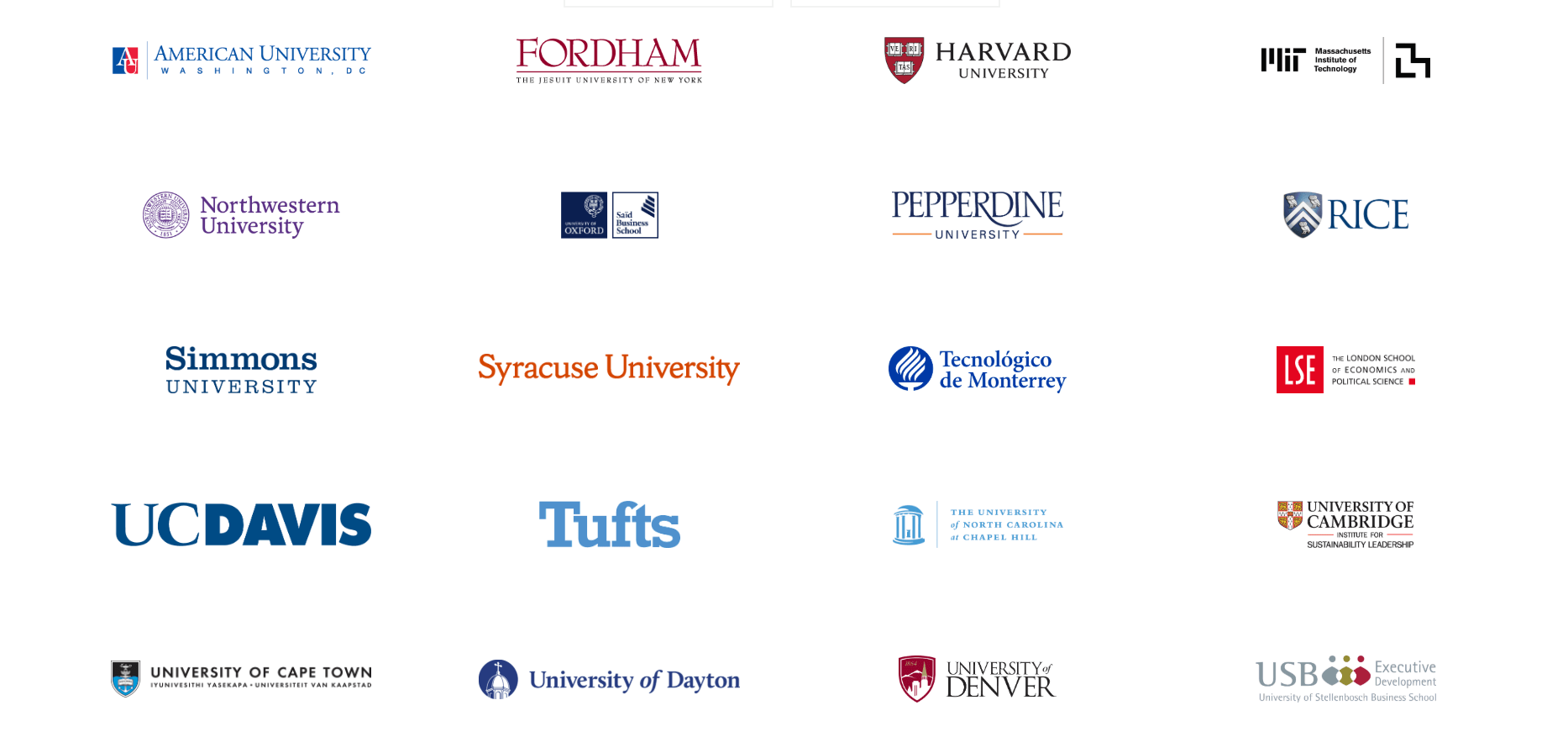 ---
The challenges of studying online
Working while studying, let alone running a company that went public in 2014 while Chip was still on the MBA, takes a lot of personal time. You have to be committed.
"It was a family sacrifice," he says, "but you just make it work. You have to prioritize, cut out social stuff, and there's not much time for anything apart from work and school."
Like any graduate degree, the online MBA took Chip to breaking point on a couple of occasions.
"Everybody has certain courses that are hard, and I had a couple of moments.
"I got my mid-term back from one of my classes and it was a very low grade. I was very stressed, and I was really concerned I'd fail the course. But these are normal grad school things, and I made it through."
There was also the IPO in 2014. It was a great celebration when it was over and done with, but completing the MBA alongside the IPO wouldn't have been possible without the flexibility an online degree provides.
There were moments when class conflicted with work, and with permission from his instructor Chip was able to dip into a different class section to accommodate his schedule.
---
The benefits of an Online MBA for a CEO
The broad-based education provided by the MBA means that Chip can now have better conversations with his data science team on their terms, in a language they both understand.
A course on leading from the middle was also greatly beneficial. The position of CEO is definitively not the middle, so Chip admits it was incredibly valuable to study in depth the perspective of someone in the 'middle', what they deal with, and how he might be able to improve his ability to lead them in their role.
He also thinks the value of an MBA is the same for everybody, regardless of position. It's how you apply it that makes the difference.
"I had some people say, 'why would you do that, you're a CEO, what do you need your MBA for?'
"What you need is one thing, but what if you want it, and why do you want it? I wanted to get that broader base of instruction I never had before, I loved the school, and I wanted to meet the people.
"I got to know a lot of incredible classmates, learned a lot, and it made me a better CEO."
---
The future of higher education
Higher education transformed Chip's life. He was a first-generation college student when he attended George Washington University for an undergraduate degree in political communication.
"For the people applying themselves all kinds of doors open, and I think everybody needs a door opened. That, more than anything, gets me up in the morning. I've been doing this for 12 years and I still love it."
He believes universities will continue to flourish as we move towards the future of higher education. They will evolve tremendously though, and students will inherently choose a mix of physical and digital education experiences.
We are moving more towards a reliance on STEM subjects too. That is, science, technology, engineering and mathematics.
2U acquired edtech company, Trilogy Education, earlier this year, as they were underutilizing STEM topics. Triology is 100% STEM, and from that point Chip says they felt they needed to continue to evolve 2U to meet the demands of the learner—students of the UNC Kenan-Flagler MBA will now be able to take Python courses.
"Today it's super obvious that online and on campus are converging," he adds.
"This notion that there are things online and things on campus will go away without question. And I do think creating more access worldwide is pretty critical, so offering more accessible paths for people to get there is a big part of our story and is a big part of where higher education will go."
---
The BusinessBecause Big Interview series showcases the thoughts and lives of some of the world's leading business figures.