With an online MBA, you can accelerate your career trajectory, boost your salary, and build a global network, while working from home.

Unsurprisingly, interest in online MBA programs is booming. According to the Graduate Management Admission Council (GMAC), 86% of online MBA programs in the United States saw a growth in applications in 2020, with competition increasing for places on top online MBAs.

So what do you need to get into the world's best online MBAs? And how is applying for an online MBA different from a full-time MBA program?

At the University of Michigan's Ross School of Business, one of the top schools to offer an online MBA, the admissions process is just as rigorous in its Online MBA program as it is for its Full-Time MBA.

BusinessBecause caught up with the admissions team and an online MBA student from Michigan Ross to find out how to boost your application.
---
5 Steps To A Winning Online MBA Application
---
1. Online MBA Requirements – Know what your target school is looking for
Most online MBA programs have similar requirements to traditional MBA programs: undergraduate and graduate transcripts, a GMAT score, résumé, personal recommendations, and an interview.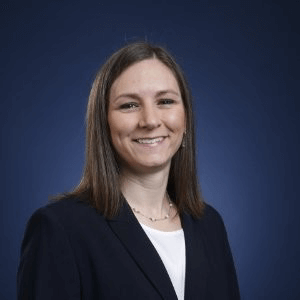 Just like full-time MBA admissions, the students who perform best are usually those who have done extensive research into the program they are applying for, says Anne Schoen (pictured) Associate Admissions Director at Michigan Ross.
But there are also a variety of characteristics Michigan Ross likes to see in its prospective students that you should aim to get across in your application.
"At Ross in particular, we place a really high value on teamwork and collaboration," Anne explains. "Candidates who are able to showcase these qualities in the application process usually do well."
Michigan Ross takes a personal approach to MBA admissions. Online MBA student, Sarah Dubow, says the school made it clear that "the admissions team really wanted to get to know me—not the cookie-cutter MBA applicant I thought I should be portraying."
---
2.

Online MBA GMAT – Look at the class GMAT score range as well as the average GMAT
The world's top business schools will consistently see GMAT scores of 700 or more from their applicants. While the GMAT is just one part of your MBA application, a high GMAT score will increase your chances of admission.
Michigan Ross accepts both the GMAT and GRE during admissions. The average GMAT score for the Michigan Ross Online MBA is 677, but accepted GMAT test scores range from 620 to 730, meaning even with a lower score you could still be accepted.
"Remember, the admissions committee is evaluating your application holistically; your application is more than simply a score on a test," Anne says.
Michigan Ross also offers candidates other ways to demonstrate their readiness beyond the GMAT and GRE, including the Executive Assessment, limited waivers for highly-qualified candidates, and a Quantitative Readiness Course.
---
3.

Online MBA Essays – Tell your story and how the MBA fits in
The essay portion of your online MBA application is your chance to show your chosen school that you deserve a place on the program.
Michigan Ross has a strict 100 word limit for their short essay prompts, while the longer essay amounts to 200 words. This makes it even more important that you know exactly what you want to get across to admissions directors.
"Give examples that show what you are passionate or curious about, what you are proud of, what drives you, and share stories that help the committee to understand you as an individual," Anne recommends.
"The application should paint a picture of someone with clear goals who knows how an MBA program will help them."
---
4.

Online MBA Recommendation Letters – Choose recommenders who know you well
A recommendation letter should ideally come from a current manager or supervisor, but Anne stresses that "the title of the person writing the letter is not nearly as important as the content of what they share."
When it comes to choosing your recommender, choose someone who knows your working style and characteristics.
It's a good idea to have a chat with the person you've chosen before they write the letter so you can explain a little more about why you want to do an MBA and what your personal goals are.
---
5.

Online MBA Interview – Be yourself!
The final stage of your online MBA application is your interview, with only the best applicants invited.
In her Online MBA interview, Sarah (pictured) was asked typical questions such as why she wanted to do an MBA and why she had chosen Michigan Ross.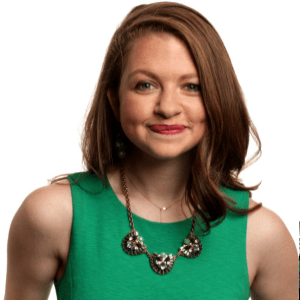 "I was also asked about my experience of working in remote environments and my interest in working in a hybrid synchronous/asynchronous learning setting," she says. Admissions directors want to know how a candidate can add value in the classroom, even if that classroom is virtual.
Sarah attributes her application success to one thing: being able to communicate exactly why she wanted to join Michigan Ross specifically, and not another business school.
"I could clearly articulate why I wanted to be a part of shaping the first top Online MBA program in the country and how I was going to help to shape it," she explains.
"The Ross Online MBA program is new and relatively small so the admissions team really pressure tested how I'd contribute to the program," she adds.
What advice does Sarah have for anyone applying to a top online MBA?
"Be yourself. I used to absolutely hate it when MBA students told me this but it is true!
"Especially in an Online MBA program, what makes you different is what makes the virtual classroom discussions that much richer and relationships outside of the classroom much stronger. So write your true story, study hard for the GMAT or GRE and speak from the heart in your interview.
"It will not only let the admissions team understand how you will fit into the program but it will also make it easier for you to enter the virtual classroom environment comfortably and totally be yourself."
Related Content: