From career prospects to affordability, many factors go into choosing an MBA that is right for you. For Anthony DeOrsey, it was the flexibility and global network offered by the Michigan Ross Online MBA.

The Stephen M Ross School of Business at the University of Michigan is one of the best-ranked business schools in the US to offer an online MBA program.

Michigan Ross Online MBA students benefit from a rigorous, action-based curriculum delivered via a combination of live online sessions and self-paced modules, and are taught by the school's renowned faculty.

Anthony, who currently works for a cleantech research and consulting firm, joined the MBA program with a Master's in Sustainability from Harvard Extension School and seven years of work experience in consulting and venture capital.

Business Because spoke to Anthony (pictured below) to find out more about his experience as a Michigan Ross Online MBA student.
---
Why did you decide to pursue an online MBA?
I applied to multiple program formats: full-time, part-time in-person, and part-time hybrid. When it came time to decide, my wife and I had just learned she was pregnant with our first child, and we wanted to stay local, near my family. Additionally, I was interviewing for jobs that seemed especially interesting and were likely to be a good step forward in pursuing my career goals, so I hoped to keep working during an MBA.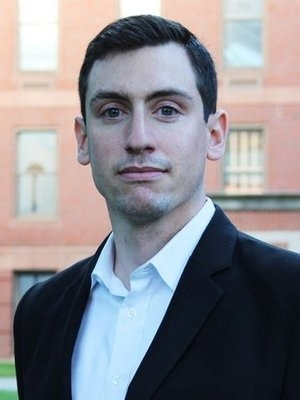 ---
Why the Michigan Ross Online MBA?
Joining an MBA was not a box-checking exercise for me, and I wanted to study under the best professors and build a network that would last. I was accepted to some good part-time in-person programs near me, but Ross ultimately offered a more nationwide (and global) network. A significant selling point was the live class sessions that mirror a full-time, in-person experience.
---
What does Michigan Ross look for in its MBA applicants?
It's clear that Ross has made an effort to bring in students from a multitude of backgrounds. This enhances class discussions, and makes our live class sessions engaging and challenging.
---
What questions did Michigan Ross ask you in your MBA interview?
I remember discussing the career trajectory that I was aiming for: what my goals were, where I stood vis-a-vis those goals at the time of the interview, how previous work and study experience supported those goals, and how I would leverage a Ross education to get there.
---
What stands out from your Michigan Ross Online MBA experience so far?
The Multidisciplinary Action Projects (MAP) course was a great experience. This was an opportunity to utilize the material in the program up to that point and work on a problem with real business implications for a large company or organization.
Perhaps the most rewarding part of MAP was the experience of working with a team of Ross MBA candidates with highly diverse skill sets. My team included a doctor, a geneticist, a Googler, a Navy pilot, and an e-commerce manager. Working with this team in a flat structure (with no formal manager to direct the project) brought a vibrant set of perspectives to the project and, I believe, benefited the client immensely.
---
How have you benefited from the Michigan Ross Online MBA?
Perhaps the most beneficial aspect of a part-time MBA is the opportunity to implement learnings into everyday work immediately. Personally, the coursework in microeconomics, corporate strategy, and competing in the global business environment have been the most impactful. They have allowed me to identify market dynamics and think more clearly about research and consulting analyses at work.
Additionally, I have taken coursework in corporate financial reporting and managing the Online MBA fund (a series of courses that involve buying stocks for the fund and managing the portfolio). These have helped me better understand how to deconstruct complexities in public companies and identify drivers and challenges of sustainability in these companies.
The experience of getting highly diverse perspectives in case studies and group projects has been enriching in building familiarity around industries and roles in which I have never directly worked. Organic learning in this program is a critically important benefit.
---
How will the Michigan Ross Online MBA help you achieve your career goals?
My goal is to stay in cleantech and move toward strategic roles that shift corporations toward decarbonization and sustainability. This is part of my work already, but I aim to directly effect these changes on a much larger scale by moving into a higher-level corporate strategy or sustainable finance role.
Related Content: