Home to one of the world's top-ranked MBA programs, the University of Michigan Ross School of Business is one of the leading b-schools in the US, offering a wide array of MBA formats and other business master's degrees.

In 2019, the school added another program to the list, launching its Online MBA program to give working professionals access to Ross' world-leading faculty from anywhere across the globe. Students pursuing the new program can study at their own pace and can even choose to take part in on-campus classes.

What can you expect from the Michigan Ross Online MBA? Here's what you need to know:
---
Michigan Ross Online MBA: Requirements
You need to complete a number of requirements to successfully land a place in the Ross Online MBA.
This includes typical application processes like providing a copy of your resume and previous academic transcripts, along with submitting your test score. Michigan Ross accepts the GMAT, GRE, and Executive Assessment exams.
The school offers test waivers for highly qualified candidates. You can also take the Michigan Ross Quantitative Readiness Course (QRC) in lieu of submitting a standardized test score.
You will have to supply one letter of recommendation, and your application essay. The essay involves a series of short-answer questions—less than 100 words—and one longer question explaining what your career goals are and why.
If your application is strong, you'll be invited to interview as a final step in the application process.
---
Michigan Ross Online MBA: Cost
The cost of tuition for the Michigan Ross Online MBA amounts to $125,000 for students starting in 2021, reduced to $115,000 for students living in Michigan. The cost for each credit hour you complete is around $2,100.
---
Read: What You Need To Get Into The Best Online MBA Programs
©Michigan Ross

---
Michigan Ross Online MBA: Class profile
The Online MBA class is made up of students from a variety of backgrounds, who each bring their unique experience to the classroom. Students in the current class hail from fields including engineering, technology, and even the armed forces.
32% of students enter the program with an advanced degree and the average student has seven years of full-time work experience before applying.
Robbin Lee is a student in the program who works full-time for a nonprofit social organization. She says she chose the Ross OMBA because of the diversity of connections she'd gain.
"I wanted to surround myself with and learn from experienced professionals from across sectors and from across the country," she explains.
As one of the top business schools in the US, Michigan Ross aims to attract top-quality applicants to its Online MBA. The average OMBA student has a strong GMAT score of around 680, while the average GPA across the class sits at 3.5.
"The program is designed for high-achieving working professionals who want both an engaging, rigorous MBA experience and the flexibility of an online program," says Sarah McIntosh, admissions officer for the Michigan Ross Online MBA and Weekend MBA programs.
---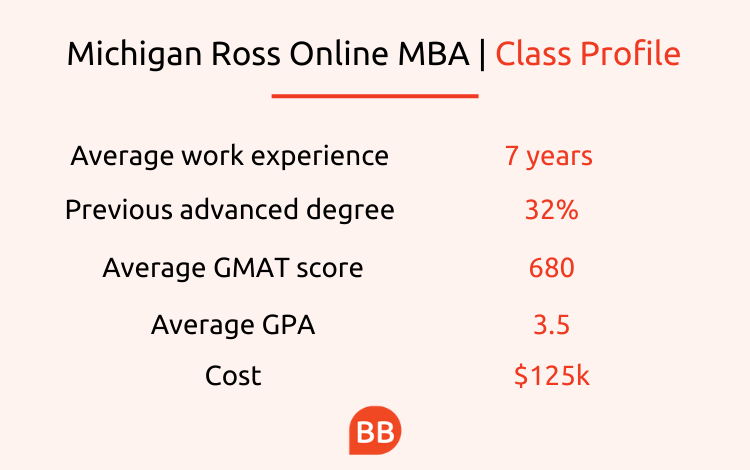 ---
Michigan Ross Online MBA: Curriculum
The Michigan Ross Online MBA launched with a cutting-edge curriculum comprising 57 credits, split between core modules, electives, and residencies. All classes are taught by the same faculty who teach in the school's other MBA formats.
Core modules give students a holistic understanding of business, focusing on key pillars like marketing, quantitative subjects like economics and finance, and management topics like operations and corporate strategy.
Robbin found the more technical subjects were the most challenging. "As someone who hadn't taken a math course in over 10 years, I definitely needed to brush up on those skills," she says.
"I found it particularly insightful to learn from my classmates in STEM fields or more corporate positions," she adds. "I am just scratching the surface when it comes to learning about different industries, and that is really exciting."
Elective courses allow students to deep dive into topics of their choice. Subjects range from investment strategy and private equity, to entrepreneurship, to health care and public policy. The customizable approach means students can tailor their experience to fit their goals.
---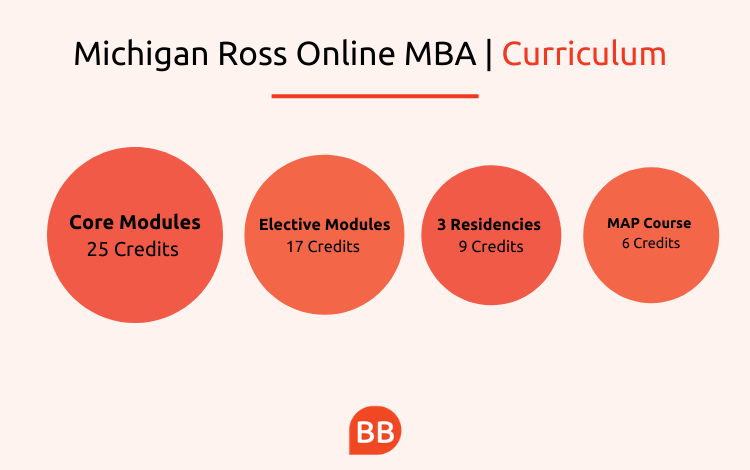 ---
"Whether a candidate wants to move up at their current organization, change employers, or move to a new industry—the program provides the resources and connections that empower our students to reach their goals," says Sarah.
The Ross Online MBA combines a theoretical approach to teaching with practical group work, allowing students to hone their knowledge and skills in a real-world environment.
Each student must attend three in-person residencies throughout their studies. These run from Thursday to Sunday, and involve a series of workshops and practical experience run in partnership with specialized expert organizations. The Business Innovation Residency, for example, is delivered in partnership with the school's Zell Lurie Institute for Entrepreneurial Studies.
Students must also take part in a group consulting project course, known as Multidisciplinary Action Projects (MAP), where teams advise organizations on key challenges they're facing in the real world.
Guided by a faculty advisor, the groups work with companies across sectors including technology, media, and manufacturing, combining the theory they've learned during the program with practical experience to enhance their business understanding.
"The program staff have done a great job to ensure we have as full and well-rounded an experience as possible," Robbin explains.
---
Michigan Ross Online MBA: Career support
As an online, part-time program, students approach the Ross Online MBA with a range of different career goals. Some look to move up within their company, while others choose to pivot their career.
The school's Career Development Office offers tailored career support for US students or international students with an eligible US visa, allowing those students to utilize the resources on offer in the best way possible.
Each qualifying student has access to a career coach, who offers personalized virtual mentoring throughout the program, and there are a range of workshops and review sessions available, offering guidance on subjects like resume writing, interviewing, and even negotiating job offers.
The school also offers support to those students who are looking to switch careers after graduation. "We offer a personalized approach to the career search, which includes access to formal recruiting," Sarah explains.
Along with the tailored support, Online MBA students gain access to the extensive Michigan Ross network, which includes more than 52,000 alumni spanning 111 countries.
---

While a relatively new program, what the Ross Online MBA lacks in employment statistics it makes up for in its curriculum and careers services.
With the same world-class faculty as the Ross Full-Time MBA, you can be sure that you'll have a quality business education that's recognized around the world.
If you're looking to make a change in your career, the highly personalized career development services on offer for US and visa-holding international students in the Ross Online MBA should help you achieve your goals, whether they're landing a new job or a promotion.

Related Content: