When Abra Sitler enrolled in the Flex MBA program at Georgetown University's McDonough School of Business, she didn't have a clear career goal in mind, but she knew she wanted to find meaning in her work.

She couldn't have anticipated that, three years later, she would land a coveted spot on a rotational development program at pharma firm Bristol Myers Squibb in the context of the pandemic—a time of uncertainty for the healthcare industry and MBA job prospects.

Flexible MBA programs like Georgetown's, that allow students to combine studying part-time with full-time work, are helping professionals future-proof their careers in times of uncertainty.

In 2021, 47% of Georgetown Flex MBA students reported a change in function since they started the program, and 45% reported an increase in seniority.
---
Georgetown Flex MBA helps students explore new career paths
The Georgetown Flex MBA is taught by the same faculty, follows the same core courses, and confers the same degree as the traditional two-year, full-time MBA, but students complete the degree in anywhere between 26 and 60 months. They study part-time, combining in-person, online, and hybrid learning formats.
At the start of her MBA, Abra was working as a sales and marketing specialist for the General Services Administration (GSA), an independent agency of the United States government.
She didn't dislike her job, but she wasn't inspired by it either, so she used her time during the Georgetown Flex MBA to explore other avenues.
"I knew healthcare was an industry I was interested in. On some of our projects throughout the program we were able to choose the industry or companies we were focusing on, so I tried to choose healthcare, biotech, and pharmaceutical companies," she says.
Students on the Flex MBA also study the same curriculum as their full-time counterparts and there is no need to pick a concentration ahead of time; instead students are free to follow their interests as they develop over the course of the program.
Abra's explorations soon confirmed that healthcare was her desired industry, however she did not yet have a professional network in healthcare. Her inspiration for how to build one came from an unexpected place.
"During my second year, I met Professor Eric Koester, who was leading a project to get MBAs to write and publish books," she recalls.
"His thinking was that you can use a book as a way to dive deeper into something you're really interested in, and it can help you build expertise and a network in that area."
Abra had been driven toward healthcare by her own experience being treated for a rare disease at John Hopkins Hospital and the recent loss of a loved one to cancer.
She decided to write a book on the future of biopharmaceuticals from the perspective of a patient, and the process allowed her to build a network of contacts in her desired industry.
---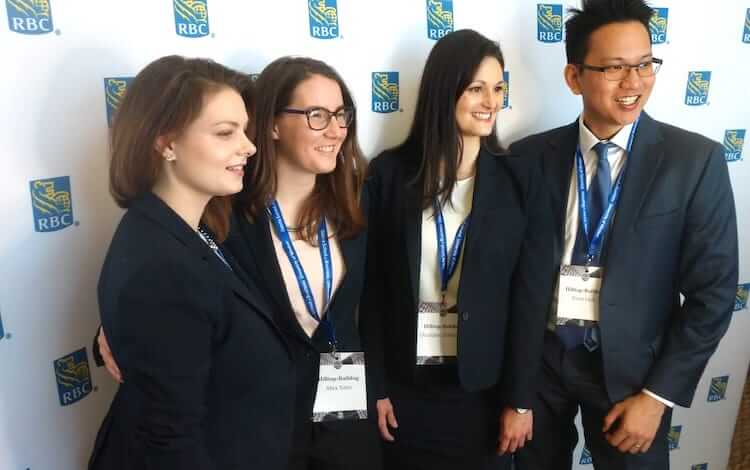 Abra (second left) with her Georgetown MBA colleagues
---
Georgetown Flex MBA students are prepped to land promotions and new jobs
It was an unusual method, but Georgetown Flex MBA students learn to expect the unexpected, Abra says.
Abra levelled up twice in her role at GSA while pursuing her MBA: first into a tech role and then into finance, both of which she would never have imagined working in before. She then transitioned into healthcare post-graduation.
"I got my role in the rotational program at Bristol Myers Squibb by attending one of the fall recruiting fairs in my last year of business school, and I went into that really prepared," she says.
Before applying for the role, Abra worked with McDonough's MBA Career Center to improve her interviewing skills and resume, and they even recommended a specific summer internship to fill a gap in her biopharma experience. The effect by recruiting season was impressive.
"I couldn't have got to where I am today without the MBA," Abra says. "It gave me confidence and a robust toolkit that I could apply in a lot of powerful ways.
"I could speak the language of the businesses [thanks to my classes], and I could speak with confidence because I'd spent a lot of time with the careers center."
---
How can you future-proof your career with a Flex MBA?
Maureen Cleary, assistant dean of the Georgetown McDonough careers center, says that Abra's journey isn't as unusual as it seems.
"Many Flex MBA students are pursuing an MBA to enhance their degree and are not looking to switch jobs when they start the program.
"This changes through the course of their time at McDonough as they become more aware of potential career options."
The best way to future-proof your career with a part-time MBA is to think about your desired career outcomes from early on—even if they're constantly changing—and to seize as many opportunities as possible in line with them, Maureen says.
Abra agrees: "Take advantage of the Georgetown network and understand how powerful that is," she recommends.
"Whether they wanted to make a significant career change or break into a new industry with no prior experience, every one of my classmates who did that achieved their goals. I wasn't the only one."
Related Content: