WU Executive Academy, a leading business school in Vienna, has partnered with EdTech firm Tomorrow's Education to launch a Master's degree in the Metaverse.

Metaverse projects are growing in popularity as tech leaders like Facebook bank on it being the next great innovation. Earlier this year, business school deans predicted the Metaverse will impact education as a key trend in 2022.

WU Executive Academy and Tomorrow's Education aim to transform education with a string of remote-first degrees taught via the school's cutting-edge campus in the Metaverse.

The Professional Master of Sustainability Entrepreneurship and Technology (SET) is the first program to launch after recently accepting its first cohort.
---
A Metaverse-based curriculum
The Professional Master in SET targets bachelor's graduates from across the globe who have some previous work experience and are looking to launch a career in sustainability, while developing entrepreneurial and tech skills.
The highly flexible program design allows students to learn at their own pace via the school's campus in the metaverse, which is accessible via an online app.
"There are online meeting rooms, event spaces and activities taking place on an ongoing basis," explains Christian Rebernik, CEO and co-founder of Tomorrow's Education, which is part of the Tomorrow University of Applied Sciences.
"Students can come and go as they please, connect, and network at any time, and meet up with lecturers or academics to discuss their courses," he adds.
The curriculum takes a practical approach to learning, introducing students to a range of challenges that are specific to either sustainability, tech, or entrepreneurship, before giving them the tools to solve them.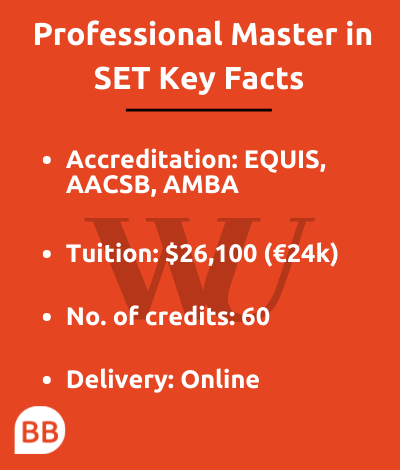 Classes cover topics ranging from Resilience Training For Responsible Leaders and Transnational Thinking, to Machine Learning and Finance For Entrepreneurs. A 'Grand Challenges' segment requires students to complete group projects aimed at developing their practical skills.
At the end of the program, each student must complete a final Master thesis in either an Entrepreneurship or Corporate Lab, developing a real-world proposal before bringing that proposal to life. Examples include launching a startup or driving an intrapreneurial initiative.
The SET also offers a range of extracurricular elements including networking sessions with other students and lectures delivered by industry leaders. Previous speakers include product and innovation experts from the likes of BMW and N26.
"Our students can choose their own learning paths based on their interests and competencies and create solutions for genuinely pressing global and local issues," says Christian.
---
Why a master's in the Metaverse?
E-learning has rapidly increased since the beginning of the Covid pandemic. The e-learning market—valued at $160 billion in 2018—is expected to grow to $370 billion by 2027.
Since the pandemic began business schools have offered online learning in a variety of ways, including through partnerships with Massive Online Open Courses (MOOCs), asynchronous hybrid learning models, and more traditional teaching delivered via Zoom.
But Tomorrow's Education feels the changes aren't enough. "For the most part, education is still delivered using methods that are beginning to look outdated, like lengthy lectures," says Christian.
"A change was needed—not to improve online teaching which was forced upon us, but to rethink the whole concept of education, and how we learn best."
The Professional Master in SET, and the programs that WU and Tomorrow's Education plan to launch in future, aim to offer a new type of education which is designed first and foremost for remote learning.
"The metaverse campus provides an unparalleled campus experience, where students can engage in a simulated environment," Christian says.
Applications for the Professional Master in SET are currently open, and the degree costs $26,100 (€24,000).
---
Next Read:
How To Choose The Best Master's Degree For You