Technology driven startups have shaken up the financial sector in recent years. The likes of Stripe, Klarna, and Coinbase have developed innovative new financial solutions to turn fintech into a $100 billion+ industry.

New York University's Stern School of Business believes fintech's soaring influence creates the need to train the next generation of fintech leaders. Enter the school's new degree: the Master's in Fintech (MSFT), scheduled to launch in May 2023.
---
Download Our Master's Survival Kit 2022
---
NYU Stern Master's in Fintech: Curriculum
The NYU Stern Specialized Master's in Fintech is a one-year, part-time degree, made up of 34-credits and comprising 22 courses that are taught via a hybrid learning format.
The program is aimed at experienced professionals with a minimum of five years of experience. While the typical Master in Finance focuses on highly complex financial theory, the Master's in Fintech is for students looking to develop skills in both finance and tech.
"We designed the program for two types of students," says Kathleen DeRose, academic director of the MSFT. "Professionals in the finance industry eager to understand the challenges of digital transformation, and professionals in the technology industry ready to improve their knowledge of financial services."
The course is split between seven modules, with the first delivered online in a live format, while the following six are taught from Stern's New York campus and a rotation of other locations based in global fintech hubs.
Course content covers a broad range of topics including programming and business analytics, big data, innovation, and ethics. There's also a focus on cutting-edge technology like blockchain, cryptocurrency, artificial intelligence, and machine learning.
Stern aims to make use of its substantial expertise in financial technology. The school first offered blockchain and cryptocurrency teaching to MBA students in 2014, while a fintech specializiation was added to the MBA in 2017.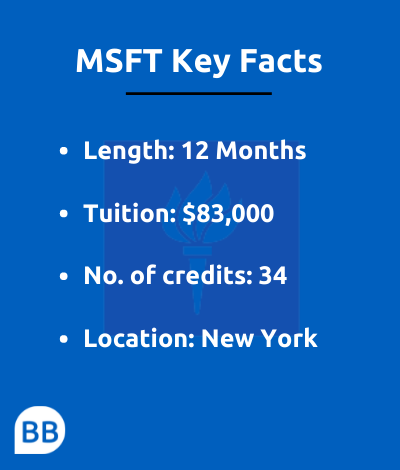 "Stern's academic leadership and experience in this space is unmatched," Kathleen says.
The MSFT curriculum also offers students practical learning opportunities to further develop their skills. An ongoing Capstone module requires students to work in teams on a project covering topics of their choosing in the fintech industry. Modules also include an 'Application' stage where students apply their learning during case studies, group projects, and coursework.
Stern hopes that, after graduation, MSFT students will be able to implement their skills across the entire fintech sector, "whether that's founding a startup, or helping an incumbent adapt," explains Kathleen.
"We will also shape future fintech leaders, prepared for senior roles at the top of fintech companies," she adds.
---
Why a Master's in Fintech?
The 10 most valuable fintech companies in the world include mobile payments firms, a cryptocurrency exchange, an online trading platform, and banking and financial services. The myriad ways technology is revolutionizing finance means fintech is rapidly developing, expected to reach a valuation of $324 billion by 2026.
"Fintech is at the forefront of finance. It's mainstream, and no longer the realm of just disruptive startups and crypto fans," explains Kathleen. "Everyone working in finance is adapting to a new world defined by networked platforms, automation, and decentralized finance."
With technology playing such an integral part in this change, it's important that people aiming to have successful careers in finance have the necessary skills and understanding of tech.
"When industry change is so fast, education is one of the only ways to jumpstart or remake a career," she adds.
If you're looking to do just that: the application for the MSFT will cost $83,000, while the deadline for applying to be part of the first class is September 1st 2022.
---
Next Read:

Master's Survival Kit: 10 Things You Should Know Before Going To Business School