Sustainability is more than just a buzzword. Businesses around the world are now committed to doing more to reduce their environmental impact, and business schools must prepare the next generation of sustainable leaders.

Bocconi University aims to do this with its new Master's in Transformative Sustainability, created in collaboration with MIP Politecnico di Milano.

The Specialized Master's degree launches in August 2022, with an intake of 50 students who will study at both Bocconi and MIP's campuses in Milan.
---
Download Our Master's Survival Kit 2022
---
Bocconi MSc in Transformative Sustainability | Curriculum
The MSc in Transformative Sustainability is a two-year program with courses split across both school campuses.
In year one, students spend their first semester at Bocconi University and the second semester at MIP. Year two features teaching offered by both Bocconi and MIP, split according to the electives that students choose.
"Bocconi University and Politecnico di Milano, two of Italy's most prestigious universities, have each leveraged their own unique areas of expertise to design a joint degree with an integrated and innovative perspective on sustainability," explains Francesco Perrini (pictured), Bocconi's director of the program.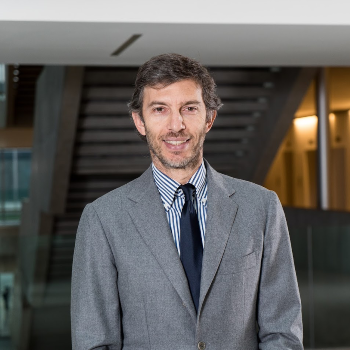 The MSc is designed with two overarching goals: to provide students with the skills needed to help companies transition to sustainable management, and help them understand the impact of ESG criteria on business decisions.
The curriculum combines teaching in two fields: technology and social sciences. This dual focus results in a varied list of electives, including Designing Sustainable Cities, Sustainable Finance, Data Analysis for Sustainability, and Environmental Economics.
The master's ends with an internship component and written thesis on a topic related to corporate sustainability.
"The innovative and integrated approach adopted to designing the program is the same that should be adopted to face today's sustainability challenges," says Francesco. The focus on innovation also means the curriculum may change over time.
"The revolution needed for sustainability is different from past transformations because it requires an integrated and holistic approach—that also requires us to adapt core content," he says. "Constant adaptation will be needed with new knowledge and skills."
---
Bocconi MSc | Careers
As an ever-expanding area in business, sustainability-focused jobs are now growing in number and influence within companies.
Francesco identifies three main roles he expects Master in Transformative Sustainability students to land after graduation. They are: sustainability specialist, sustainability analyst, or a career in entrepreneurship.
Sustainability specialists are those responsible for creating and managing sustainable change within organizations. This might be through improving organizational processes or transforming supply chains.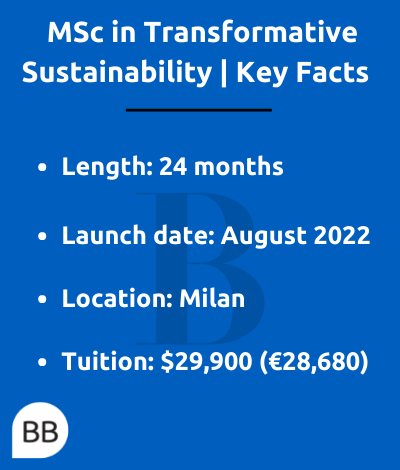 They might also be responsible for managing stakeholder relationships—especially with NGOs and other sustainability organizations—and staying up-to-date on sustainability topics.
A career as an analyst is already a popular route for business school graduates, and sustainability analysts are becoming increasingly necessary.
"In this case, graduates will contribute to projects that help clients improve their processes or practices toward sustainability, sharing market best practices and designing action plans adapted to the client's reality," explains Francesco.
While careers as sustainability specialists and analysts are most likely, Francesco believes a smaller proportion of graduates from the Master in Transformative Sustainability will use their skills to found their own sustainable companies.
"[Students] will be able to innovate the market through new business models and new companies integrating sustainability at the core of their activities and purpose," says Francesco.
---
Why a Master in Transformative Sustainability?
Sustainable practice is no longer optional for businesses. As society deals with a climate emergency, every business must play its part in preventing global warming from exceeding the 1.5C COP26 target.
"Being part of our Master in Transformative Sustainability represent an opportunity to contribute to the major challenge of our time," says Francesco. "Addressing the need for transformative sustainability requires the ability to promote a profound transformation across companies," he adds.
In line with growing awareness, companies are now increasingly interested in the 'triple bottom line,' which measures their environmental impact as well as their profits. Today, 62% of business executives consider a sustainability strategy to be necessary in order to stay competitive.
This means there are plenty of opportunities for graduates capable of enacting change within an organization, and it's the responsibility of business schools to train them.
"Experts with multidisciplinary expertise are increasingly needed to drive the transformation of organizations toward sustainability," notes Francesco. "They should be able to innovate or rethink business models and processes in a systemic way, thanks also to the potential of new technologies."
If you're looking to launch a career in sustainable business, applications to the Bocconi MSc in Transformative Sustainability are open until July 2022, with tuition costing $14,900 (€14340) for year one.
---
Next Read:

Master's Survival Kit: 10 Things You Should Know Before Going To Business School