They say if you can make it in New York City, you can make it anywhere. New York is the world's leading financial center, and management consultancy firm Kearney regularly ranks it as the best city in the world for international business.

No matter where you come from, New York is an ideal place to learn the fundamentals of business via an MBA.

There are a number of top business schools located across New York state, but few give you access to the same exciting extra-curricular opportunities and pace of city life as those based in New York City itself.

So what are the best business schools in New York City?

The four schools featured below have a primary campus within New York City and are ranked in the top 100 in either the Financial Times, Economist, or US News MBA rankings.
---
Best Business Schools In NYC
---
4. Zicklin School of Business, City University of New York (CUNY)'s Baruch College

This image is credited to ©Jeffrey Zeldman and used under this license.

Tuition: $58,000
US News rank: 77
Kicking off our list of top business schools in New York, Zicklin School of Business is part of New York City's public college, City University of New York. Though the university has 25 campuses in the New York area, Zicklin is located close to the Flatiron District on the West Side of Manhattan, a popular hub of NYC food and culture.
If a career in consulting is your goal, the Zicklin MBA is a strong option, as it includes a required consulting capstone for all students. One month of classroom study gives way to three months of solving real-world business challenges—a great chance to cut your teeth in the industry!
Finally, it's no secret that New York is an expensive place to live, but Zicklin fees won't burn as big a hole in your pocket as the other schools on this list. For a non-New York resident, full-time MBA fees amount to approximately $58,000 in total, a mere half of the tuition cost at other top schools.
---
3. Gabelli School of Business, Fordham University

This image is credited to ©Howchou and used under this license.
Tuition: $105,000
Financial Times Rank: 92; Economist rank: 75; US News rank: 64
One of the best business schools in New York, Fordham University's Gabelli School of Business is ranked fourth out of all US schools by the Financial Times for alumni recommendations and has the highest percentage of international students of any of the business schools on our list.
Located in The Bronx, Gabelli offers a breather from the hustle and bustle of Manhattan, and with the small cohorts that the school favors, you are likely to get to know your class very well. The MBA only takes 60 students per year, giving you ample opportunity to forge deep connections with your classmates.
---
2. Stern School of Business, New York University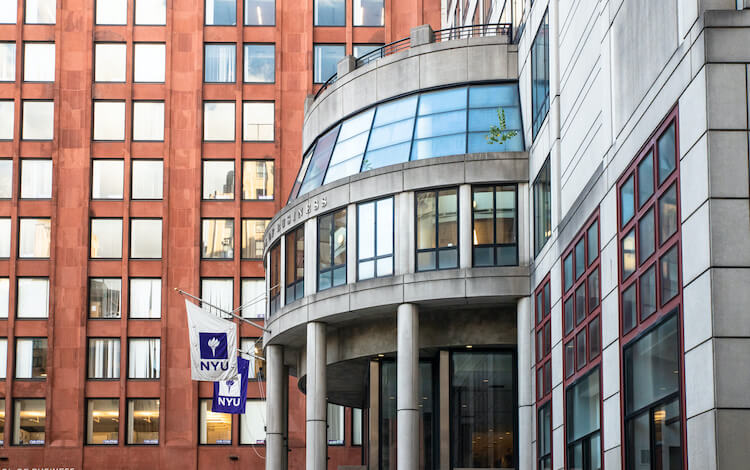 ©littleny
Tuition: $154,000
Financial Times rank: 13; Economist rank: 4; US News rank: 10
NYU Stern is renowned as one of the best business schools in NYC and the world. It has produced four Nobel Prize laureates, not to mention the CEOs of global companies including PayPal and Wells Fargo.
Originally founded as the Undergraduate School of Commerce, Accounts and Finance, it is not surprising that Stern is known for placing grads in financial services, and investment banking was a particular strength for its 2020 class.
However, NYU Stern also offers a diversified list of specialization paths, including cutting-edge topics like FinTech and Sustainable Business and Innovation. 15% of its 2020 MBA class graduated into roles in the tech industry, and according to the Financial Times, the school has the highest alumni satisfaction rating of any business school in New York City.
As for the campus, NYU Stern is located just a three-minute walk from Washington Square Park in Lower Manhattan, so students are as well-placed to explore the cultural delights of Greenwich Village as they are to head downtown to the world-famous New York Financial District.
NYU Stern MBA Class Profile Breakdown
---
1. Columbia Business School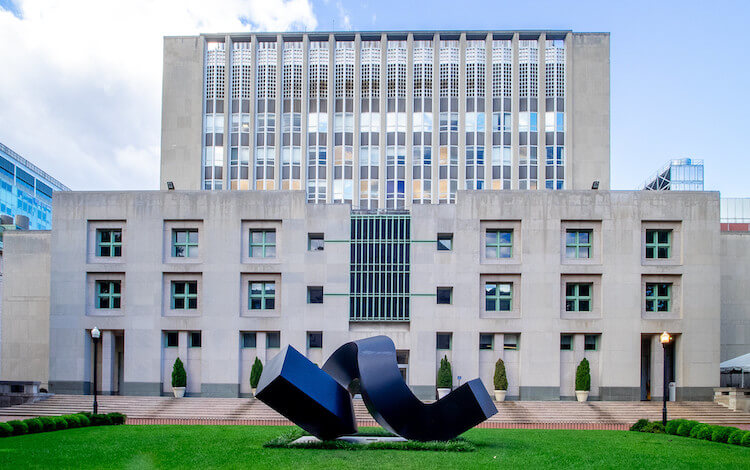 This image is credited to ©ajay_suresh and used under this license.
Tuition: $155,000
US News rank: 7*
If you're looking for a school with a lengthy list of notable alumni, look no further than Columbia Business School. From Broadway theater moguls to entrepreneurs and philanthropists, CBS has it all – and you could be next!
With a reputation as one of the best MBA programs in NYC and the world, the Columbia MBA is a great place to be if you want to challenge yourself. Columbia offers exemption exams at the start of each semester; if you are already well-versed in a topic on the core curriculum, you can use this opportunity to prove your expertise and swap out the more familiar topic for one of the school's more than 325 electives. Popular examples include a Global Immersion or Lean Launchpad startup course.
The Columbia Business School campus is situated in Morningside Heights on the Upper West Side of NYC, an area famously dominated by Columbia University and its students. This offers a collegiate atmosphere, not to mention a short walk to Central Park!
Columbia is also one of the elite M7 Business Schools, known for their top MBA programs and global reputation.
Columbia MBA Application Insider
Columbia MBA Class Profile Breakdown
Columbia Business School MBA Jobs & Salary Review
*Columbia declined to participate in the Financial Times or Economist MBA rankings in 2021.
---
Next Read:
10 Best Business Schools In California