Not everyone who goes to business school looks for new employment opportunities. Many business school grads love the companies they work for; they're not looking to change their employer, they're looking to upgrade their skills.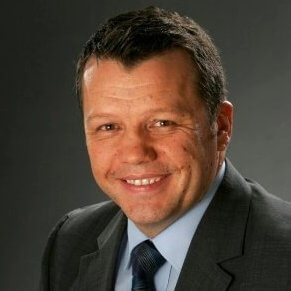 Take Grant Neave, a current student on the Executive MBA (EMBA) at Edinburgh Business School at Heriot Watt University.
Grant had worked at multinational Schneider Electric for almost 10 years when he decided to do his EMBA.
"I'm from an engineering and construction background originally, but what I do is in the corporate part of the business," he explains.
"I found that there were so many different aspects of meetings at a senior level and a skill matrix [that I struggled with]—I thought by exploring an EMBA that would improve my skillset."
---
Fitting around a senior leadership schedule
Once he'd decided to go back to school, there were a few common barriers that Grant knew he had to clear—firstly, finding a program that would work around his busy schedule at Schneider.
Even though most MBA programs are designed to fit around the hectic schedules of senior leadership, he wanted a school that would go the extra mile.
Edinburgh Business School stood out to him because of its long-standing reputation for flexibility.
The School was an early adopter of online learning, and has been running online programs since the late '90s, recently launching a new digital platform to better connect students to each other and to their professors while they study on their programs.
Importantly for Grant, as a student who would be studying partly on-campus in Edinburgh, the MBA program wasn't wedded to a particular yearly itinerary.
"You could onboard the program at different stages," Grant says, "There wasn't a fixed September intake."
---
"It changed my way of thinking"
The other barrier that Grant needed to overcome was affordability. Edinburgh Business School didn't ask for one large payment upfront like many programs; you could pay as you went, module by module, which made it a more compelling business case for Grant's employer to sponsor him.
And was it a worthwhile investment? If you ask Grant, absolutely.
"The first course I ever did [on the MBA], on organizational behavior, changed my way of thinking," he enthuses. "The Heriot-Watt [program] is very up-to-date—a good example is that we went into detail of what the younger generation's expectations in employment are."
---
Making international connections
The program so far has helped Grant upgrade his skills, but it has also been helpful in building a network of other senior business leaders—and from further afield than he had anticipated.
"I was surprised at how many international students were on the program," he says. "We got together a couple of times, and have friends now from the Nordics and Afghanistan even!
"When we discussed [why we'd applied] it was all for similar reasons—the flexibility, affordability, and the good name of the Business School."
The friends he has made on the program are a key part of his learning, and Grant questions whether he would have been able to have a similar experience at another school.
"We collaborated a lot, shared our knowledge and shared our challenges, which did surprise me, having done a postgraduate degree before where I had no interaction with my peers," he says.
---
Communicating "on a different level"
For all its flexibility, Grant is adamant that the program lost none of the intensity of a more traditional MBA program. He thinks it's a good challenge for senior executives to re-energize themselves at a critical point in their career.
The part-time program is studied in four-day intensive seminars that run from Thursday to Sunday each term, allowing for engaged debate and exchange between students, and when it comes to assessments, students aren't left wanting for stimulation.
"It's not for the faint-hearted—you do need to study," he says. "What I liked about the MBA is that it's not just doing modules and handing in coursework, it's [assessed by] exams—it gives you a lot of motivation, and to be honest, that's what you want."
For Grant, the value of an MBA isn't just the certificate you get at the end; it's learning new skills to the best of your ability, and pushing yourself to study for exams made that more of a challenge.
Grant works as Vice President of global customer projects at Schneider Electric, and he thinks that the skills he is learning on the MBA are critical to his ongoing success.
"It's allowed me to communicate on a completely different level with my peers," he says. "It's amazing how [the subjects you study] come up in everyday conversation, and now I can talk about them as a subject matter expert."
Related Content: