One of the biggest attractions of pursuing business education online is that the online MBA costs less than its full-time counterpart. Instead of paying hundreds of thousands of dollars for a two-year, full-time MBA program, you can pay a fraction of that to learn from home—what's not to love?

But tuition fees aren't the only things to consider when you're budgeting for an MBA, and that's true for online programs as well as in-person ones.

So what is the real cost of an online MBA, and how can you take this into account when you're choosing a program?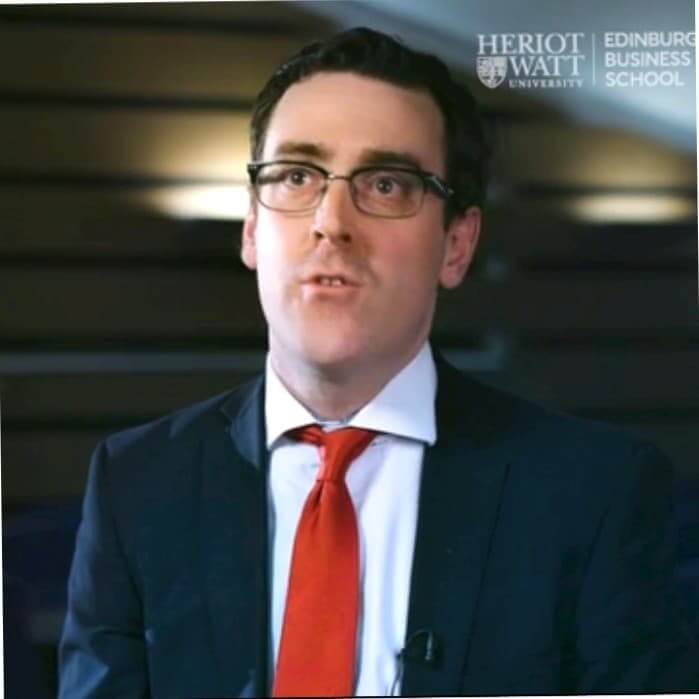 We spoke to David Kelly, the student and alumni director at Edinburgh Business School at Heriot-Watt University, to find out.
---
The upfront cost: tuition fees
While a top full-time MBA can set you back over $150,000, Online MBAs offer more manageable price points—in the case of the online MBA at Edinburgh Business School, the minimum cost of the full course is around £10,000 ($13,000).
This is a much less extreme sum, but would still require very strict budgeting if paid upfront.
Instead, David recommends that students look for programs that will let them spread the cost.
At Edinburgh Business School, students can pay module by module as they study, with one course costing around £1,000 ($1,300).
"A student need only purchase a course when they're ready to study it," David confirms.
"Each course requires approximately 200 hours of study, which means a student studying the online MBA will take on average two or three courses per year and students normally register for the examination a few months in advance of the exam date."
That brings us to the next cost on David's list: exams.
---
Read more: Online MBA: 3 Tips To Make The Most Out Of Online Learning
© fizkes via iStock

---
Examination costs
Unlike some online MBAs which require a face-to-face component, the online MBA at Edinburgh Business School can be completed entirely from home without students ever having to attend a campus. However, that doesn't mean that students can escape exams—or the costs associated with them.
"You do of course have to factor in the cost of attending a local examination centre in person to sit an examination which is currently 160 GBP per exam sit," David advises.
"Students should also factor in any additional costs such as potential resit fees."
Luckily, Edinburgh Business School has examination centers all over the world, so even the most far-flung student won't have to travel too far.
But if you're an aspiring online MBA who doesn't mind a bit of travel, that brings with it another factor to consider.
---
Traveling to study
While many students look to an online MBA because it means they don't have to leave their homes, others might be attracted to the course for the opposite reason—because they can study it from anywhere.
For these students, the option to drop into campus for an intensive study session might be ideal.
In fact, Edinburgh Business School has three campuses around the world: one in Edinburgh, one in Dubai, and one in Malaysia.
Online students have access to these campuses for intensive drop-in seminars and revision sessions, and the school also has a network of Approved Learning Partners worldwide who offer face-to-face tuition.
However, these kinds of experiences will incur travel costs; if it's important to you, you should make sure to factor this into your online MBA budget when you start the program.
---
What if I don't finish the MBA?
Finally, it's worth talking about what happens if things go wrong—if you have a family emergency or some other misfortune that means you can't continue your studies.
The flexibility offered by modular payment could help with this if all you need is a breather before you get back into it. However, at least on the online MBA at Edinburgh Business School, all is not lost if you can't complete the program.
"Remember you can aim towards the milestone interim awards offered on the program, such as the Postgraduate Certificate in Business Administration (three courses) or the Postgraduate Diploma in Business Administration (six courses) as you can build towards your MBA degree," David counsels.
---
The ROI of an online MBA
Ultimately, the real cost of an online MBA depends on what you want and what your goals are, and goes beyond just the total money spent.
"Undertaking an online MBA is not an easy option—there is no quick route to completing a program, and it takes dedication, sacrifice and hard work," says David.
However, he believes that the return on investment is well worth the amount you put into an online MBA.
"The rewards will be rich and long-lasting," he agrees. "[An online MBA offers] a springboard to progression or promotion, a change of career direction, launching a new venture, personal development, and the opportunity to meet and network with like-minded professionals."
Related Content: