What does it take to become a successful entrepreneur? For Emil Beck and Hannes Detjen, the answer is simple: an innovative mindset.
Before they enrolled at Esade Business School on the MSc in Innovation and Entrepreneurship program, Emil and Hannes were working for big corporations: Emil in key account management for Deutsche Bank and Hannes as a project manager for German retailer Otto Group.
They both wanted something more from their careers, and the idea of one day running their own company was an appealing one. They recognized they didn't yet have the understanding to do so––business school was the logical next step.
Over the course of the full-time, one-year program, they grew their respective networks, bolstered their understanding of running a business, and, most importantly, they began working together, which proved to be the catalyst for where they are today.
"I realized the corporate world wasn't going to be my favorite way to work forever," Hannes says. "Emil felt the same. We wanted to start our own business and were convinced Esade would be a great accelerator for that."
Emil and Hannes realized they shared similar values and worked well together. In 2016, they joined forces and launched Remazing: a consulting and technology agency which helps companies increase their sales on Amazon.
---
Entrepreneurship MSc | Learning about innovation
Esade's MSc in Innovation and Entrepreneurship boasts small classroom settings with young ambitious students, with a current average age of 24. They look for candidates who want to step away from being employees of a large corporation and become employers in their own right.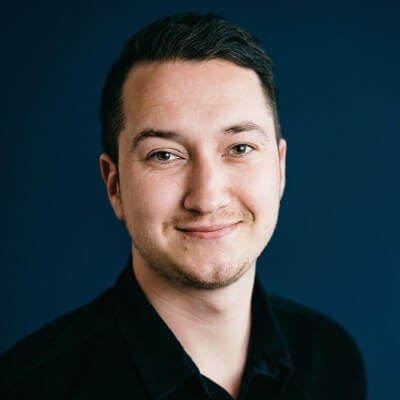 Every module is constructed with entrepreneurism in mind, Emil (pictured) says. Core courses on the master's include Creative Thinking, Innovation Management, and Exploring the Opportunity––all tailored to teach businesspeople how to innovate and launch an idea in niche markets. His favorite modules were Online Marketing for Startups and Entrepeneurial Finance, which he still draws on in his everyday work life.
"We applied what we learned, especially at the beginning of Remazing," Emil explains. "Most importantly, we learned the importance of problem-solving and selling to other businesses. My time at Esade taught me to not just take responsibility for myself but for every member of my team."
Esade provides plenty of opportunities for classmates to work together outside of the classroom. E-Works, Fusion Point, FAB Lab, and Decision Lab––just to name a few––are optional projects master's students can sign up to, whether that's to hatch startup concepts with your peers or to trial your independent business plan. It adds experiential experience to your resume, which is a really valuable tool, Hannes says.
---
Remazing | Helping brands sell on Amazon
Headquartered in Hamburg, Germany, Hannes and Emil now operate in a cohesive partnership.
What do Amazon consumers look for? How should they present their products on the site? They identified how they could benefit both Amazon––by sourcing small businesses with great products to sell––and small businesses––by helping them get access to an international platform––aided by the entrepreneurial toolkit provided to them during their time at Esade, Emil says.
"We work with large brands such as Beiersdorf (NIVEA), Henkel, and Under Armour," he adds. "And our main focus is on sales and probem-solving for our clients."
In just four years, they have cultivated a list of market-leading corporations and high-profile clients across all of Amazon's main marketplaces––such as the UK, USA, and Spain.
Another key part of being an effective entrepreneur is recognizing your areas of strength and the strengths of those you work with and go on to hire. Being able to effectively delegate improves the efficiency of the company; Hannes overlooks product and finance, whereas Emil is working on technology and HR. You don't have to do everything yourself, Hannes emphasizes.
---
Inspiring the next generation of entrepreneurs
All business ventures start with an innovative idea. Being able to look at a crowded market and find niche areas, or even think up concepts no one else has thought of before, is the spark that makes you start out as an entrepreneur. The rest is all down to having a clear understanding of what it takes to launch and run your own business.
"Believe in your idea," Hannes advises. "You need to be able to adapt to changing situations––don't give up when it gets hard."
"I recommend finding at least one co-founder with whom you share the same values," Emil adds. "Try to learn faster than your competition. Jump into entrepreneurship as soon as you can and keep going."
Related Content: