Europe or the USA? There are world-renowned business schools with top Masters in Finance programs on both continents, and choosing between the two isn't easy.

You need to consider a number of things when deciding where to study your Master in Finance; cost, job opportunities, and program quality are some of the key factors.

But where do you start? The Financial Times has released its 2021 ranking of the world's best Masters in Finance programs, with European business schools dominating the list.

Here's how to choose between the USA and Europe for your Master in Finance:
---
FT Top 25 Masters in Finance Programs 2021
---
Master in Finance cost
Cost is arguably the most important thing to consider when choosing your Master in Finance. Tuition fees vary significantly between certain locations, which can affect your return on investment later down the line.
European MiF programs are generally cheaper than in the US. The highest ranking US schools in the FT rankings are University of Texas at Austin, McCombs School of Business, George Washington University, and Bentley University. The average cost of tuition at these schools is $63,185.
In Europe on the other hand, average fees across the top three highest ranking schools of HEC Paris, ESCP Business School and Skema Business School, are a much lower $32,869.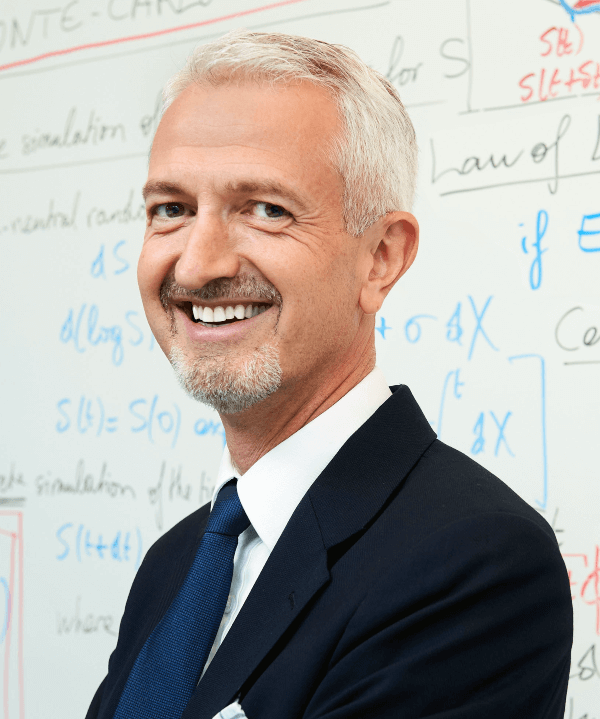 Those schools—all of whom are based in France—are the three highest ranking schools overall, as France dominated the 2021 ranking taking the top five spaces.
The ranking is based on surveys of business schools in 2021, and alumni who graduated in 2018. Schools are ranked primarily according to the impact they have on alumni salaries and career progression, as well as other factors including student and faculty diversity.
Olivier Bossard (pictured), professor of finance and executive director of the HEC Paris Master in Finance degree, believes lower pricing benefits European schools.
"This cost advantage is definitely an important factor to attract the best students at a pre-experience level," he says.
European programs aren't always low-cost though; the UK offers some of the most expensive Master in Finance programs in the world. A place at top institutions like London Business School costs around $69,000, while Oxford Saïd Business School charges around $64,000.
---
Master in Finance program quality
MiF programs are offered by top business schools in both Europe and the US, so you can be assured of a top-quality program whichever continent you choose. But based on the 2021 rankings, Europe—more specifically France—is your best destination.
European schools dominate the rankings with only Chinese schools managing to break their hold on the top 20. The McCombs School of Business Master of Finance is the highest ranked US program in 43rd place, however there are other quality US-based Master in Finance programs.
Dr Alysa Turkowitz, executive director of the Masters in Financial Engineering program at the prestigious UCLA Anderson School of Management believes Europe's domination of the rankings is down to the smaller number of business schools in countries like the UK, which historically has led to the development of more specialized degrees.
"Given the limited MBA options, there was more incentive to focus on other finance-oriented degrees to fill that need," she says. "Therefore, the UK has had more time to develop and grow these types of programs."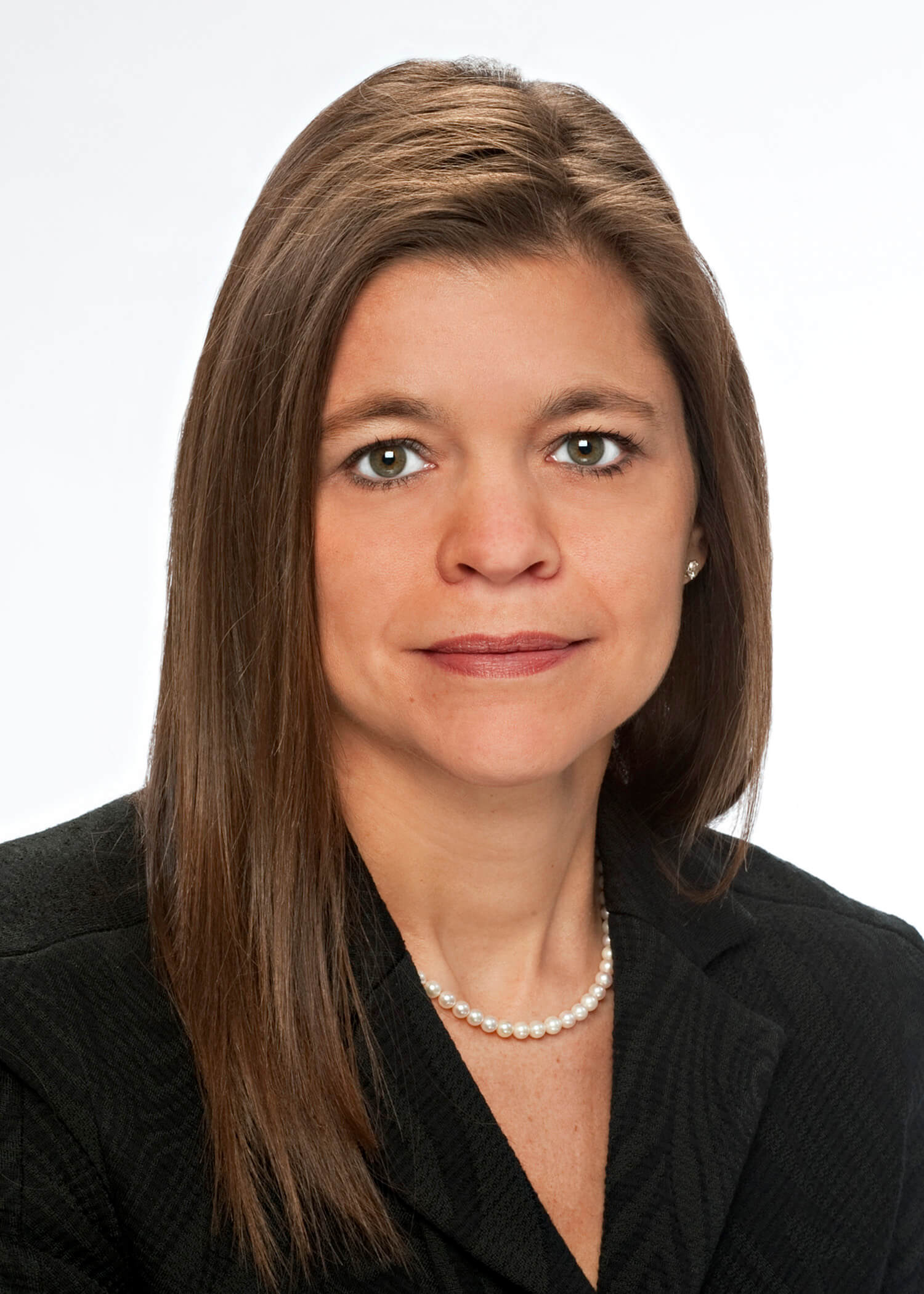 It's likely that European Master in Finance programs have had more time to develop and enter the rankings. A key metric within the rankings is average graduate salaries after three years, which makes it difficult for newer programs to score well. We could see US programs beginning to place higher in future.
The style and substance of both an MS in Finance in the USA and Europe is largely the same. Most MiF programs are delivered over the course of a year, though this can vary: Oxford Saïd's program is an accelerated nine-months while George Washington University's program takes two years to complete.
Most Master in Finance programs include similar core teachings covering concepts like corporate finance, derivatives, and data science. Elective modules covering a range of more specific topics like fintech and real estate may differ between schools.
In the US, some schools like Bentley University and MIT Sloan have been awarded with STEM (science, technology, engineering and mathematics) designation, recognizing their intense focus on mathematics and data. STEM designation is also a big draw for international students as they gain eligibility to extend their student visa stay in the US for three years in total after graduating, without the need for an H-1B visa.
"Our world-renowned finance faculty are second to none," says Heidi V. Pickett (pictured), assistant dean of MIT Sloan's Master in Finance which placed eighth in 2020 but chose not to take part in this year's rankings. "MIT is the birthplace of modern finance; often our students are learning the very tools and practices in finance by those who created them."
Sloan students learn from faculty members like Professor Robert Merton, co-creator of the Nobel prize winning differential equation, the Black-Scholes Merton model, which is covered during the course.
---
Master in Finance jobs
The potential job prospects of a Master in Finance program is key to making your decision. If a school has better links with the top companies you want to work for, you want to know, right?
The Financial Times gives all schools a career progression ranking based on the size of the companies alumni work for three years after graduating, as well as their seniority within firms.
Keeping with this year's theme, the top four schools were all based in France. HEC Paris again claimed top spot while the business schools at Rennes, EDHEC and ESSEC made up the rest of the top four. The UK's Warwick Business School claimed fifth place, while the highest placing US school was George Washington University in 17th.
---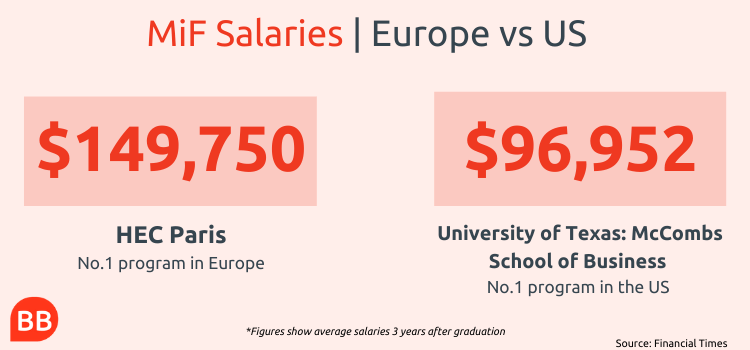 ---
HEC Paris was helped by its strong career statistics, as 100% of students reported that they were employed within three months of graduation. Bentley University also matched this impressive feat.
The FT also shows Europe and US-based schools offer substantial salary benefits for Master in Finance grads. At Bentley, graduate salaries rise by 41% on average within three years of graduating, reaching an average figure of $86,250. Salaries at Warwick Business School are slightly lower at $82,143, though this is one of the largest recorded increases at 81%.
The two destinations offering the highest potential salary increases are Poland's Kozminski University, where average salaries of $61,207 are a 93% increase compared with pre-enrollment, and HEC Paris. The outstanding school in this year's rankings saw salaries increase by 92% to an enormous average of $156,583 within three years of graduation. Only China's Tsinghua University had graduates earning more.
---

The domination of European business schools in the rankings, led by France, means if you're looking to study a Master in Finance, Europe should be your top destination.
Masters in Finance in Europe tend to offer better jobs prospects and higher salaries while, for the most part, charging cheaper fees. If you're looking for a top Master in Finance program at a good price, Europe should be the first place you look.
But if your goal is to work in the US, there are plenty of good options and securing a place with a world renowned business school like MIT Sloan will only benefit your career.
Next Read:
Is A Master's In Finance Worth It?