Among the hustle and bustle of downtown Milan you'll find Bocconi University, one of Europe's top five business schools and the home of one of the world's best Master in Finance (MiF) degrees.

The two-year Bocconi MSc in Finance is recognized by many of the world's top institutions. Each year the program helps talented students land roles at top investment banks, asset management firms, and consultancies.

But what's it like to study in one of the world's best MiF degrees? Here's what you can expect from the Bocconi MSc in Finance.
---
Bocconi MSc Finance | Who is it for?
Combining deep theoretical learning with a focus on practical expertise, the Bocconi MSc in Finance targets students who have the potential to excel in a rigorous program.
Quantitative theory is an important part of the curriculum, so students with past experience and degrees in subjects like mathematics and statistics are welcome. But program director, Cesare Conti, stresses that students from less quantitative backgrounds can also apply.
"We're not looking at students with a particular background, but we encourage students with solid quantitative backgrounds as well as students with strong CVs who aren't necessarily quantitative in nature," he explains.
"We're looking for extraordinary students, because the process of selection is very tough," he adds.
Anastasia Gamanilova graduated from the program in 2018, she says the MiF offered varying levels of accessibility for students depending on their previous financial experience. What drew everyone together was a desire to succeed, she adds.
"Everyone wanted to get the best jobs, and to get a good job you need good grades. For sure that pushed people to spend more time studying."
---
Bocconi Master in Finance | Requirements
The cost of admission to the Bocconi MSc in Finance amounts to around $15,600 (€14,340) per year, totalling around $30k for the two-year program. There's a variety of financial aid schemes available to help with funding, including merit-based scholarships and student loans.
To land a place in the prestigious MiF, you'll have to go through the typical application steps of providing academic transcripts, your resume and GPA, letters of recommendation, and providing a GMAT or GRE score.
Applications from all backgrounds are encouraged, and you don't have to have a bachelor's in finance or a similar related field.
Your previous academic achievements and test scores are important, but Cesare stresses that it's also important to show that you are motivated and dedicated to a career in finance.
"We want students who are dynamic and willing to learn, and who are ambitious," he says. At the same time, Bocconi values collaboration and seeks students who are capable of working alongside one another.
"Students should be ambitious, but not aggressive in nature," he adds. "We want students to interact with one another when they arrive here, so this is something which adds value to an application."
---
READ: How A Bocconi University Master's Can Boost Your Employability
---
Bocconi Master in Finance | Curriculum
As a two-year program, the Bocconi MSc in Finance offers students the chance to deep dive into complex financial theory and gain practical experience before specializing in a particular area of finance.
The first-year curriculum covers core topics like Financial Modelling, Financial Analysis and Reporting, and Derivative Pricing; giving students a firm grounding in financial theory.
As the basis of everything that follows throughout the program, the core curriculum can be challenging, Anastasia says. "The standard of the teaching and the kind of material you cover are very high, so you really need to spend lots of time studying."
The second year is much more customizable for students, who can choose to major in areas including investment banking, asset management, and insurance management. There's also the option of a Free Track including electives from all the various majors.
Bocconi provides a range of practical, extracurricular experiences throughout the program, including guest lectures, company visits, and business simulators along with a summer internship. This helps students put their theoretical knowledge into practice.
Students can undertake a second internship in year two, or embark on an exchange program with one of Bocconi's various partner schools, including the likes of Rotterdam School of Management and Keio University in Tokyo. At the end of the program, students must complete a Master's thesis on a topic of their choice.
"During the second year, the main focus is to provide real life applications through both a personalised track and an internship," says Cesare. "We try to complement solid academic knowledge with real-life application of that knowledge."
The end result is that Bocconi students are comfortable in the workplace environment as soon as they graduate, he adds.
---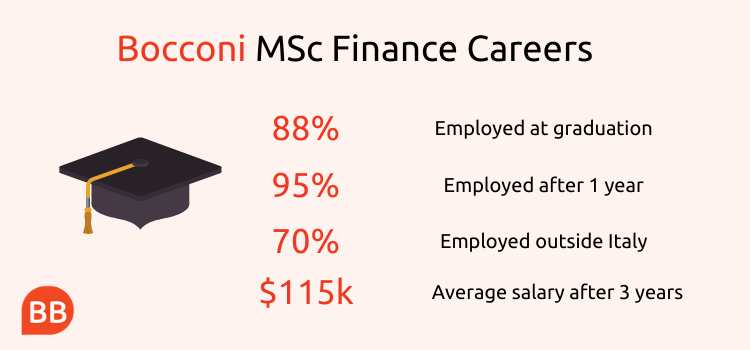 ---
Bocconi MSc in Finance | Career Opportunities
As one of the world's top MiF degrees, the Bocconi MSc in Finance offers extensive career opportunities to students. More than 88% land roles before the end of the program, and the average student receives two offers.
Within a year of graduation, over 95% of students have jobs, and more than 70% land roles outside of Italy. The top destinations are the UK, Switzerland, and Germany, while top recruiters from the program include world-renowned institutions like JP Morgan, Barclays, HSBC Group, Deloitte, UBS, and PwC.
With such a prestigious pool of employers, Bocconi MSc in Finance grads go on to earn impressive salaries, averaging at around $115k three years after graduation.
As an intensive and highly demanding program, it's no surprise that students from the Bocconi MSc in Finance go on to excel once they enter the workplace.
Anna Repetto is a graduate from the Bocconi MSc in Finance currently working as a managing director at Bank of America Merril Lynch. Over the past she has regularly hired grads from the program.
"When you hire a Bocconi student out of the Master of Finance, they have a very good mix of theoretical knowledge and the practicality behind it," she explains. "To me, that's always been a big differentiating factor hiring Bocconi students versus other universities."
While the program provides students with the tools to excel, the career service gives them the exposure to land employment opportunities. Anastasia secured a summer internship with Goldman Sachs which she was able to turn into a full-time job offer after graduation.
She feels the extensive exposure to investment banks and other top financial firms that she gained during the program was essential in securing her role.
"They have recruitment events happening on the weekends, and they constantly have guest speakers from all the banks and financial firms," she says. "Guest speakers could have arrived from Italian financial firms, the UK, or from all over the world.
"As a non-European person I wouldn't get much exposure to these kinds of people, so Bocconi is doing a great job."
---

The Bocconi MSc in Finance offers a great launchpad for a career in finance and, at around $30k for a two-year degree, this comes at a reasonable price considering the strong salary prospects post-graduation.
Bocconi highlights the intensive nature of the program, so you should be prepared for a challenge should you apply. But this adds to the strong reputation Bocconi grads have among employers who value the preparation the program provides for a demanding career in finance.
If you're a hard-working, ambitious student looking for a career among the world's top financial firms, look no further than the Bocconi Master in Finance.

Related Content: