Are you a STEM graduate who wants to become a business leader? There's a master's in management for that.
Esade Business School, in Barcelona, is launching a new Master in Management of Disruption to help bridge the gap between business and tech. The STEM-focused master's starts in September 2021.
Tech dominates our lives, and the COVID-19-induced acceleration of the digital economy has led to an embrace of online learning, an e-commerce spike, and the widespread adoption of office communication tools like Slack and Zoom.
The 9-month master's in management program has been designed with the new technological landscape in mind.
So, how does it work?
---
The master's in management structure
The course is specifically designed with analytical brains in mind, so if that's you then you're in for a treat.
Students will quickly learn how to analyze trends at an economic, social, and financial level before moving on to look at technological advances and how they have, quite literally, caused disruptive changes to the world.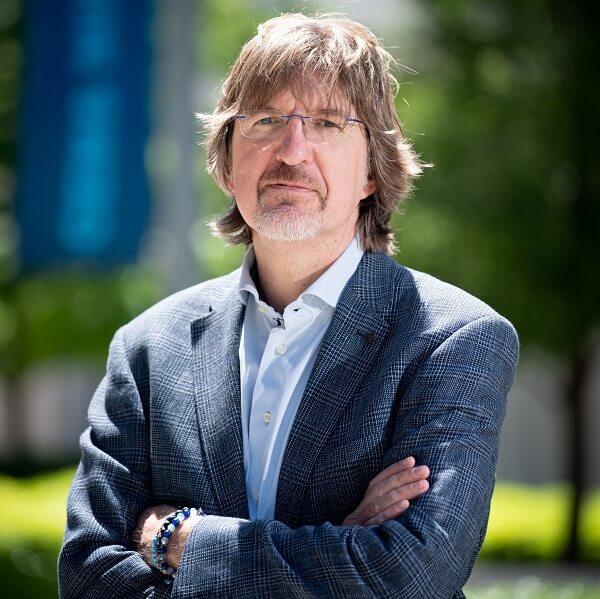 They'll study modules like Re-Thinking Applied Economics for the Future, Fundamentals of Finance as a Foundation for Disruption, Business Analytics, and Disruptive Technologies and Operations Management.
Students will learn how to build multicultural and multidisciplinary teams, how to lead and develop people, design thinking, and advanced new business models.
Josep Sayeras (pictured right), associate dean of Esade's MSc programs and academic director of the MSc in Management of Disruption, points out why the program has been designed the way it has.
"By definition, students with a STEM background (science, technology, engineering and mathematics) have solid technical skills, but these are not enough to prepare them for a management career.
"We have designed this program specifically to help them overcome the challenges and bridge the gap that technical students face when they want to make a career change," he says.
Josep says the program's structure mimics Esade's other master's in management offerings—with common traits across the board—but that this is Esade's first management course designed specifically for STEM students.
The course begins with a term focusing on understanding business, before moving onto strategy and decision making, and closing with a term covering innovation and business transformation.
---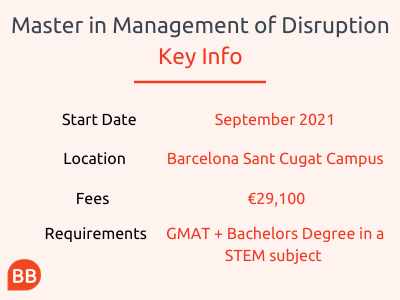 ---
Why master's in management students need to adapt to technological change
The past decade of technological growth and change is the backdrop to the Master in Management of Disruption. If you're considering the course as an early career starter, you'll probably have grown up with technology at your fingertips—the course will give you the opportunity to explore familiar areas in greater detail, putting them into a business context.
Josep, who has been an Esade professor for over 20 years now, focuses on how the course can help students adapt to the big changes.
"We are in an economic system immersed in a profound technological change," he says. "The so-called fourth Industrial Revolution will accentuate the trend towards robotization and data exchange, with the consequent creation of jobs and elimination of others on an unprecedented scale."
And so Esade is responding to the 'so called fourth Revolution' by building a course that equips tech savvy STEM grads with the managerial skills to thrive in the tech economy of now and tomorrow.
"With this program, we provide students with the management tools they will need to succeed, and we will put emphasis on the communication and soft skills that are so necessary in the corporate world," Josep adds.
Another worry you could be facing when considering a move from a STEM background to a management role is whether you should have already specialized your direction.
The Master in Management of Disruptive offers the opportunity to gain a sense of the different disciplines on offer. Students study finance, marketing, operations, and more, without needing to be a pro from the get-go.
By the end of the year-long program, graduates will be equipped with the skills needed to launch a career as a tech savvy business leader.
Future careers
Esade emphasize that recruiters of their graduates have been increasingly requesting students with technical skills, who at the same time possess a holistic knowledge of business.
Key competencies that recruiting company's desire—knowing how to design and adapt corporate strategies; the ability to work in diverse and multicultural global business environments; and being able to organize and lead in multidisciplinary teams—will be taught to students on Esade's new master's in management.
And if you're wondering where this course can take you, Esade predict their Disruption graduates will move into a range of management and consulting roles, as well as becoming entrepreneurs and launching their own start-ups.
Esade's recent graduate data—based off their master's in management programs generally—shows that 96% of students are usually employed within three months of graduation, and 44% found a job outside their home country.
All of this prepares STEM graduates to land in the digital economy. And for Josep, the mission statement is clear: "Our graduates will be immersed in a changing, disruptive world, and we need to get them involved and to turn things around to make a better world."
Related Content: