The University of Chicago Booth School of Business Executive MBA program is one of the highest ranked EMBA programs in the world, ranked sixth by the Financial Times.

The Chicago Booth Executive MBA is split across three campus locations in Chicago, London, and Hong Kong. The school recently upgraded its London campus, situated a stone's-throw away from the UK capital's financial center.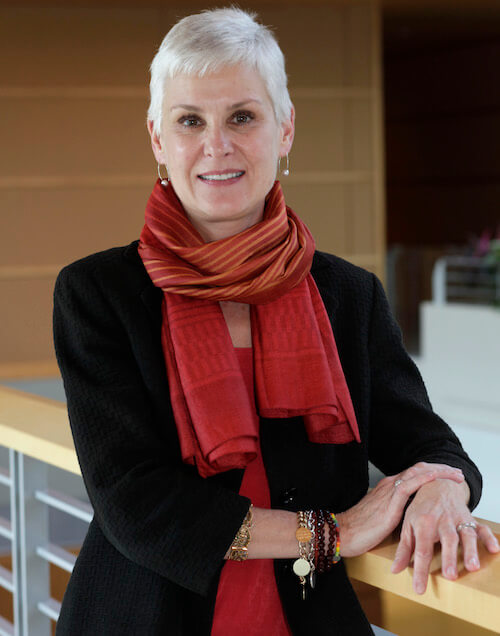 If you enrol on the program, you'll meet in classes every other week on Friday and Saturday in Chicago, over the course of 21 months. You'll also have a number of international weeks and seminars in London and Hong Kong.
As for your classmates, Chicago Booth's EMBA cohort has an average age of 37 and and 13 years of work experience. Average GMAT score is 681, while average Executive Assessment score (considered the GMAT for EMBA candidates) is 155.
So what does it take to ace your EMBA application to Chicago Booth? We spoke to associate dean of the EMBA program, Julie Morton (pictured right), to find out.
---

---
What do you look for in your EMBA applicants?
Everything we do at Chicago Booth is grounded in "The Chicago Approach", an educational philosophy that helps our students define problems, ask better questions, and turn challenges into opportunities. We don't expect applicants to arrive with these abilities; we look for curious, ambitious minds, with an appetite to embrace this way of learning.
We strive to shape a class of these curious, ambitious minds from a range of backgrounds and career foci. The class includes medical doctors, engineers, entrepreneurs, investment bankers, etc. This diversity of experience and thought is a critical component of the rich classroom and co-curricular experience.
---
What's the biggest mistake you can make in an EMBA application?
The biggest mistake is failing to research the school properly. We value candidates who appreciate why Chicago Booth is different from other top business schools and can evidence why that difference is a key factor in their decision to apply with us.
---
What's the strangest thing you've ever seen in an EMBA application?
Not so much 'strange' but candidates who cut and paste their application essays will occasionally forget to change the name of the school. So we'll read about how much the candidate wants to pursue an MBA at a different school. This signals a lack of understanding about what differentiates Booth.
In addition, while we are eager to get to know our candidates, there is also no need to overshare. Candidates should include pertinent information that demonstrates why they are a good fit for Chicago Booth.
---
Quick Fire Questions
1. Describe a successful candidate in three words.
Curious. Collaborative. Bold.
2. What GMAT score should candidates aim for (if required)?
While we accept the GMAT and the GRE, we recommend that candidates take the Executive Assessment (EA). Last year's class average EA score was 155.
3. Top tip for applicants to your school?
Use the application to tell your story. Explain why you are a great fit for Booth and why Booth is a great fit for you. Be bold.
4. What kind of experience do you look for in an EMBA candidate?
There is a wide range of experience represented in the Executive MBA classroom. On average, our students have 13 years of professional experience and come from a variety of different industries, academic backgrounds, and geographies.
---
What questions should candidates expect in their admission interview?
An interview is a conversation, where we are trying to learn more about how you think. We seek to flesh out what you've written in your application. You should be able to tell your story concisely and demonstrate that you've done your due diligence on the school and program. For example, if you've explained where you want to be in your career in five years, how will an MBA—specifically a Chicago Booth MBA—help you get to where you want to be? Have you explored other options? How do you think about the challenges of navigating your career?
---
Can you tell us one thing about the application process at Chicago Booth that most people wouldn't know?
We don't use a scoring system to assess applications. Candidates often worry about their undergraduate grades, their test scores, or a gap in their professional experience. We take a holistic view and look at each application individually; we seek diversity of experience. Essays and the interview are opportunities to explain any issues.
---
Next Read:
Chicago Booth MBA: How To Get Accepted