It's official—Birmingham is the best city in the UK to start a business. The Midlands city has become a powerhouse for churning out new entrepreneurs and startups at an exciting rate, with a startup-to-population ratio that has overtaken London.

For entrepreneurs looking for a cheaper base just a stone's throw from the UK capital, Birmingham has a great amount to offer.

For prospective MBA students with their minds set on starting their own business, access to high quality universities at the center of the ecosystem is an exciting opportunity.

Here's why Birmingham is the number one city in the UK for entrepreneurs.
---
Entrepreneurial ecosystem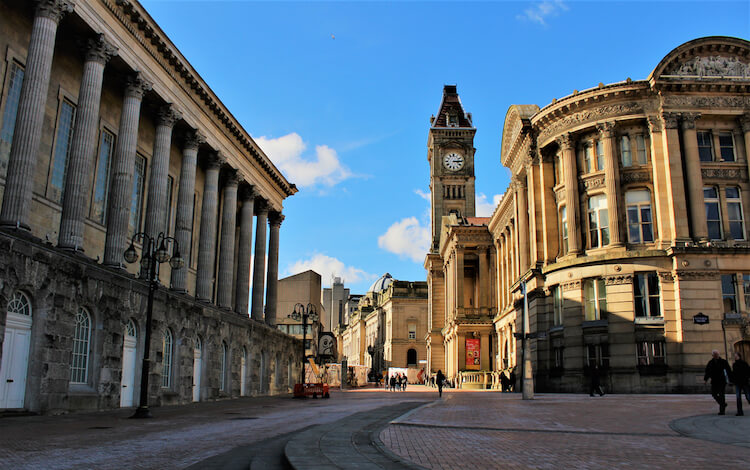 Image: ©Isabel O. via iStock
Birmingham's reputation as a thriving city of new businesses is attracting a great amount of attention.
Given that 18,590 new businesses were founded in 2018, it's no wonder it's been dubbed Silicon Canal.
With this reputation as a haven for entrepreneurs growing, many aspiring business owners are moving to Birmingham to benefit from the entrepreneurial ecosystem and network.
Birmingham's five universities are seeing the major effects of this, and are adapting their programs suitably. Aston Business School, at the heart of the city, is seeing an increasing desire for MBA students to set up their own business.
The school coordinates the BSEEN program, a joint venture between Birmingham's universities to help MBA student startups get off the ground.
They offer mentoring, bootcamps, and office space to all businesses involved. Moreover, it's a space surrounded by other entrepreneurs who have all been through, or are about to go through, the same process.
---
Affordability and stability
In the face of Brexit and potential further curbs to immigration, the UK government is actually offered more incentives to young entrepreneurs from abroad, like the Startup and Innovator visa.
Aston Business School also offers extra incentives to young entrepreneurs, staking its claim as the place to starting point for new business creation.
The Future Leader and Entrepreneur Scholarship offers a $12,000 grant to three MBA students with innovative thinking, leadership skills, and entrepreneurial experience.
Birmingham overall offers a far more enticing financial proposition than the UK capital.
While London arguably offers a far wider ecosystem and access to business, it is becoming increasingly costly for new businesses.
The average cost of office space in London can cost up to $1800 per person per month—for the same space in Birmingham, you'll pay roughly between $300 and $550 a month.
It's a reassurance for young businesses with limited money to spend on physical resources, particularly in the early stages when finances are less stable.
---
Funding and investment for the future
Startup growth is at an all time high in Birmingham—and the future is even brighter.
Growth is being propelled by a new influx of money and investment specifically aimed at small to medium size businesses in the city.
The Midlands Engine Investment Fund was launched in 2018, bringing over $300 million of investment to pump into entrepreneurial projects in the area.
The MEIF has already invested in over 150 projects in the region, and is leading the wave of investment in projects in Birmingham. The Midlands is now responsible for 41% of all UK equity investment made outside of London.
MBA students in Birmingham have special access to this network of business and investment—for those looking to set up their own business, it's a very attractive proposition.
Related Content: