Log on to a computer. Take a test. Different faces come up on the screen. You distinguish the old from the young. That's Harvard's Implicit Association Test (IAT) and that's how MBA students at Georgetown University's McDonough School of Business test out their implicit bias in one of their very first classes at the school.

The IAT, developed by Harvard researchers, lets you test out your implicit biases across areas like age, but also gender, race, and religion, by measuring how long it takes you to respond to certain stimuli. It's about what you click on, instinctively, before you've had time to think.

Silas Humphries, a first-year MBA student, took the age bias test as part of the revamped leadership curriculum, Leading Teams for Performance and Impact (LTPI), at McDonough. Like the majority of Americans, the test suggested he could have a bias towards younger over older people.

"It's important in business that you're aware of the biases that you bring to the table, so you're able to move past them and make sure you don't let those biases influence your decisions," he says.
---
What is implicit bias?
Ella F. Washington, an organizational psychologist, former consultant, and professor of practice in management, leads the implicit bias training at McDonough. In her research, she's looked at the impact of bias on different groups, and how it can affect things like promotions, salaries, and seniority levels in organizations.
Implicit bias, she says, is something within all of us. We're exposed to 11 million bits-worth of stimuli from the environment ever second, but our conscious mind is only able to process around 50 bits per second.
"The only way our brain can work is to take some shortcuts," Ella explains. "Because of those shortcuts, we rely on our past experience and make judgements based on that—and that's where we see implicit biases.
"The difference between implicit and explicit bias is that we're making judgements based on a framework in our mind that we're not aware of. People don't wake up thinking: 'I'm biased'! You might think you're making a decision and being fair and equitable, but there are biases coming into place."
There's no magic fix to implicit bias, Ella warns. At McDonough, through classroom discussion students are taught to be aware of their implicit bias, manage, and mitigate it. After taking the IAT, students reflect on the way they've made decisions in the past and how their implicit bias might affect their decision-making as managers.
"You can't create an inclusive team if you don't recognize you have some bias," Ella says.
---
Implicit bias and leadership
Being aware of implicit bias is key to the leadership training at McDonough, which also includes courses on soft skills and diversity and inclusion.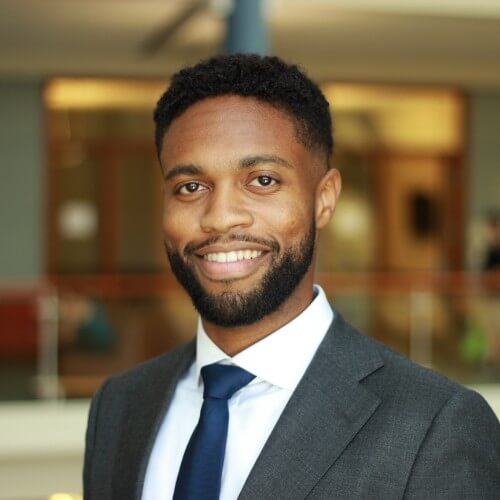 Silas (pictured) is looking ahead to the Managing the Enterprise course—"A right-of-passage for first-year students," he says.
The course sees students work on a real-life consulting project, solve a real business problem, and present to a group of executives, some of whom are also Georgetown McDonough alums. This year's class worked on a project for the Washington metro system. The leadership course shows the power of the Georgetown McDonough network to bring experiential opportunities to the classroom, the school says.
The Executive Challenge at McDonough is a one-day competition, where alumni judges play the role of board members, investors, and senior executives challenging students to persuade, motivate, and build relationships with them in real-world difficult conversations. The challenge simulates a day in the life of a business leader and serves as the final exam for the compulsory Leadership Communications module.
Silas, who previously worked as a consultant for KPMG, says he's using his MBA experience to explore new career avenues. He's most excited about his work with the Business For Impact center, where he's engaged in a project with education nonprofit XQ, which is looking to reimagine high school education in the United States.
"The people I've come into contact with, and the work I've been able to do, has been eye opening," he says.
"There's so many things on offer here. You get to engage with new companies and see the type of work they're doing. I've been going through the interviewing process with various companies and now I have a lot of choices to make!"
Having such a varied experience helps students at McDonough become more aware of their implicit bias. For Ella, coming to business school for an MBA gives you that exposure to new experiences, people, and ways of thinking. It allows you to debunk some of your previously held ideas and sets you up for leadership roles in the future.
"Many skills can be taught, but interpersonal skills, awareness, and care for inclusion often can't be," she says. "As employers today look more at corporate and social responsibility, they really do care about these things."
Related Content: