Having started her own business at the age of 22, and with two startups under her belt, Daniella Genas knows a thing or two about entrepreneurship. Now, she's on a mission to empower female entrepreneurs to start their own businesses.
What started as an MBA project at Aston Business School turned into her company, She's The Boss International, a consultancy firm providing unique, female-specific support to entrepreneurs.
It's a chance, she says, to give female entrepreneurs the opportunity, and skills, needed to take steps into a world often balanced against them.
---
Lacking theoretical knowledge
Daniella always aspired to be an entrepreneur. But even more than that, it was about being able to make her own decisions in the workplace.
There were three things that really ground her gears—"Having a set lunch time, being told to wear formal shoes, and not feeling like my ideas were being implemented."
She imagined starting her own business would be something she'd do when she was older—but she couldn't see a reason why not to start early.
Fast forward ten years. Daniella still had the passion and creativity for business. She did feel, however, that she was lacking something.
"I didn't have a theoretical knowledge of business. I had an operational view, that I got from doing it, but not a grounding in theory that would impact what I was doing operationally."
Moreover, as she found herself consulting other businesses, and offering her advice and experience, she wanted her advice to be grounded. "It was all anecdotal", she says.
The Aston MBA offered all this—a theoretical framework, methodology, and tools that she knew she needed before she could effectively progress in entrepreneurship.
---
Gaining the tools she needed
Aston Business School's reputation for entrepreneurs instantly piqued her interest.
She first encountered the school on the Goldman Sachs 10,000 Small Business program, which offers support and funding to small business owners like herself, and which is coordinated through Aston. This is where she'd launched one of her previous businesses from.
In terms of giving her confidence and tangible tools as an entrepreneur, the MBA was indispensable. It offered her, and her businesses, an understanding of finance, accounting, and other core elements.
She recalls, when she was giving an evaluation of her former company which she sold, that her finances were little more than an estimation. "I was really just winging it," Daniella says, "I really needed structure."
With a stronger grasp of finance from the MBA core, she gained a much better insight into how to value a company, as well as how to build a more sustainable financial structure for a company.
---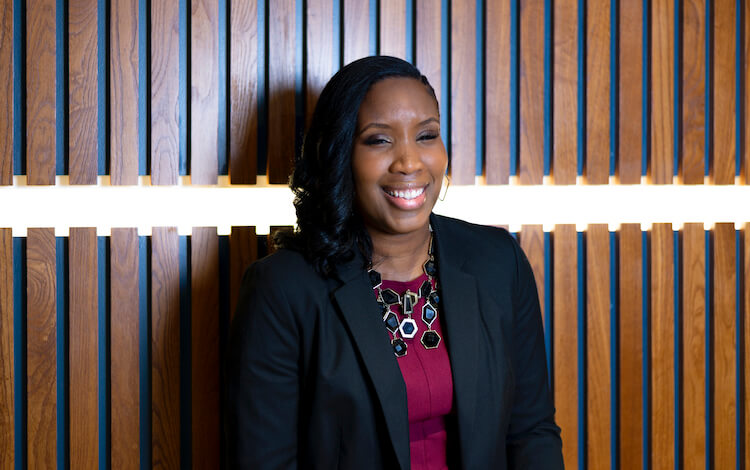 ---
Creating equal opportunities in entrepreneurship
The idea for She's The Boss International actually emerged out of her MBA project research.
She was conducting research about the challenges that women face in the entrepreneurial journey, in an attempt to work out what is different for men and women. She interviewed dozens of women, at different stages of their journey, about what they needed at each stage.
"It was about figuring out their challenges, and what stopped them, or might have stopped them."
What she understood was that the support network was completely different; women didn't have the same access to opportunities that men do, and this was stifling female entrepreneurs.
The facts say it all. There is an estimated $1.68 trillion investment gap between female and male led startups. In the UK, only 32% of entrepreneurs are women.
"The idea was born out of wanting to create something that I had needed when I started my first business," Daniella reveals. She graduated, and turned her research into action. She's The Boss International was born.
---
A chance to give back
Daniella now dedicates her time understanding and addressing the challenges that female entrepreneurs, and offers online coaching, consultancy, and training, for entrepreneurs on everything from strategy to personal development.
Many of the challenges are different. The 'Double Burden' is a well-acknowledged challenge for women, who often feel more of an implied obligation towards childcare and family care. Daniella says this is why she offers evening and weekend classes, as well as online classes, to fit around women's schedules.
But many of the challenges are the same for everyone. Not being able to assess opportunities effectively, not knowing how to scale businesses, or simply burning out.
Her advice?
"Have a passion for business, whether that's the business you're running or just being in business generally. It's a hard and often lonely path, and if you aren't passionate about it, you won't make it past the first year."
Related Content: